Our services
AML System for Your Bank
The strength of a banking institution is its security system. This is what gives customers confidence. Part of such security make the bank's AML policies.
With our partner's sophisticated anti-fraud system, your bank or any similar financial institution can have all the relevant security protocols in place regardless of the country of its location. And in the most up-to-date manner possible and you will save lots of costs as it is all-in-one suite solution that any financial institution would dream to have.
The AML System Functional


1. KYC and AML Technology
This feature is available in more than 220 jurisdictions worldwide, which makes it quite comprehensive. The AML (Anti-Money Laundering) technology has data screening and permanent monitoring functions on lists of politically exposed people (PEPs), sanctioned people, watch lists and others that allow a comprehensive control over potential criminals in this regard.
2. Video Verification
For this feature, there is a network of specialized agents in this area are assigned to take care of video verifications.
3. Crypto Compliance
The service includes detailed reports that are subsequently shared with banking and regulatory institutions to monitor suspicious transactions, as well as offering an in-depth investigation into the source and destination of funds traded.
4. Payment Fraud Prevention
The mechanism is aimed at performing a customer authentication process by detecting the activity and cross-referencing the data supplied to the customer's KYC system with the transaction information.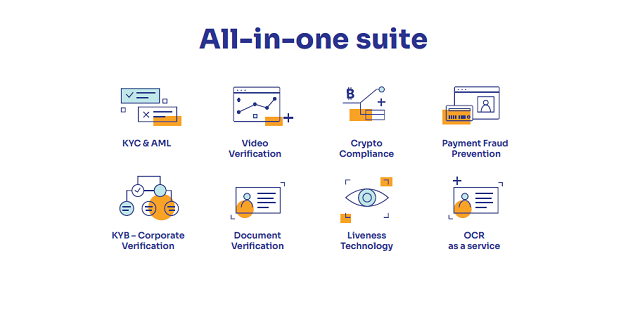 5. KYB
KYB function (Know Your Business), refers to a higher level of verification for corporations registered with financial institutions that have this sophisticated system, which is supported by the qualified legal team.
6. Document Verification
The functions of this system include the verification of a wide range of documents, from credit cards to proof of residence in a few minutes.
7. Liveness Technology
This mechanism is designed to offer facial biometrics service for quick access and continuous checks.
8. OCR as a service
OCR system stands for scanning images to extract the text they contain. An accurate mechanism is able to detect faked or edited documents.


With this AML System you will get:


All the checks and security mechanism at a simple touch

Proven tools for each step and stage of the ecosystem

Covering 220+ countries

24/7 legal advice and technical support

The most sophisticated anti-fraud mechanism for the most comprehensive security system

Usage of metadata to analyze how your team works to prevent fraud attempt
Steps to get the AML System


1. Discovery call
2. Demo of the product
3. Discuss the pricing
4. Contract and payment
5. Setting up technically and legally with the provider's team
6. After-installation support
At Mundo we can provide you with in-depth guidance on banking security issues and AML policies, please do not hesitate to contact us. To find out more detailed information and prices you can contact us or talk directly to our partner!