Generation Tower
$ 185500 USD
Generation tower is a unique and innovative concept located in Costa del Este, Panama. This project will run as a Condo for short- or long-term stays. It is intended for tourists, visitors, and business people.
Regarding this point, Generation Tower offers a totally unique service for business travelers, who will find here much more than just a hotel. Visitors will have a home-like experience with fully furnished apartments, complimentary concierge services and excellent guest support.
In this complex, guests will have everything they need right in the reach of their hand. In the base levels, Generation Tower will have offices, stores, and restaurants so that all guests can get anything they need from food to products.
Advantages that you get through Mundo
9% ROI

Developer financing with only a down payment of 30%.

Apartments from 185,500USD.
The project
Generation Tower is a dream come true for those who are seeking for a carefree lifestyle in a socially active environment and in a good location.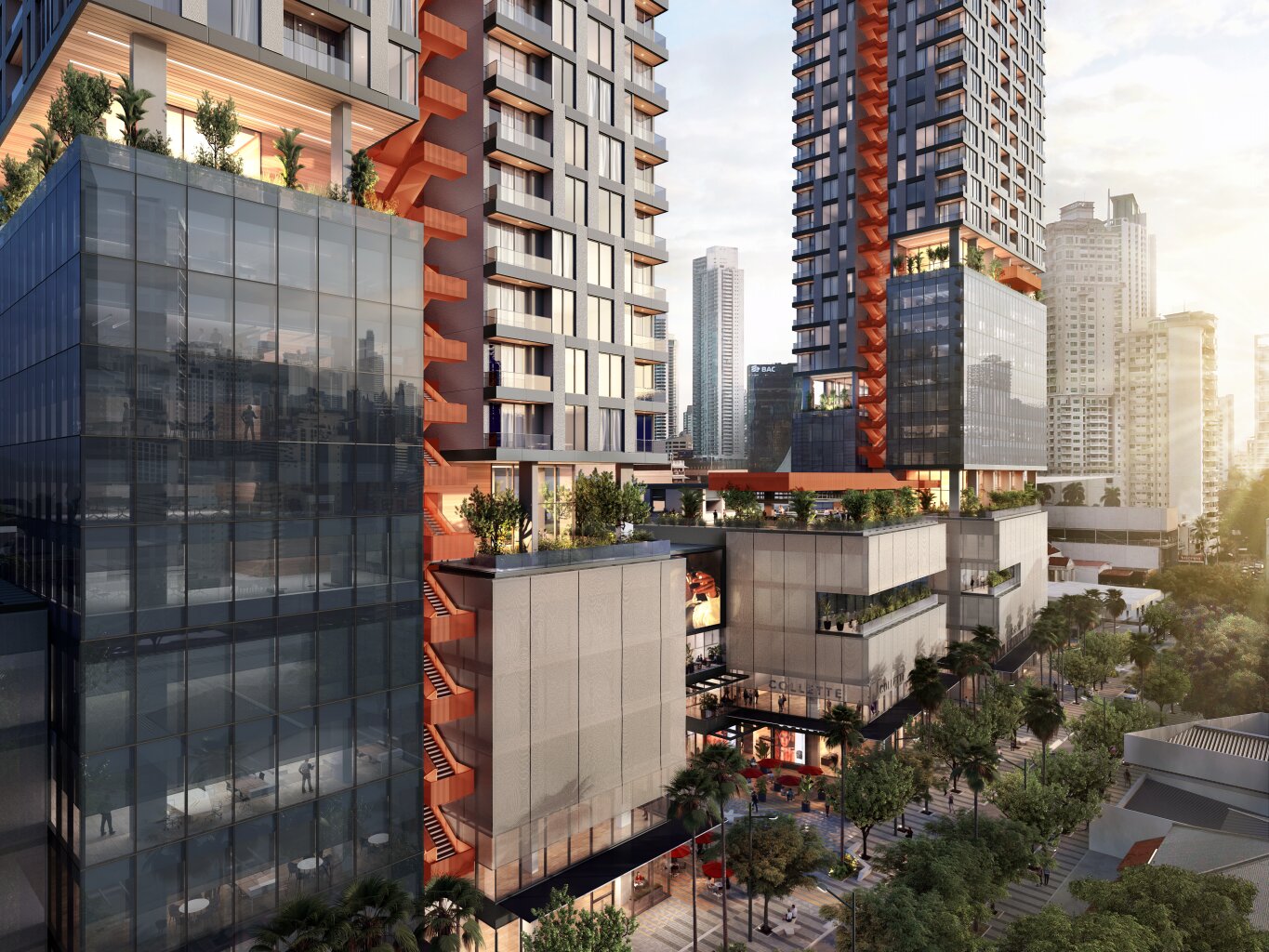 Generation Tower is located in one of the most high-class neighborhoods in Panama: Costa del Este. This is a neighborhood away from the city center but that can be easily reached by car through the Corridor Sur, which is a highway that connects the city center with Tocumen national airport.
This is a beautiful area in Panama where you will find a wide community of expats and highly educated people.
The project Generation Tower is the ideal residency for baby boomers, who are looking for a quiet but beautiful environment, social interaction, good healthcare, entertainment, and sport activities. This generation can get access to a great lifestyle but at a much lower cost than in the US or Europe and in an incredible and vibrant capital like Panama City.
Why is this a good investment for baby boomers - Independent Senior Living Program
There is a special program called Independent Senior Living (ISL) through which retirees will be able to access many benefits:
Health insurance will be included, which means the resident won´t have to worry about accessing the Panamanian health system. For those that are younger than 65 years, they can get insurance for affordable prices including accommodation for preexistent conditions.

Medical monitoring via smart watches, motion detectors and emergency call technology with on-site health professionals.

Generation Tower is a few steps away from the prestigious medical center Johns Hopkins, which has been accredited a gold standard by the US health commission.

Flexible meal programs including a Visa card with which you can get discounts in restaurants throughout Costa Del Este. This card, like any Visa card, is accepted in grocery stores and shops.

All the amenities offered by Generation Tower including concierge, pool, Sky Bar, theater, social area, yoga studio, jogging track and more.

A business center for those who still work and need to continue their business online.

Transportation through Costa del Este.

Reduced travel on Copa Airlines for family and friends who wish to visit. There are direct flights from many US cities and from Europe.

Organized social activities including cultural and social events, happy hours, and dinners.

Physical activities including yoga, tai chi, Zumba, and others.

Internet, electricity, water, and cable.

Weekly housekeeping including linen service.

Maintenance inside and outside the units.

Located in one of the most elegant areas of Panama and only 15 minutes away from the international airport.

Steps from the Town Center mall with access to entertainment, stores, and cinema.

Safety bars, quick-call buttons, and handicapped accessible doorways.
Why is this an excellent investment opportunity
Generation Tower is an extremely attractive project for investment for the following reasons:
Owners can occupy their own apartment and be a part of the Independent Living Program including health insurance for a great price.

If the apartment is purchased as pure investment, the ROI is approximately 9%. The cash on cash return with just 30% down and using developer financing is approximately 16%, (not including the 7% annual reduction).
It will be the only Independent Living project in Costa Del Este. Renters can have the complete independent living experience for an affordable price much lower than the ones you´ll find in the US or Europe. This is very attractive and competitive with the North American market.
Apartments are basically furnished. There will be turnkey packages available to choose from including appliances and also automation packages.
This Project is the least expensive project in Costa Del Este.
Great entry level investment.
Only one of two residential projects in Costa del Este with a license to do short term rentals. The 45-day min stay law for Panama City will not apply. For this reason, investors can also profit from renting the apartment out as Airbnb with the onsite property management company. This will also suit the investors that plan to use the apartment themselves from time to time, so short-term rentals will be a better fit.
Available units
The Independent Senior Living Program will only have 48 units ranging in size from 550 to 770 square feet and the on-site property management is very convenient both for owners and residents.
The structure
Ground level retail
From 134m2 to 245m2
Blue level
Here you will be able to interact with other people, exercise, refresh, and work, and all of this without having to leave the building.
In this special section you will find:
Infinity pool

Sun deck

Meet and greet lounge

Outdoor theater

Games

Jogging track

BBQ spaces

Rooms for different uses

Co-working lounge
Floor plan, levels from 9 to 40
Condo suites
53m2, 58m2, 59m2, and 65 m.
Levels 9 to 40, twelve condo suites per level.
Level 41, 6 condo suites.
Sky level, Level 41
Sky pool

Sky bar

Magnificent views
Oasis level, level 42
Relax at our oasis level and enrich your body, mind, and soul.
Athletic club

Wellness center

Yoga studio

Thai Chi Garden
Pricing and financing
In generation Tower you will find apartments of 53 m2., 59 m2 and 65 m2 starting from 185,500 USD.

The payment plan is 10% on the signing of the contract, 10% in 12 months and the final 10% in 24 months.

Completion date: approx. 4-5 years.

Developer financing is also offered on completion of the project with just 30% down and an interest rate promotion of only 4%.

5 years terms starting from completion date. For example, on the 53msq apartments, the monthly interest payment will be $ 462. There is also an annual principal reduction of 7%.

There is no preapproval process or pre-payment penalty.
Why to invest in Panama
Enhanced flexibility
The Panamanian tax system has one main benefit: it's territorial. That means it provides you with plenty of flexibility if you work with foreign structures. You can outsource services in tax-efficient jurisdictions because Panama only taxes locally sourced income, this makes it an ideal business and a very convenient place to establish residency.
Political and economic stability
Panama is one of the most stable democracies of the region. Large protests or strikes are almost non-existent. The country's economy relies heavily on its robust business sector, and especially on its financial services.
A top banking system
The Panamanian banking system is not only the best in Latin America, but it's also on the same level as Switzerland and the United States. Panama has a strong regulatory authority that ensures high levels of compliance. The country has top private banks that are used to dealing with foreigners and have staff with experience in Swiss and American banks to assist their international clients.
Dynamic business environment
Thanks to the Canal, Panama is a top business jurisdiction. Companies all over the world are present in Panama, and its top banking and financial services have turned it into a must for financial investors.
This, the reputation of Panama as a financial jurisdiction, and the friendly business environment turned Panama into a dynamic place to do business where thousands of businesspeople require top investing, financial, and banking services.
Thanks to these advantages, Panama has become a business and financial hub, attracting foreign investors, foreign talent, and expats from different parts of the world. Thanks to this, Panama is a cosmopolitan city where you can have an international lifestyle but at a low cost and with great tropical weather and landscapes.
Do you want to have an apartment in one of the most beautiful areas in Panama City with only a 30% down payment? Contact us and find out how. In only a year from now, you can be living in a luxury condo with excellent view, great on-site service, and high-class healthcare.
| Adress | Country | City |
| --- | --- | --- |
| Avenida Costa del Sol | Panama | Panama |
Property Id
Price
Property Building Size
Property Land Size
Year Built
21
$185500
53 m2
53 m2