Investing in Real Estate in Bahamas
Our goal at Mundo has always been about making life easier for investors and high-net-worth individuals. There is a lot of noise out there when it comes to finding projects worth investing in, and that's why our team is always working to find the best opportunities to maximize the money our readers invest.
That's why today, we are happy to let you know that we have teamed up with one of the most prominent real estate investment projects in The Bahamas. It is a residential complex with impeccable architecture and is in one of the most exclusive areas. You will be able to participate in this first-class project with an investment starting at $349,000. The best part? Our team can take care of the entire process from start to finish.
Why The Bahamas and Why Now?


The Bahamas has been part of the mythology of the international investment world forever. This jurisdiction, which the world also knows as "The Pearl of the Caribbean," is one of the most breathtaking places to experience that we have ever known thanks to its crystal clear waters, soft sand, and, of course, its tax advantages.
When it comes to investing in real estate, the Bahamas is on the wish list of any individual willing to go for the best of the best.
The Bahamas not only has a thriving level of foreign investment, but it also provides you with the legal security you need to have peace of mind no matter how much capital you have invested in property in this jurisdiction.
We can say that The Bahamas has all the elements we look for when it comes to places where you don't have to think twice before buying a property.
To this, we have to add the status quo of the world. We are witnessing how it is increasingly difficult to protect assets and enjoy financial freedoms thanks to the broken policies of countries that seek to regulate any activity, freeze assets and expropriate properties with absolute discretion.
At times like these, you should start lookingtowards safe harbors where you can invest your money. And today, The Bahamas is one of the safest places in this regard.
In short, what buying a property in The Bahamas provides you with is:
Healthy environment to expand your business and investments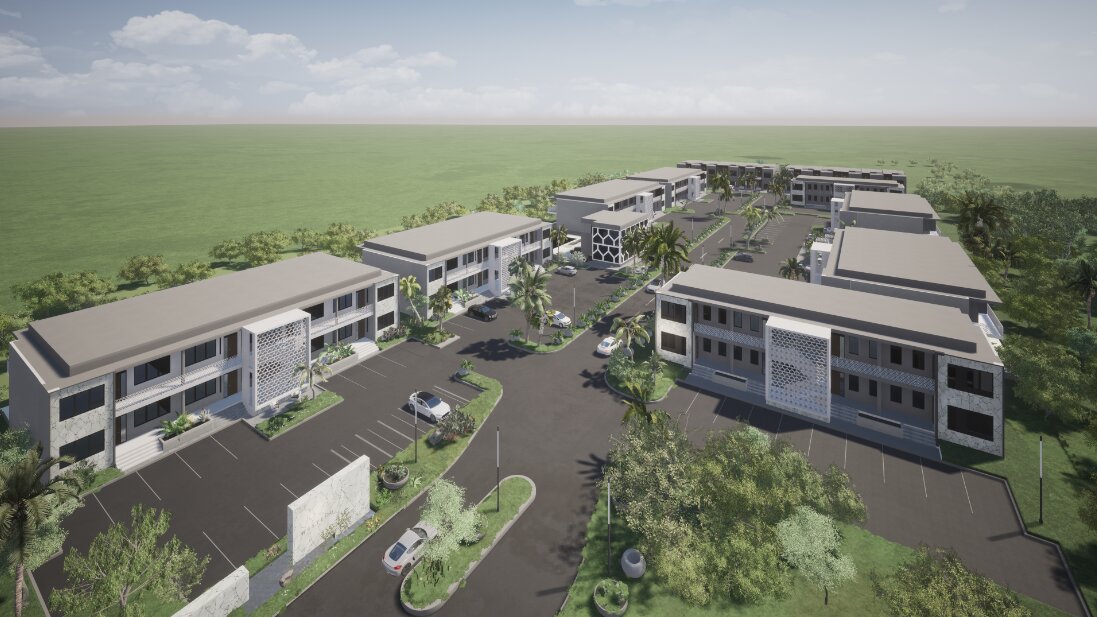 Our Real Estate Investment Project in the Bahamas
This exclusive residential complex comprises condominiums ranging from one to three fully equipped bedrooms and two-story private homes. All units have been designed so that you can enjoy the interior and exterior of your property with equal intensity. The units range in size from 259 to 563 square feet, feature high, ten-foot ceilings and hardwood floors from the foyer to the expansive central living areas.
The project's architecture strikes a balance between luxury and modernity to blend seamlessly with the inherent beauty of the project's location.
Speaking of location, this Bahamas real estate investment project is situated just a five-minute walk from Love Beach, one of the most beautiful beaches in the world and, for many connoisseurs, the best beach in The Bahamas.
Buying a property in this project in The Bahamas allows you to be away from the crowds and the hustle and bustle but at the same time close to the main airport connections in the world, such as New York, Miami, or London.
Project Details
Unit types available: 68 luxury condominium units and 12 private homes.
One-bedroom studio: $349,000
Two-bedroom suite + studio: $499,000
Three-bedroom residence (condo): $599,000
Three-bedroom signature residence (private home): $975,000
Initial reservation amount: $10,000
Amenities:
Entrance with security systems and access cards.
Security personnel available 24 hours a day.
Construction with high security and storm-resistant materials.
Designated parking spaces.
Infinity pools and cabanas.
A fully equipped state-of-the-art fitness center.
Reception lounge with kitchen and outdoor terrace.
Backup electric generator.
Prime location: the project is five minutes from Love Beach, one of the best beaches in the world, and also has quick access to Nassau International Airport.
Financing options: not available now, but we will open this option soon through a partnership with a respected bank in The Bahamas.
Eligibility for permanent residency: yes, for purchases of $750,000 and up.
Estimated ROI: the project has a flexible rental program that allows you to earn rental income from your property.
Project completion date: end of 2022.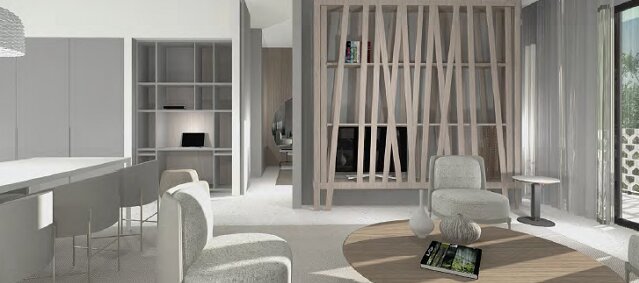 All in all, this is one of the best opportunities to invest in real estate in the Bahamas.
Questions and Answers


Q. Tell us about the developer and its history.
A. The developer of our project is Constantinos "Kosta" Berdanis, who has over twenty years of experience in real estate development and is one of the most well-known and respected developers in the Bahamas.
Our project was initiated over two years ago when Kosta recognized the niche market for a gated community in a secure neighborhood that would offer luxury amenities while being priced to appeal to second home investors and young professionals and first-time homebuyers.
The process of acquiring the necessary permits and multifamily zoning approval for the land was painstaking, compounded by the pandemic and the shutdowns, but, in retrospect, it was worth it, as we now have this beautiful project underway.
Q. Why is it a good time to invest in the Bahamas right now?
A. Here are the top 10 reasons to invest in the Bahamas:
1. The climate and lifestyle are ideal, with plenty of islands and cays to explore, whether it's blue hole diving or lounging on a picturesque beach.
2. Peaceful and stable democracy since 1729, with proactive incentives for investment.
3. Independent nation with respectful legislation and a consultative legislative approach.
4. Located less than 50 miles from the world's largest economy and with the Bahamian dollar pegged to the U.S. dollar
5. No taxation on capital gains, inheritance, estate, corporate and personal income, dividends, and interest
6. Proximity to major financial centers in North America and Latin America, with Miami only a 25-minute flight away.
7. Same time zone as New York and Toronto, with direct flights to and from major U.S. and Canadian cities, as well as London.
8. Local bank financing at competitive rates and financing offered in U.S. dollars.
9. Highly skilled industry professionals and English-speaking workforce.
10. Essential public services and modern infrastructure
In addition, the Bahamas has a bright economic outlook, as the tourism industry is poised to surpass pre-pandemic levels based on current trends. Recent developments also confirm that the Bahamas is an excellent investment option, as demand for long and short-term rentals is expected to increase in the coming months:
1. The Bahamas maintained its status of having one of the highest GNI per capita in the region in 2020 despite the pandemic.
2. 80% of Bahamian pre-COVID capacity is planned by June 2022 per Caricom Business.
3. Over $400 million in capital investment, previously on hold due to the September 2021 general election, is back on track and underway.
4. The Bahamas was the first country in the world to launch a Central Bank-backed digital currency as legal tender in 2019 and launched the Digital Assets and Registered Exchanges Act ("DARE" Act) in December 2020. It is one of the few jurisdictions with comprehensive legislation to regulate digital assets.
5. The world's third-largest and leading cryptocurrency exchange, FTX, moved its headquarters from Hong Kong to the Bahamas (September 2021).
6. A joint tourism policy is being developed with other countries in the region to stimulate tourism.
7. The new cruise port in Nassau, the capital of The Bahamas, will have Oasis-class berths and will attract more than 250,000 visitors by December 2021.
8. The U.S. Embassy expands its workforce with a new building to be completed by the end of 2022, and employees and their families represent a high demand for residences in our project's price zone.
Q. How are the real estate laws regarding investor protection, and how is the title to the property acquired?
A. The buyer will acquire his unit free and clear as a condominium and is protected by the Bahamas Law of Property and Conveyance Condominium Act. And Bahamas Law of Property and Conveyance Condominium Act. In addition, the Buyer will have the option to purchase title insurance issued by a reputable U.S. insurance company, and the title insurance is already guaranteed on the land.
Q. What protections exist for pre-construction buyers?
A. The developer has taken out construction insurance. The development is currently at 55% pre-sales, and we expect to reach 70% by the end of 2021.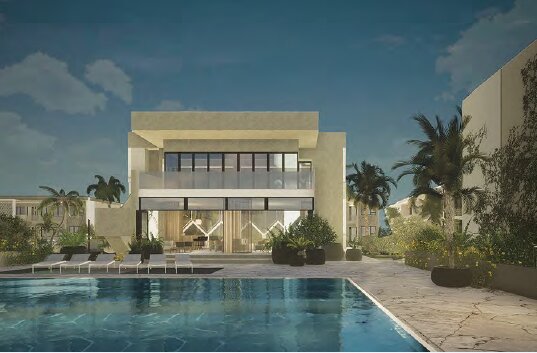 Q. Tell us about some of the advantages of this project.
A. One of the most attractive aspects of our project is the flexibility of the rental policies. All units can be rented on a long-term basis, i.e., 30 days or more, which is considerably shorter than the standard long-term rentals, which are usually at least six months.
In addition, some units have the additional option to be rented on a short-term basis as vacation rentals such as Airbnb or Vrbo, with no minimum rental period. Our project will also offer investors full concierge property management services for their units, so investors can simply collect their dividends without lifting a finger and watch their property appreciate.
Furnishings are also included in townhouse purchases and are available as an add-on for condominium units to truly maximize returns with minimal effort. Detailed rental projections and estimated net annual returns are available upon request.
In terms of project appeal and amenities, we have an award-winning design team, Alain Desgagné, and Caroline Sidaros, responsible for the stunning architectural look of our project, which is unlike any other on the island. Nor is it superficial beauty: Kosta uses commercial construction techniques that will ensure your investment lasts for years to come.
In addition to following the latest building codes and installing hurricane- and impact-resistant windows, our residences feature an Epicore reinforced concrete roof and floor system, an industry-leading choice for superior strength and durability.
The site has also been chosen for its elevation above sea level and high-rise foundation, so flooding will never be a problem. You will be able to shelter safely and peacefully in the comfort of your home, powered by on-site backup power in the event of power outages.
Perhaps the best feature of our project is the 5-minute walk to one of the best beaches on the island, Love Beach. Everyone idealizes the idea of beachfront living, but not many people understand the important maintenance that property requires.
In our project, you can enjoy the ocean at your feet without the added costs. Other luxury amenities include two resort-style outdoor infinity pools with cabanas, a state-of-the-art fitness center with workout equipment, an entertainment lounge and clubhouse, 24-hour manned security, gated entry with key card access, and a telephone entry system.
Q. How does it compare to other projects in the area in terms of price and value for money?
A. The price of our project really sits in a niche between affordability and luxury. If you take into account our location, amenities, beach access, design and quality of materials, and construction technique, along with current market trends, our pre-construction offerings are priced appropriately.
Other comparable developments or properties in the neighborhood start in 7 figures, although many have additional features such as ocean views or boat docks. However, those are totally different markets, and we are confident that our prices are well nestled in their own niche market.
Q. Is financing available?
A. We do not currently offer in-house financing. However, we are in partnership with a local bank, Bank of the Bahamas, which can offer qualified buyers financing options based on their financial background and assets. We will be happy to make the presentation to interested parties.
Q. Is it possible to buy with cryptocurrencies and, if so, how?
A. Currently, no. But we are actively pursuing this possibility and intend to be the first development in the country to accept cryptocurrencies for real estate purchases. We expect to make this announcement very shortly.
Q. Can residency/citizenship be acquired with the purchase, and if so, how?
A. Yes. In the Bahamas, real estate purchases worth more than $750,000 entitle one to permanent residency, where one can enjoy almost all of the rights and benefits guaranteed to citizens. Thus, the purchase of a townhouse in our project or several condominiums satisfies the minimum threshold.
This project was designed to maximize investment potential, so we have an in-house offer for investors interested in permanent residency. The permanent residency package includes the purchase of a 3-bedroom condo of your choice, as well as legal services for the application and any related government fees for a total price of $750,000.
In addition, the developer will pay the full 10% VAT (value-added tax) on the purchase, which is normally split equally between the buyer and seller.
Q. What is your special offer for our readers?
A. If the permanent residency package is purchased, we will offer the buyer a 3-night stay at the Baha Mar Resort (double occupancy) to tour our project and explore the island.
contact us download the brochure