Coffee + Teak + Panama Residency
If you are from any of the countries that do not qualify for the Panamanian friendly nations visa, then worry no more.
We, at Mundo, have contacted the best experts in Panamanian residency in order to offer you a solution: the forestry investment visa
By investing in the reforestation visa program, supported by the government, Panama offers the possibility of acquiring permanent residency for the investor and the whole family. There is also the chance to apply for citizenship after 5 years of permanent residency.
This is a unique opportunity as it provides great ROI and the chance to become citizen of one of the most important business hubs in the world, with an excellent and unique tax regime.
Unique opportunity
Today we offer a unique opportunity:
Teak + coffee residency package, which includes:
Investment in teak land plantation.
Investment in a land with coffee plantations and a resort.
Residency in Panama under the reforestation visa program.
Advantages of this investment
Obtain residency in Panama with your family
Cash flow from your teak plantation in 25 years.
Cash flow in 6 years from the sales of your coffee beans.
Free-stay at the coffee state for 6 nights per year.
Contact us for more information on the reforestation program.
The Project
Panama enacted Law 24 to encourage private investment in efforts to restore the country's rapidly diminishing tropical forests. At the time the law was passed, Panama's tropical forests were disappearing at the rate of 79,000 hectares (about 195,213 acres) per year. To reverse this trend, Law 24 offers significant tax advantages and permanent residency visa eligibility to investors in government-approved reforestation projects under the Forestry investment visa.
Panama's environmental protection agency (Ministerio de Ambiente) oversees reforestation projects.
All wood that is harvested within the project is exonerated from Panamanian taxes, including export taxes, for 25 years. All capital gains from the project are tax exempt, and all direct and indirect investments income from the project are 100% deductible from the investor's Panamanian income tax. In addition, no real estate taxes are levied against the land while in the reforestation project.
Any equipment and materials purchased for use in the reforestation project can be brought into Panama tax-free. This includes vehicles and heavy equipment, which would normally be subject to import taxes. It is important to notice that the program includes 100% management of the lot, so no additional investment nor management of any kind is required from you. However, if you have other investment interests in Panama these tax-free benefits are worth keeping in mind as you do have 100% ownership of the lot so you can in fact take advantage of this if you wish.
The total cost of the program that meets all the qualifications of the permanent residency visa and includes all legal fees is $194,950 only under a special limited offer, and will give you 100% ownership of the plot. In addition, it will make you eligible to apply for citizenship and obtain a Panama Passport, which can have significant value, after 5 years of permanent residency. Moreover, if you have additional family members, these will be eligible too under the same program. The added cost per family member starts from $7,800 to cover government fees and legal costs.
For more about the visa, for you and your family, please visit our residency section for all the great Panama residency options
Procedure and timeline for obtaining a reforestation visa in Panama
Mundo, along with its partners, has developed an innovative project that maximizes the yield and safety of your residency visa purchase and fully qualifies you for a permanent residency visa in Panama.
This complete package includes all legal costs and is designed for the immigration successes. We know that many of you have had limited access to attractive second residencies in the past and have therefore made this special offering for you!
In addition, you can also become eligible for Panamanian citizenship under this program.
We know that many people worry that the residency visa processes can be a very paperwork intensive process. But don't worry, our expert team will handle it all for you and guide you safely through.
To obtain a Reforestation Residency Visa, you must invest $138,000 in a reforestation project that has been approved and registered with Ministerio de Ambiente.
Then, before starting the application process, our Panamanian attorney will give you a list of documents that are required for your visa application. For full list of documents required please contact us. Your attorney will safely guide you through the whole process. You are in safe hands with us!
You can then begin the process of applying for your residency visa. For this process, you must be represented by a Panamanian attorney. Our bilingual attorneys have extensive experience in guiding clients through the visa application process and will keep you continuously informed of the status of your application.
The application process: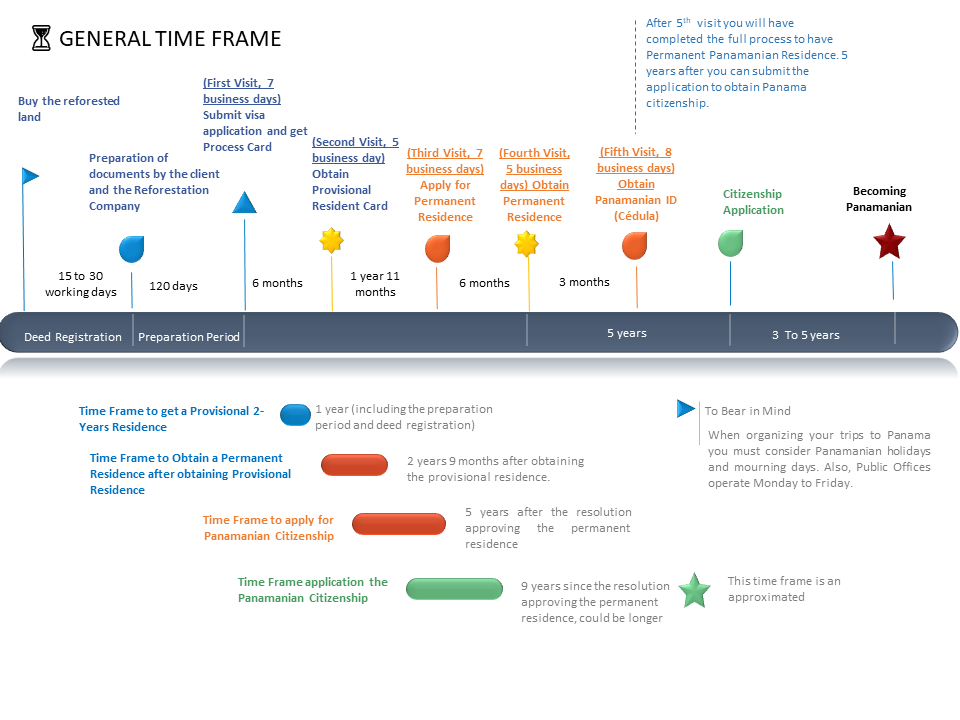 *If you leave without your Multiple Entry and Exit Visa, upon your return you will be subject to a penalty of $2,000.00 per person for first time offenders, and $5,000.00 per person for repeat offenders. Your multiple entry visa is only valid for 12 months.
With this investment you can have great ROI and also acquire Panamanian residency, don´t miss the opportunity as we are now offering this package at a special price. Contact us for more information.