Cyprus: the Best Destination for Your Real Estate Investment
9/9/2021 8:00:00 AM
Admin System
We constantly ask ourselves what is the best way to invest our money. Where will it go? Will it generate returns? And many more are common questions in every investor's mind. As it should be, when making a major investment, you always hope to get the highest possible return, in a shorter period of time, and that is the case with our article today.
Sticking to the above idea, we want to tell you about the advantages and why you should consider Cyprus real estate business as a more than attractive destination for your next investment. This small country located on the Mediterranean Sea and more importantly, a member of the European Union, is one of the main business centers and one of the most stable economies in the whole continent.
What You Should Know
We want to offer to you some facts you should be aware of in order to consider Cyprus in your and your family's future:
-Cyprus is the safest small country in the world
-It has the 3rd lowest corporate tax rate in the EU
-It's the 5th relocation destination worldwide
-One of the lowest pollution rates on the planet
And if you want to have some data that will help you to decide as an investor, we also have some great numbers about real estate statistics for you:
-70% of transactions are made by non-EU residents. This says a lot about the openness Cyprus has had with foreign investors and capital holders,
-The residential index has a solid 5% Year-on-Year growth.
-The sales contracts in the Cyprus East Coast have a growth of 72%
Cyprus has dedicated its efforts to become, position, and maintain itself as an attractive and stable destination for foreign investment, not limited to the countries of the European Union, which is why several investors from the Middle East and Asia own businesses and properties on the small island.
The stability and great luxury characteristic of the real estate market in Cyprus has caused an exorbitant increase in sales and commercial operations related to these properties, which also have enormous rates of return and profit.
Real Estate You Can Invest in
If you are interested to make a real estate investment in Cyprus, either way for a resident for you and your family, or seeking to benefit from friendly tax policies and attractive income in terms of rent and returns, there are several sectors and properties you can invest in:
-Villas
-Tourism Sector
-Mixed Properties
Despite all of these options, you are able to invest in your well-being and your family's. If you contact us, our experts will help you to find the right property for you. No matter what you choose, it will have luxury, beauty, and the most important thing of all, it will help you secure your future.
Life in Cyprus after Your Investment in Real Estate
Settling in Cyprus after acquiring a real estate property has great advantages. In addition to those mentioned above, one of the most important is the possibility of acquiring a permanent residence permit. For any respectable investor, and even more so if he is not a resident of the European Union, this idea is simply phenomenal. And like it, this European country has many more amenities to offer.
We want to help you get the ideal property for you, according to your preferences. Thinking on that, we know that if you decide to invest in Cyprus real estate, you are looking for a lot more than just luxury, so we give you this:
1)Legal System Transparency
Cyprus' legal system is recognized as a business-friendly one, committed to transparency. It's totally respectful of EU regulations in terms of businesses, as well as with several organizations that fight money laundering and other crimes. In other words, you will be in a safe, friendly, and reliable environment.
2)Great Infrastructure
One of the things that make this island so great, is its modern and well-developed infrastructure, which makes life a lot easier, cost-efficient, and relaxed, thanks to its remarkable network of services (education, health, entertainment, etc).
3)Safety
A clean environment, healthy cuisine, great personal safety, and low stress and crime levels are some of the things you will find by buying a property in Cyprus. This country is one of the safest nations on the planet, as well as one of the top relocate destinations worldwide.
In general, for a businessman with a successful life, starting a new life in Cyprus has a lot of attractive points. By living in Cyprus, you and your family will be in an EU country with a lot of access to the rest of Europe; with a great and developed health system, great properties, and lots of luxury; there are no big language barriers due to a great number of inhabitants speak English, and most of all, a great environment with all the comfort wealthy way of life of the great metropolis, but without its stress, pollution, traffic, and several other unpleasant situations.
The Eden Residences Project
We know that words can say a lot of things, But nothing is better than a picture to convince you that what we tell you is more than real.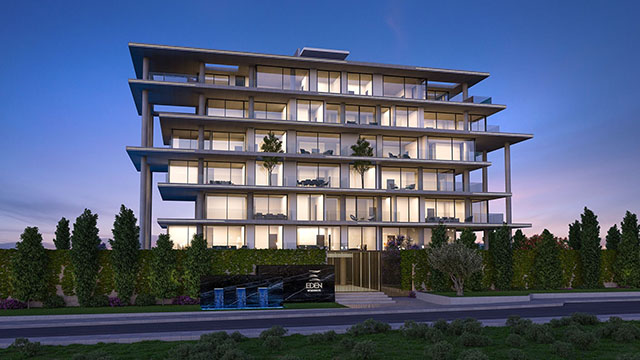 There is a jewel rising in the Protaras tourist trip that we promise will absolutely make you fall in love with its enchantress, unique architecture, and brand new units. This magnificent residential business with its distinctive glass fronts and elegant form, inspired by the letter 'E', gives us an idea about the landmark that Eden Residences will become in the region.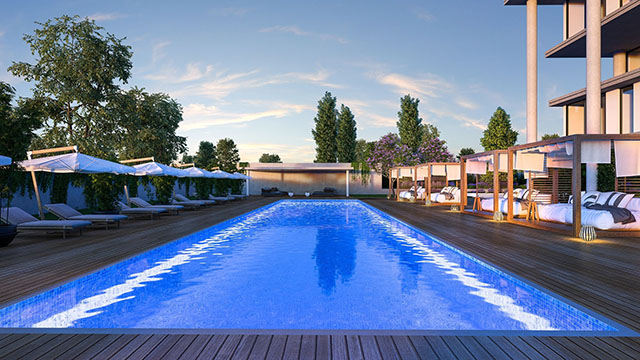 Great swimming pools (including two private ones for the magnificent pent-houses), a gym, and lots more are waiting for those willing to take this unique investment opportunity in the Protaras touristic center.
Its excellent location will allow you to visit all the attractions of this great resort, from restaurants, beaches, entertainment venues, and much more, all in the great region of the east coast of Cyprus.
There are very few units available, so you must hurry and contact us to get your apartment with great sea views from floor-to-ceiling glass fronts and balconies. This is just one of the great lists of properties from our signature collection.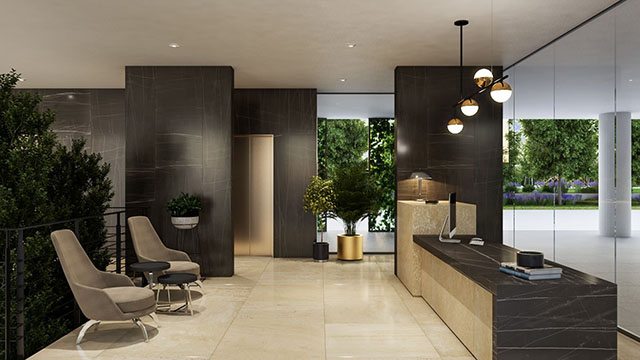 Investment Potential
The stability of the real estate market in Cyprus over the last few years has resulted in properties in this country having one of the highest rates of return in Europe. According to different surveys, residential properties produce returns of up to almost 6% in terms of rent, while commercial properties yield around 5%. This is to pay attention to this market. Your property, besides giving you strong and real benefits, like the permanent residence permit, is giving you back some of the money you invested in it. This is just great.
Whether you are looking for a place to start a new life after a successful business career, or you want your investment to continue to yield profits and benefits, buying a property in Cyprus is an excellent idea.
The internal area of units starts from 80 sq.meters and up, the pricing starts from $620,000 and up. All payments are always plus VAT.
Contact us now to learn more about the available portfolio and the financing option for this property in Cyprus. Our experts will be happy to hear from you and to help you with every step of the way.