Luxury family apartments in Costa del Este, Panama
7/1/2022 8:00:00 AM
Admin System
Whether you want to buy family real estate in Panama or be the owner of a rental property, Mundo has a solution for you. Today we present a complex designed for the modern family and located in one of the most wanted yet quietest areas in Panama City.
Keep reading if you are looking for an all-in-one solution for your needs with top amenities, ocean and park views, a water tank, and an electric plant. But first, let's dive into this beautiful neighborhood.
Buy apartment in Costa del Este
Those who live in Panama probably know Costa del Este, but many of our readers come to us from abroad. Hence, we dedicate this section to describing this area which is one of the nicest and safest in the city.
High commercial activity
In Costa del Este you'll find everything for a fulfilling modern life. There are malls, stores, and other shopping alternatives. When it comes to groceries there are many Chinese stores and a Riba Smith, which is Panama's top supermarket. Residents come to Riba Smith for first-class groceries, imported products, fine wine, and a wide selection of cheese.
In case you are wondering, there are also clinics, medical laboratories, schools, an office center, and a Westin hotel. Finally, although not in the neighborhood, Atlapa convention center is less than 5 miles away from Costa del Este.
Plenty of entertainment options
Investing in Panama real estate can be fulfilling, especially in Costa del Este. The area boasts plenty of restaurants, cafes, ice cream stores, a movie theater, and parks.
Great location
Costa del Este is not in the City Center, so, if you want to be within a walking distance of Panama's main commercial and entertainment spots, this is not the best place for you. However, if you are willing to sacrifice amenities, you get more peacefulness and better urban design.
But our main point here is that Costa del Este has an excellent location in the city. If you don't care about being in the heart of the metropolis, you'll love Costa del Este. It has direct access to the Corredor Sur, an exclusive highway that runs with views of the Ocean and the famous skyscrapers. For a small fee, you can avoid heavy traffic and be in the city center in only 20 minutes, that is Via Argentina, Obarrio, Calle 50, Cinta Costera, and Calle Uruguay. It's worth noting that you are also 20 minutes away from the Tocumen airport if you take the Corridor Sur in the opposite direction. This airport is the most important one in the region and is the only international airport in Panama City to this date.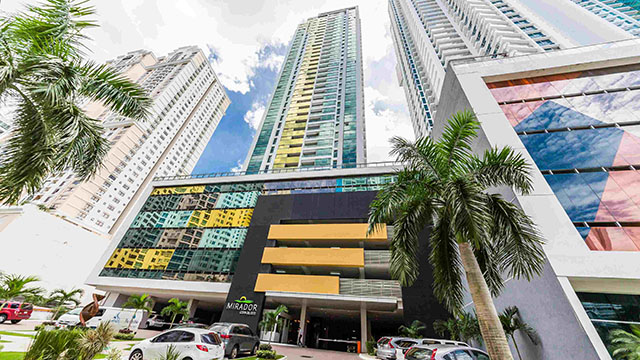 Urban planning
If you live in Panama City, you know that it's not the best place to stroll. Most of the city doesn't have properly outlined sidewalks, crosswalks, or pedestrian traffic lights. But everything is different in Costa del Este as it's the only urban planned neighborhood with wide sidewalks, ocean views, and plenty of green areas to enjoy.
Green areas to enjoy on foot
If you want to buy a luxury apartment in Panama and love to walk or ride your bicycle, give Costa del Este a chance. The area has a promenade called Paseo del Mar where residents go jogging and cycling. There is also a large central park within a walking distance from practically anywhere.
In this article we present our favorite country for business and for life:
Active nightlife
Originally planned as a family neighborhood, Costa del Este had no nightlife at the beginning. Most restaurants and cafes catered to businesspeople and closed early. However, this is changing. Residents can now enjoy a nice night out going to a restaurant or for a drink at the popular beer place Rana Dorada.
We must say, however, that the nightlife here is not the most active. If you are looking for pubs and discos, you'll want to go to Calle Uruguay or Casco Antiguo which is probably the option for single people or young couples. Costa del Este fits better with family life, hence, the project we present in this article.
Click here for more information
Buy a luxury apartment in Panama and enjoy it with your family
At this point, it's clear why Costa del Este is the best place for family real estate in Panama. To all foreign families that want to start a new life here, we offer fine apartments with luxury amenities.
About the project
The project is located in Costa del Este, in a modern, exclusive area near schools, malls, and supermarkets. Embrace the benefits of living in the city in a quiet environment with park and ocean views. You'll enjoy the following:
- 42-floor tower with apartments across 33 levels
- Deposits
- Emergency electric plant
- Water tank with pumping system
- Parking across 5 levels
- 4 apartments on each floor
- 4 elevators and 1 cargo
Apartments
- 3 bedrooms
- 200 m2
- Studio or extra room
- Living room
- Dining room
- Kitchen with breakfast area
- Toilette
- Household room with bathroom
- Laundry area
- Balcony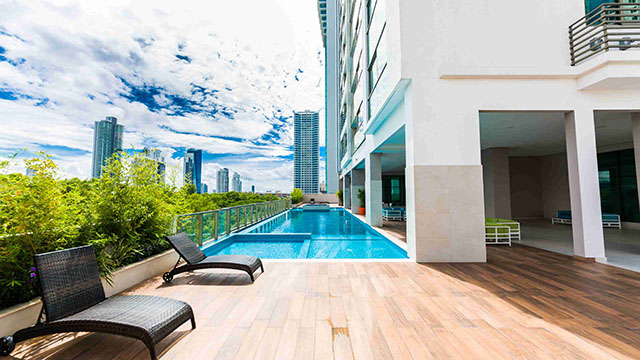 Social area
Residents and visitors can enjoy a variety of amenities including:
- Infinity pool
- Children's pol
- Event room
- Playroom
- Jacuzzi
- Sauna
- Gym
- Terrace
- Children's playing area
- Price: from $580,000
Buy Panama real estate with Mundo: why us?
When buying property abroad, it's better to err on the side of caution. Besides doing the necessary research about the country where you're moving, you should get help from local experts.
Our Mundo experts and especially our partners can go beyond any research as they have lived in the country for many years. We have an office in Panama with lawyers, real estate agents, and financial advisors ready to help you every step of the way.
The best part is that, for 2 years now, we have partnered with Panama's most elite real estate developer. This company builds all kinds of luxury residencies targeting families, newlyweds, businesspeople, rental property, beachfront real estate, city apartments, and more.
Contact your Mundo representative and find out the financing options available.