Your Best Investment Fund Opportunities
10/30/2021 8:00:00 AM
Admin System
This article represents a carefully selected collection of various investment fund opportunities from a best in class wealth manager with global reach that will help you pick the best investment solutions to reach your investment objectives and avoid the bumps along the way.
So, here are some of them:
Vitae Patrimonial Fund
This is one of our most popular investment vehicles. It is a multi-asset vehicle that allows our investors to enjoy advantages such as:
A focus on asset allocation: this allows you to reduce volatility by combining various uncoralated types of assets. The opportunity to have such an investment vehicle is crucial to the health of any investment portfolio.
Dynamic and flexible portfolio management: the multi-asset and flexible nature of this vehicle make it a perfect diversified base on which we can add more specific and agressive investment opportunities
Access to exclusive investment opportunities: Due to its size and professional manager, the fund have access to exclusive and high minimum amount investments that could not be accessed by the regular investor.
Daily liquidity: No lock up, or redemption period so your capital stays available whenever you need it.
Minimum Investment Requirement
Perhaps one of the greatest advantage of Vitae Patrimonial Fund is the minimum investment amount. In this case, we are talking about only $50,000, which allows any investor to access a sophisticated, highly dynamic investment vehicle.
Global Lending Opportunities Fund
Global Lending Opportunities Fund is a particularly popular product among our investors because it perfectly combines stability with attractive investment returns while at the same time having a level of collateralization that provides security for more risk-averse investors.
This product is comprised of short-term and high-yielding credits and loans to acheive high returns while maintaining a certain liquidity for investors.
The Global Lending Opportunities Fund aims to achieve a high level of diversification by maintaining exposure to various uncorrelated private debt strategies.
This best in class manager's strategy when it comes to the Global Lending Opportunities Fund is to quickly obtain a cash-on-cash return through short-term loans that allow us to take advantage of their compounding benefits.
These are the key features of the Global Lending Opportunities Fund: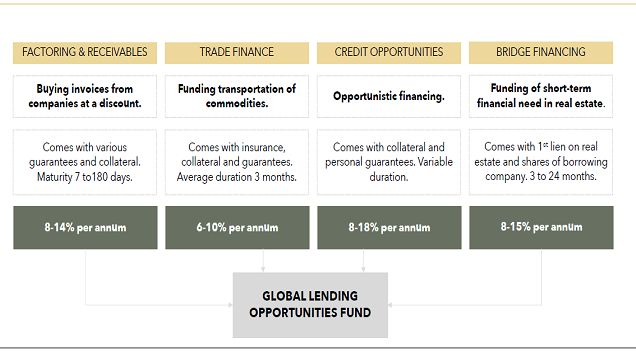 Stable and attractive investment return: this is one of the least volatility-exposed investment vehicles we can think of. The Global Lending Opportunities Fund is specially designed for investors with a conservative profile and who care a lot about putting their money in stable vehicle that generates regular dividends.
Not correlated to traditional assets: this allows you as an investor to protect yourself from the fluctuations to which traditional assets are subject and which can negatively affect the return on your investment. It is the perfect option to diversify your portfolio away from the volatility we have experienced the last couple of years in markets around the world.
Capital protection: Every loan issued by the Global Lending Opportunities Fund has robust collateral higher than the loans' value so i case of default, collateral can be seized and resell quickly at a discount in order to recover capital.
Liquidity: One of the advantages of working primarily with short-term loans is that the fund can offer our investors monthly liquidity.
These advantages, while sufficient to explain why our clients have a strong interest in the Global Lending Opportunities Fund, are complemented by an investment return that removes any doubts about the benefits of owning this investment vehicle.
Neo Technology Fund
The Neo Technology Fund is an equity fund that was developed with a long-term capital growth in mind by focusing on disruptive technologies and companies with innovative value propositions. The manager uses a mix of private and public equities to deploy its capital where the best returns will be acheived.
The technology sector remains among the best performers for the year. The strength of these companies' balance sheets could support mergers and acquisitions or other earnings-enhancing activities.
The development and breakthrough in innovative technologies are changing society and the economy worldwide. Their disruptive impact is not limited to the technology sector but is palpable in industries such as financial services, healthcare, manufacturing, consumer goods, and energy. These digital niches allow for a wide range of innovation opportunities and an attractive growth outlook.
In addition, it should be considered that companies, in general, are facing abrupt changes in the behavior of their users that force them to accelerate their digital transformation and technology adoption processes, which generates the ideal conditions for vehicles such as the Neo Technology Fund to have a high performance.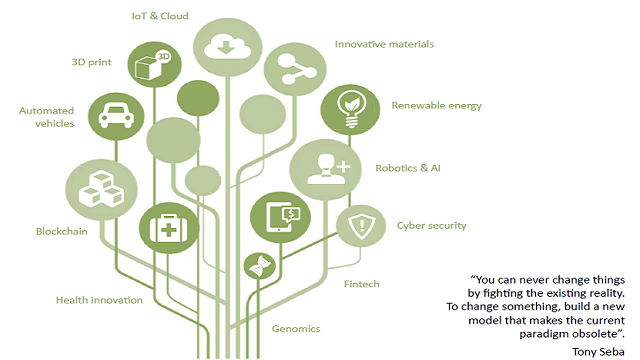 The main characteristics of the Neo Technology Fund are:
Actively Managed: in our experience, one of the most crucial things for an investment vehicle like the Neo Technology Fund to succeed is that it is commonly managed with the rigor it requires. Technological advances are fast-paced, requiring these types of mutual funds to continually adjust parameters to keep up with the most profitable opportunities in the market.
High Growth Potential: disruptive technology companies have growth models that become exponential when a point of mass adoption in those technologies is reached. That behavior creates a unique opportunity to have a safe investment vehicle but with a significantly higher upside than other similar vehicles.
Monthly Liquidity: thanks to a mix between private and public equities, the fund can still offer monthly liquidity to its investors while giving exposure to exclusive private equity investment that are generally illiquid.
Minimum Investment Required
The minimum investment to enjoy these advantages is only $50,000. The minimum investment amount required alone does not allow you to determine if this vehicle is a favorable opportunity to manage your assets.
Specialty Real Estate Co-Investment
This real estate co-investment alternative may be ideal for many investor profiles that are currently characterized by adversity to volatility and uncertainty.
More and more investors, even the most traditional ones, are deciding to try the co-investment model to mitigate the uncertainty in the real estate sector today, and you can too.
With the real estate and real estate development industry going through one of the most critical times in recent years, not only because of the effects caused by the global COVID-19 pandemic but also because of the disruption in the industry of trends such as proptech and the changes in buyer behavior of the millennial and gen-z generations.
In response to these challenges in the real estate investment industry, co-investment models have been created. This alternative allows investors to access returns from one of the most stable markets available but with fewer constraints and lower barriers to entry by investing alongside one the top single Family Office in the region.
In this case, the offer is to co-invest in specially selected real estate in the Caribbean Marinas.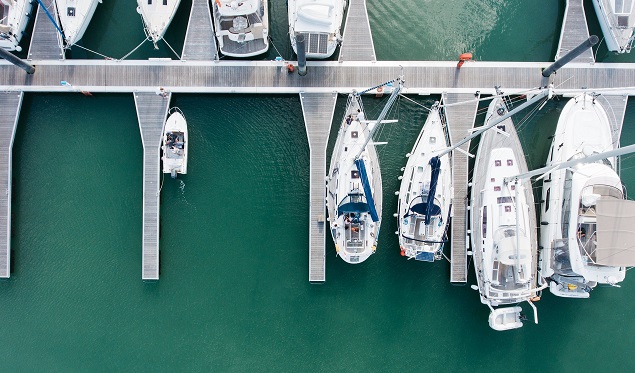 These are the main characteristics of the investment:
First Marinas' Operator in Puerto Rico and Sixth in the United States:

4 marinas

more than 1400 dry storages, as well as more than 600 wet storages

8-year average tenure
Sustained and Proven Growth and Profitability
even in challenging environments like hurricane Maria or covid19.

expected Return: IRR 15%+ (including 4-8% dividend pais semi-annualy)
High Growth Potential
limited supply and high demand.

substantial growth thanks to investments and increase in CAPEX.
Swiss Certificate
buyable from any brokerage account.
Private Equity Investments Opportunities
You also enjoy access to private equity investment opportunities that are usually reserved to institutional investors.
Among those private equity investment opportunities are two that are particularly popular with our clients because of the combination of features and return on investment they offer.
On the one hand, we are talking about:
1. Late Stage Venture Capital Fund
2. Pre-IPO stocks.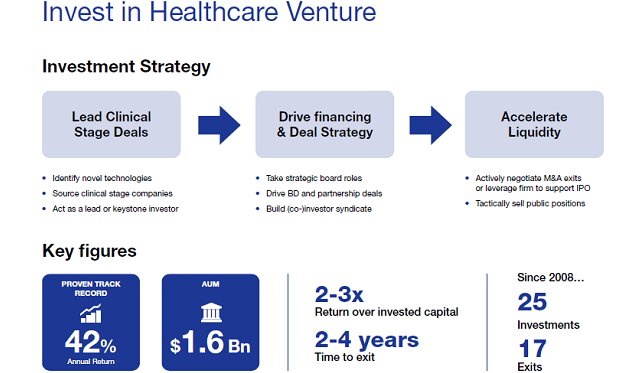 These investment opportunities are hugely profitable because it allows you to invest at a key moment for companies, which is just before their technology reaches a mature level of adoption and development. This is precisely the phase of greatest growth and the time when you can generate the highest return on your investment.
These types of private equity opportunities are often the perfect complement to a portfolio designed for clients with a conservative investment profile, as they offer the possibility of maximizing the return on your money without exposing you to considerable risk.
Combining these vehicles with our core funds is a strategy that allows you to achieve the maximum level of diversification in your investment portfolio.
Disclaimer: The information contained in this article is for informational purposes only and does not constitute financial advice or recommendations. Investing in financial products or cryptocurrencies involves risks, and you should be aware of the potential risks involved before investing. The content on this website is not intended to be a solicitation or offer to buy or sell any financial products or services. The information provided does not take into account your specific investment objectives, financial situation, or needs, and should not be relied upon as a substitute for professional financial advice. You should seek independent advice from a financial advisor or other professionals before making any investment decisions. Please be aware that the legal status of cryptocurrencies and other financial products may vary in different jurisdictions and may be subject to regulation. It is your responsibility to ensure compliance with any relevant laws and regulations governing the sale and marketing of financial products and services in your jurisdiction.