Invest in a luxury mountain resort in Montenegro and get a second passport that opens the doors to Europe
3/30/2021 8:00:00 AM
Admin System
Montenegro is one of the corners of Europe where the cost of living and real estate has not yet reached astronomical levels. In addition to a favorable entrance price, this country attracts thousands of visitors worldwide all year round thanks to its incredible natural attractions and its reputation as an international center for winter and mountain sports.
This tourist boom has made Montenegro's popularity levels go through the roof. With the rise in world tourism rankings comes international investment in the real estate sector.
The Montenegrin government was able to see this situation. It did not lose a second to implement one of the most robust citizen-investment programs among its neighboring countries. Montenegro's CBI program combines affordable prices, luxury, and a passport that, in a short time, could open the doors to the European Union.
Montenegro has everything it needs to become a mega tourist center in Eastern Europe: access to the beautiful waters of the Adriatic Sea, a climate that is warm for the average Balkan country, an unparalleled natural environment, and a growing economy. This would generally justify the idea of investing in this country, but in case you need more specific reasons, read on. You will see why Montenegro is the treasure of the Balkans. You should invest in the luxury Mountain Resort in Kolasin.
Reasons to invest in Kolasin Mountain Resort, Montenegro
CBI program: when you invest in a property approved by the government of Montenegro for its citizenship by investment program, you gain access to a passport that is already quite attractive in itself, and in less than five years, the country will officially enter the European Union. This means that you will be able to move and do business across the Eurozone. If you are reading this article, you may be interested in obtaining a second passport from a European country. You will also know how expensive the CBI and Golden Visa programs of the old continent can be. That's why you'll be happy to know that you can participate in Montenegro's Citizenship by Investment program, starting from €250,000. When we said this was one of the most robust programs in the region, we meant it.

The E-2 visa, your bridge to the United States: Montenegro is one of the few countries in the world that has both a CBI program and a bilateral agreement with the United States for its citizens to apply for an E-2 visa. This type of visa allows you to do business on U.S. soil, and freely enter and exit the country. This visa can be renewed indefinitely. This is undoubtedly one of the most interesting things about Montenegrin citizenship.
Learn more about the E-2 visa here
Kolasin is one of the most famous destinations in Eastern Europe: Kolasin is known as the capital of skiing. This part of Montenegro is chosen by tourists worldwide to spend winter vacations due to the height of its mountains, the quality of its ski slopes, and the booming hotel and service industry.
Investing in a property within the most modern Mountain Resort in Kolasin would guarantee your participation in a country that is among the top three in the world regarding the projection of tourism growth.
Better return on investment than the rest of Europe: you don't have to be an economist to look at the entry prices of luxury properties in other European jurisdictions and realize that they are a less than ideal business when you see the rate of return on investment.
The reality is that the real estate market in Central Europe is going through a difficult time where supply far exceeds demand. In contrast, in the Balkans, the story is quite different. Montenegro has maintained excellent return on investment across its real estate industry, which includes our luxury resort in the Kolasin Mountains.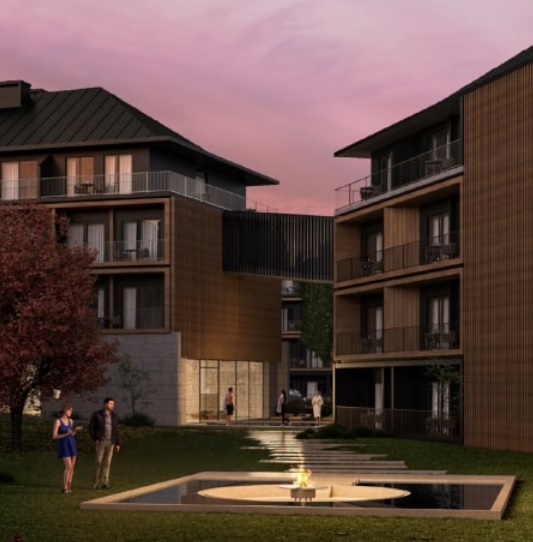 Your investment is protected: forget about the risks involved when investing in real estate. This luxury project in the mountains of northern Montenegro is backed by a bank guarantee of 2.5 million euros, making this option the safest project to invest in all Montenegro.
In Mundo, we have partnered with the leading developers and real estate promoters of Montenegro to bring our distinguished readers the possibility of investing in this luxury property that will become one of the most modern Hotels and Resorts in all of Eastern Europe. If you want to know more about investing in this project and obtaining a Montenegrin passport, do not hesitate to contact us. We have a team of professionals at your disposal.
Tourism in Kolasin
Kolasin is a small town in the north of Montenegro known worldwide as its ski capital because of its famous snowfalls every winter. But don't let that fool you. Over the last few years, Kolasin has become a tourist center all year round, thanks to the proliferation of resorts and the tourist infrastructure that has been developed in the area.

Kolasin is the headquarters of mountain tourism in Montenegro. If you go in the winter, the snow covers the whole landscape, and the place is perfect for skiing. On the other hand, if you go during the summer, the temperatures (which do not exceed 25 degrees Celsius) will allow you to have a good time either outdoors or in the resort. Of course, the more adventurous ones can enjoy nature any time of the year; after all, Kolasin itself is in one of the highest areas of Montenegro.
To reach this area in the north of Montenegro, you don't have to try very hard. Kolasin is a thriving tourist destination in part because it is easily accessible from the main cities via highways and trains. Also, the Podgorica airport is only 30 minutes away from the city, which means Kolasin is very well connected to the rest of the world.
Invest in Kolasin's most modern mountain resort and get your Montenegrin passport
We have partnered with the leading real estate developers in Montenegro to bring you the opportunity to invest in a five-star Hotel & Resort with 238 suites, of which 25 are luxury suites. This mega project of more than 21 million euros will put Kolasin in the news again, this time for having one of the most modern Hotels and Resorts in the whole region. We are saying that this is an opportunity that you will hardly see again, not only in Montenegro but also in the region.

The group behind this luxury resort in Kolasin already has several successful projects in various Montenegro regions, to such an extent that they have obtained a guarantee of 2.5 million euros to protect the investments of those who acquire properties from the project until September 30, 2024. This is one of the safest ways to obtain a European passport by investing in real estate.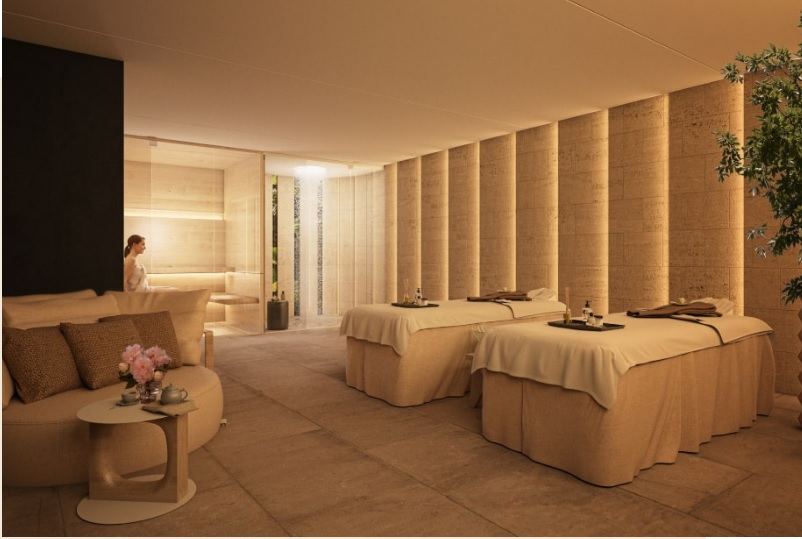 From the resort, you will have a magnificent view of the Bjelasica mountain and the unspoiled natural environment of the northern region of Montenegro. And when you're not admiring nature, you'll be enjoying the indoor facilities of this ambitious project that consists of 238 units and includes:
-Restaurant.
-Conference rooms (the largest with a capacity for 400 people).
-Internal cinema that can accommodate up to 72 people per show.
-Pub with over 120 seats.
-Relaxing spa.
-Indoor and outdoor pools.
-Children's club.
-Fully equipped ski room.
This resort will always have a cultural offer for every taste.
The idea behind this project was to break the current boundaries of contemporary architecture while integrating design with Kolasin's natural landscape in perfect harmony.
Having listed all the wonders of this luxury project, it is normal to think that the entrance fee to enjoy all this, plus the Montenegrin passport, is stratospheric, but this is not so. If you invest from €250.000, you can be the owner of one of the hotel units (with a property certificate included) and then you can automatically apply for a Montenegrin passport.
The advantages of obtaining the Montenegro passport by investing in this mountain resort are:
Fast citizenship acquisition - the process takes about six months.

No applicant physical presence requirements (neither prior nor during, nor after obtaining the passport). A single personal visit to Montenegro is required.

Dual citizenship is allowed.

Montenegro is a seaside country with a stable economy and a calm political situation. It is the perfect option for a 'plan B'.

Applicants for Montenegrin citizenship can include members of their families in the applications. Future generations will inherit the citizenship of Montenegro as well.

The procedure of acquiring Montenegro citizenship by investment is confidential.

Perhaps the best thing about getting a Montenegrin passport is that you become a citizen of a perfect European country where you can establish a good tax optimization strategy. In this jurisdiction, the corporate and capital gains tax is only 9%. The income tax is between 9 and 11%. You have a territorial system for non-resident companies, and you enjoy double taxation treaties with more than 40 countries.
These are the details of the investment in a unit at the luxury mountain resort in Kolasin, Montenegro:
Price: €250,000.

Type: investment in hotel suits (suits from 30m2 to 45m2, selling model - first-come, first-served basis).

Ownership type: 1/1 ownership.

Rental pool agreement: Yes, compulsory.

Usage of unit: 3 weeks per year + 1-week usage of Hotel Splendid Budva 5 stars.

Usage of the unit before the project is ready: 7 days in Hotel Splendid Budva 5 stars.

Potential profitability: 40% of rental pool profit/year.

Expenses: No regular maintenance fees, no taxes, no insurance must be paid, no fee for using the unit by the owner. Reserve Fund: 10% of the owner's compensation.

Delivery date: September 30, 2024.

Minimum ownership: 5 years.

Pre-purchase rights of the seller: Yes.

Buyback: Optional after five years.
Investing in a Mountain Resort unit is a once-in-a-lifetime opportunity to own a profitable property with one of the most advantageous citizenships currently available at an incredible price. After the initial investment, the sky is the limit. Not only will you enjoy higher ROIs than in the rest of Europe, but you can also plan how to expand your business to the United States with an E-2 visa. If you want to know how to start the investment process, contact our team of experts who will help you through every step of the way.
Who are we, and what can we do for you?
For the last three decades, NTL has worked providing advice and consultancy to investors, family offices, and high net worth individuals from all corners of the world to help them take advantage of the best investment opportunities. Mundo has partnered with NTL and together we can offer the best ways to obtain a second passport for your plan B. A second citizenship is a key step in the strategy that will protect you from the global uncertainty in which we live.

An essential part of our work is to build partnerships with the right people to bring investment opportunities to our distinguished readers. That is why, in Montenegro, we have partnered with the best real estate developers to achieve a unique opportunity: Investing in a luxury resort in the Kolasin Mountains for only €250,000 and getting the Montenegro passport for free with the investment (because the passport will eventually pay for itself thanks to the ROIs).
We offer an opportunity for our readers to become part of the bright future of Montenegro, which is one of the top three countries in the ranking of tourism growth, not to mention that it is a jurisdiction close to officially entering the European Union. It doesn't get any better than this.
If you want to know more about investing in this luxury project, consult our team and meet our Montenegrin specialists to start the process.