Panama: The best Real Estate destination in Latin America
3/13/2022 8:00:00 AM
Admin System
Panama is on the lips of American, European and Latin American investors thanks to its extraordinary business conditions. It's not a secret that this tiny nation is one of Mundo's favorite countries. In fact, it is the place where some consultants decided to create Mundo some time ago.
Panama has experienced a miraculous economic boom in recent decades. We called it The Panamanian Exceptionalism because of its stability and low inflation rates, something pretty rare in Latin America, a region used to military coups, high inflation and worthless currencies.
The real estate sector is buoying thanks to liberal economic policies and political stability. In the last decade, investors from the United States, Colombia and Asia have been rushing demand, pushing prices from 5 to 10% annually.
If you are looking for homes for sale in Panama, then you got to the right place. In this article we will tell you what makes this country so special for real estate and we will tell you some of the hottest projects in Panama City.
Why do we love Panama?
Panama is one of our favorite destinations for investing in the Americas. In a nutshell, here are some of the reasons on why Mundo loves Panama:
- A booming economy: This country has had one of the best economic performances in the last decades in the region. The official currency is the US dollar, inflation is low and dozens of international firms have presence in the country. These extraordinary conditions grant potential high returns to any investment in real estate.
- Political stability: Since the return of democracy in early 1990s, Panama has been a stable political system. There is a consensus among Panamanian elites to maintain liberal economic policies no matter who governs. So on, this small nation has been quite a rare exception in Latam, a region where military coups, populism and high inflation are really common.
- Low taxes: Panama has one of the most flexible tax regimes in the Americas, attracting thousands American and European expats who want to optimize taxes. All owners of Real Estate in Panama pay an immovable Property Tax of between 0% and 2.10% per annum, depending on the property value. Since 2019 however, the maximum rate has reduced to 0.9%.
- High standard of living: Panama City has nothing to envy from Miami, Cartagena or other investment hubs in the Caribbean. This country offers a standard of living that would cost a fortune in other destinations. Sunny beaches, warm weather, luxurious resorts and delicious food are waiting for you in Panama.
- The Panama Channel: This engineering wonder is the crossroad between the Pacific and the Atlantic Ocean. Through this Channel passes 5% of the global trade. Because of this, Panama has become one of the main Western hubs for the import/export business.
Panama is an ideal business hub for anyone looking for a stable place that can offer a high return under a low risk.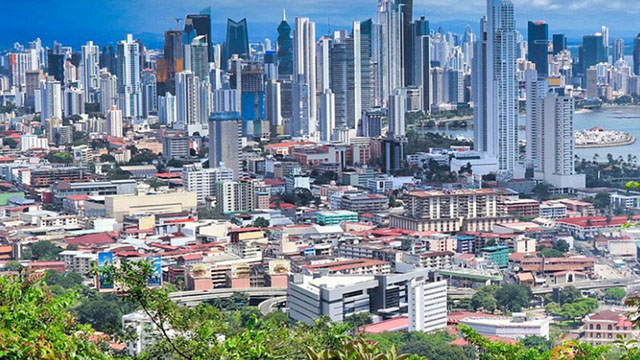 A fast path towards residency: Panama investors visa
Panama has created attractive residency by investment programs in order to incentivize FDI from the US, Latam and Europe. By investing US$ 300,000 in real estate or putting in a fixed deposit on a Panamanian account, then you will become eligible for Panama permanent residency.
It is also possible to, for example, invest in US$ 200,000 in a property and then deposit US$ 100,000 in a Panamanian bank account. Four months after application and issuing the proper documentation, then you will obtain a permanent residency permit. This also applies for children and spouses.
In this article we present our favorite country for business and for life:
Taxation
The Panamanian Government usually takes a 2% tax for the transfer of title, and this amount is generally based on the value of the property as per the deed of sale. As with other transactions in Panama, there are additional fees you will be required to pay. These will approximately amount to around $200 or $300.
Please note, however, that the property taxes are only applied to properties with a registered value of more than USD 30,000. The maximum annual property tax of 2.1% is only used for properties with a value of more than USD 75,000.
Customarily, the seller pays for the property transfer taxes, although you can negotiate on this and the seller can also insist on these fees.
Panama Properties for Sale
In this section, we will show you some top quality panama condos for sale. These properties are some of the best apartments that money can buy.
Arcadia del Este: This is a modern luxury apartment hotel that combines the concept of an ideal home and a unique property management model. This elegant building was designed by the award winning architect Aircadi and is located next to the "Parque del Costa Este" in Panama City, near cinemas, cafes, supermarkets and many other businesses.
43 levels, 302 apartments, social areas, a gym and a valet parking service will compose this extraordinary building. Apartments on this complex start from 70 sq meters, fully equipped with high furniture, kitchen and efficient air conditioners.
Arcadia del Este is one of the best projects right now in Panama City. Our partners can help you to invest in this great opportunity.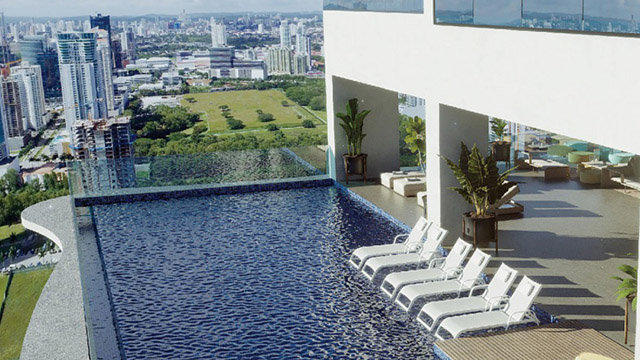 Contact us to receive all the information
Casa Bonita: Casa Bonita is a project located just 15 minutes from downtown Panama City. It has a priceless view towards the Pacific Ocean, merging an urban lifestyle while having an immediate access to the beach.
The project is composed of a 26 level building. There will be apartments (starting at 103 sq meters) and penthouses in the upper levels. At the top two levels, there will be a complete social area with a 360° view, pool, a gym, open terrace and a ballroom.
Owners of this amazing complex will have Private access to the beach and pool and a Prestigious membership in Pearl Beach Club.
- From 4-19 levels: One and two-bedroom apartments with full bathrooms, walk-in closet, open kitchen, laundry room, balcony or terrace. Extension: 103,9 to 133,9 sq meters. Depending on the location, apartments will have a view towards the ocean, the Panama Channel or a tropical forest view.
- From 20-24 levels: Penthouses with three bedrooms and three full bathrooms, guest bathroom, open kitchen, laundry room and a spacious terrace. Extension varies from 226.8 to 394 sq meters.
One of the most prestigious construction firms in Panama is backing this project. Contact us for more information.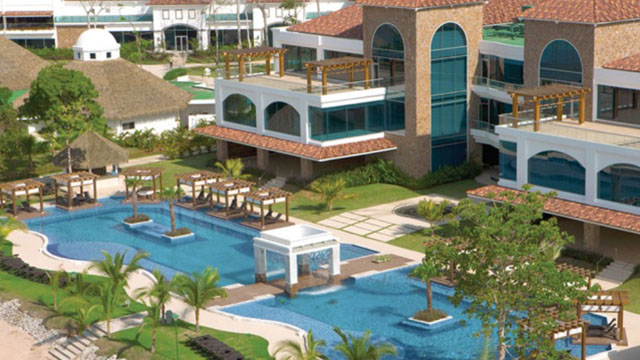 Matisse: This is a 56-store building located in the heart of Panama City. First 10 levels include social areas, squash courts, playrooms, sauna and wellness center, and parking.
Apartments in this great project vary from 336,9 sq ft to 342,9 sq ft with three bedrooms. All apartments have an ocean view and an open kitchen. You can also purchase apartments with four rooms on a special request.
Something special with Mattisse is its sixth floor. This includes a swimming pool, social areas, a gym, an open terrace and a party room. This is all the entertainment without needing to leave the building.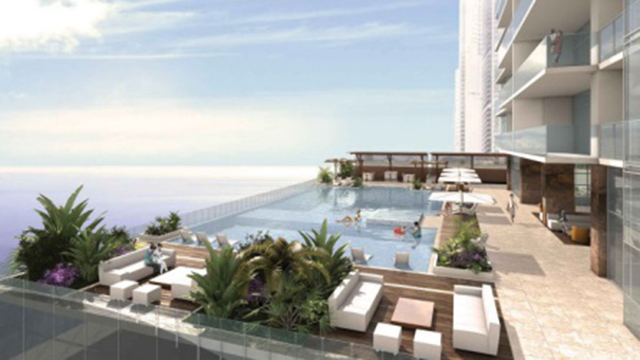 Royal Palm: If you want to live in a glass tower in the outskirts of a big city, then Royal Palm is the ideal option. This complex is as close as you can get to the beach. In fact it is on the shore of Gorgona Beach, just 50 minutes from Panama City.
This amazing project is composed of two towers. The first one is from 21 levels and the second one is 28 levels high. On the ground level you will see a swimming pool, private access to the beach and an undercover terrace.
Apartments start at 70 sq feet, one bedroom and a million-dollar view to the Pacific Ocean.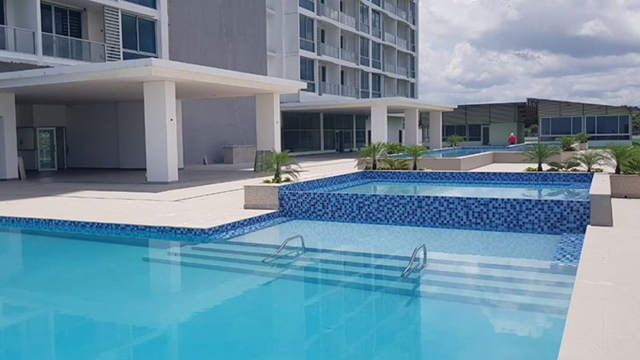 What can we do for you?
As we told you at the beginning, Panama is the place where some consultants started Mundo some years ago. Our wide network of partners have many properties in their portfolio, from luxury residences to premium, commercial, beach residences, and even offices.
Since 1978, our partners have established one of the most prestigious construction, hotel and tourism companies in Panama. They offer the best properties that money can buy in Panama. Our partners can help you through the whole process of acquiring a company in Panama, offering world-class legal assistance and advice.
Our colleagues offer professionalism, exclusivity and a top quality service. For anyone looking to acquire a property in Panama, they are the best option in the market.
These projects also have financing options and highly potential ROIs. If you want to know more about this, contact us now.