Invest in Durmitor and enjoy the benefits of Montenegro's passport
1/11/2021 8:00:00 AM
Admin System
In times as hectic as the ones we live in now, one of the best and safest bets to protect and multiply your money is to invest in real estate. This type of investment offers more security than intangible assets or unstable stocks, and in some places in the world, investing in real estate can bring you a passport that will serve you for many other things.
A luxury property + a passport doesn't sound bad, right? This is what Montenegro is for you
offering. You can make a Durmitor CBI investment with us.
By buying a property approved by the government of Montenegro for its CBI program, you can access one of the most coveted passports in the Balkan region and become a citizen of one of the most mystical and discreet places in all of Europe.
At Mundo, we always try to get the best investment opportunities for our distinguished readers. That is why we partner with the most respected real estate developers and experts from Montenegro to offer you a chance that would potentially open the doors to Europe if you decide to take it.
We offer you the opportunity to obtain a Montenegrin passport by purchasing a luxury property in a five-star hotel complex: the Durmitor Hotel and Villas.
Reasons to invest in Montenegro and get your passport:
Montenegro has one of the best ROIs in the whole European real estate industry

In almost all of Europe, there is an excess of houses and properties for sale but very little demand, so the returns on investment are low. This does not happen in Montenegro. In this beautiful Balkan country, the returns of real estate investment go from 4 to 8%, figures that leave many countries of the rest of the continent in ridicule.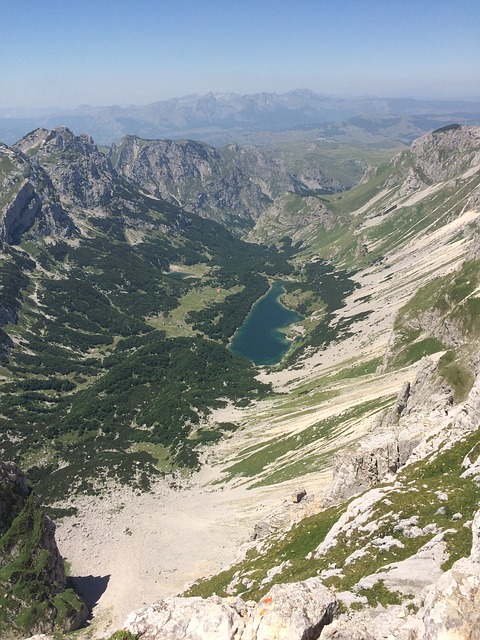 Tourism in Montenegro
With the solution to the coronavirus crisis in the form of a vaccine just around the corner, normality will likely return to Montenegro's tourism sector. This means that the country will return to its glory as one of Eastern Europe's winter sports and tourism centers.
One of the best CBI programs in the region
Montenegro's citizenship by investment program has few requirements, and most of the process can be done without being inside the country. Also, your spouse and children will be able to access the Montenegrin passport.
Montenegro will enter the European Union
Investing in real estate in Montenegro now is an investment that will allow you to live, invest, and work without restrictions in the Eurozone when Montenegro formally joins the European Union in 2025.
The possibility of doing business in the United States
Perhaps the best-kept secret of Montenegrin citizenship is that if you obtain it, you will be able to enjoy the bilateral treaty with the United States that allows citizens of Montenegro access to an E-2 visa that can be renewed indefinitely. You can't do better than this in any other jurisdiction.
Do you have questions?
Investment opportunity in Zabljak
If you don't know Dormitor yet, you are probably missing out on one of the most beautiful places on the planet. Durmitor is a national park in the north of Montenegro, near Zabljak. This place, without exaggerating, is the perfect representation of a fantastic landscape of some fairy tale. This region of Montenegro is full of nature that has not been touched by man, and it keeps the greenery like few places in the world.
In the middle of Durmitor, we find Zabljak, a small town that is quite popular among tourists discovering Montenegro. It is there where you can find Durmitor Hotel and Villas, the real estate project that can help you get your Montenegrin passport while generating excellent investment returns.
The project
Right in the heart of Durmitor National Park and very close to Black Lake, construction has begun on one of the most unique real estate projects in all of Montenegro. We are talking about the Durmitor Hotel and Villas, a 5-star resort that exudes luxury from everywhere you look.
In reality, the resort is being built to maintain the old Durmitor's design, an icon of the history of tourism in Montenegro and a symbol for the inhabitants of the place. However, inside the same design, you will find improved, more luxurious and eye-catching facilities to stay with a good part of the tourists who visit northern Montenegro every year.
The resort is planned to be completed in May 2022. By then, the project will consist of modernized interiors equipped with the most exclusive materials and the most advanced technology, all framed within a design that appeals to the highest tastes blends with the architectural heritage of Zabljak.
The Hotel will have 55 luxury suites and 12 villas, all equipped with fireplaces and luxury amenities to please the most demanding. The units are also designed with high standards of accessibility, so no one will be left out when it comes to enjoying this oasis in the middle of northern Montenegro.
In addition to luxury suites and villas, the resort will also have recreational spaces where you can enjoy diverse experiences. Starting with the restaurants, you will taste the best versions of typical Montenegrin food and a varied offer of modern food. The resort also has a wine and cigar bar that extends from the interior spaces to the outside of the building, as well as terraces and playgrounds for the children.
But the star attraction of the Durmitor Hotel and Villas is its spa and wellness center that will occupy more than 1000 m2 in which the owners and visitors will be able to relax like never before. The resort will also have meeting and conference facilities, as well as a large, fully equipped gym.
This project is so crucial for the country that the Prime Minister of Montenegro laid the first stone when construction began. That should give you some idea of how secure your investment will be if you decide to purchase a property here.
Invest in a villa
The resort's villas are designed to make you feel the Montenegrin experience while offering the most luxurious and cosmopolitan amenities. Warm materials and colors were used to build them, which gives them their character of the perfect mountain house for you to escape from the world for a while.
All the villas will have a living room, dining room, kitchen, several bedrooms, and bathrooms, as well as a dedicated parking space; some units will have a swimming pool inside. It doesn't sound bad at all. These villas are perfect any time of the year, and there are very few properties that rival this investment.
Now let's get down to details:
Price: to invest in the resort villas, the price is €250,000

Type of ownership: co-ownership in a ratio of 1/10 (shares)

Rental pool agreement: Yes, compulsory

Profitability: 1/10 portion of the 30% net profit

Delivery Date: 31 December 2022

Minimum ownership: 5 years

Buy-back option: Yes, in the 6th year (price not yet set, will be in the final agreement)

Pre-purchase rights of the seller: Yes
Investing in the Durmitor Hotel and Villas automatically makes you eligible for the CBI Montenegro program, and our team of experts can help you with the entire application process, so you don't have to worry about anything. If you want to know how to get started, contact us!
Who are we, and what can we do for you?
At Mundo and NTL, we are always looking for the best opportunities for investors who want to be part of attractive projects and also allow them to access advantageous nationalities. That is why we have partnered with the best real estate developers in Montenegro to bring our distinguished readers a unique investment opportunity in northern Montenegro.

Durmitor represents the future of Montenegro as a tourist destination par excellence in the Balkans and represents foreign investors an investment that promises them full access to the European Union and investment returns as they are no longer found in many places.
Montenegro is no longer a secret to investors and high net worth individuals from all over the world, so this is the best time to invest in this jurisdiction. In that aspect, our readers have a competitive advantage over other people since we have a team of Montenegrin professionals ready to help you with every step of investing in real estate and then obtain the Montenegrin passport.
For those who want to go even further, our team can also advise you on applying for the E-2 visa and starting doing business on U.S. soil.
You don't want to miss the opportunity of investing in Durmitor when Montenegro is just being discovered as an investment destination. This a one-in-a-life opportunity, especially before the country enters the European Union and its CBI program becomes more demanding. Do not miss this opportunity and contact us.