The Coronavirus and St Kitts and Nevis Passport
5/19/2020 8:00:00 AM
Admin System
One may ask what possible connection second citizenship has with the COVID-19, and Mundo can now officially add another reason why you should acquire second citizenship: yes, pandemics like the coronavirus.
Starting with this reason, here are the 5 most important reasons why you should seriously consider applying for second citizenship.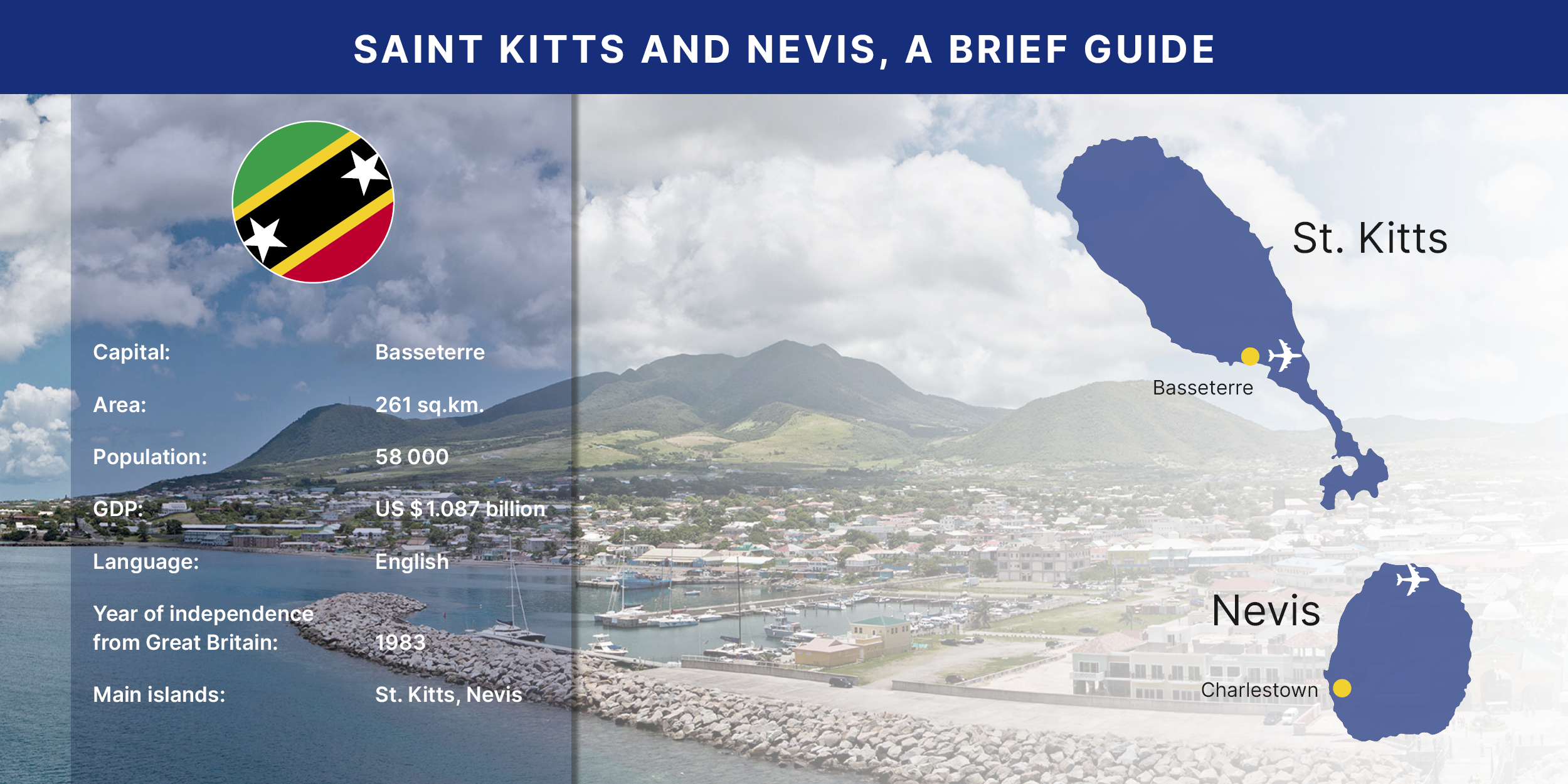 REASON 1: pandemics
During official pandemics or other states of emergency, Martial Law allows countries to officially remove all human rights protections in what they call a state of emergency. Martial Law or state of emergency legislation can be used to close borders and stop citizens from traveling.
As an example, the Chinese government has and will continue to prevent its citizens from leaving China –the same emergency laws can be and have been used by other communist governments in the past (for example, Cuba) to prevent citizens from leaving borders. Having a second passport from a neutral country like St. Kitts and Nevis means your government cannot stop you from leaving the country or traveling even if they apply Martial Law or emergency procedures. If, for example, the United States declares a state of emergency because Trump has caught the flu, as a citizen of St. Kitts, you will not be affected and can leave. A second passport could literally save your life in such cases.
REASON 2: confiscation
In cases of civil unrest and even in cases of fiscal sanctions, governments can and do prevent their citizens from leaving and they even go so far as to confiscate passports. The power to confiscate a passport is given to taxation, criminal, administrative, and even in some cases to civil courts when there is a dispute over children or marital property. Having a second passport is a guarantee against arbitrary sanctions by the State.
REASON 3: political persecution and discrimination
Foreign governments often arbitrarily punish a whole population via sanctions for the wrongdoings of the government. A clear example of this are the sanctions against Venezuela by the United States, which means that Venezuelan passport holders are discriminated against simply because they hold a Venezuelan passport and were born in this territory. These people often cannot open a regular bank account, even though they may never have even done any business in Venezuela.
The political instability of a country often reflects on its citizens' rights to free movement, rights to open bank accounts, and even rights to acquire property overseas. A second passport, especially one as prestigious as the one from St. Kitts, can be an insurance policy or protection against this. You never know if your country will be the next Venezuela in 10 years from now.
REASON 4: travel
A second citizenship can help international businessmen and businesswoman to travel. For example, the St. Kitts and Nevis second citizenship allows travel to over 150 territories including Europe, Britain, Singapore, Hong Kong, and many more visa-free. This can significantly increase business opportunities.
REASON 5: children
The opportunities for children having a second passport increases their chances at attending international universities under the quota system. For example, the St Kitts and Nevis Passport allows you to fast track attendance at top universities registered in the country and then transfer to the United States.
In summary, the Sr. Kitts and Nevis citizenship gives you and your family freedom. Freedom in today's society of epidemics, wars, fiscal meltdowns, and political unrest is priceless. It could mean the difference between life and death.
Indeed, in a society or culture which may be called feudal where governments show their real face as simply groups of Robber Barons, the individual is not only unsafe but is always a target and his or her safety depends on the quality of his political and fiscal connections. In such a society a second passport is a necessity. It's a method of self-protection more crucial than a security guard or a gun and, certainly, much more effective as a mechanism of defense for the family. In countries which do not follow the rule of law, a second citizenship is at times the only real insurance a family has to protect themselves from a rogue state.
Contact us now and get protection from your dual citizenship
WHY ST. KITTS AND NEVIS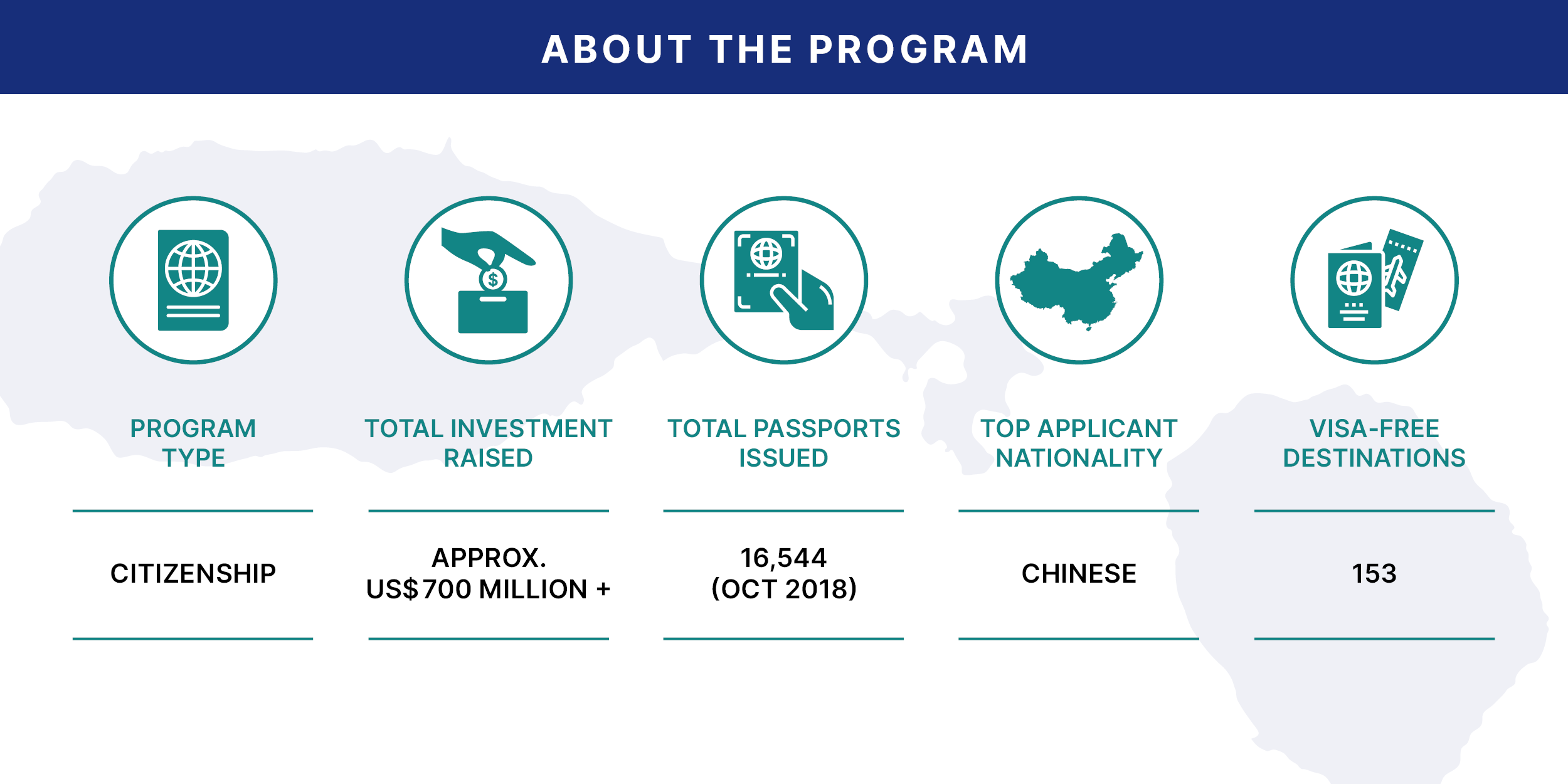 St. Kitts and Nevis is a British colony inhering all the traditional human rights and legal protections of a commonwealth British State. That means the State protects its citizens against arbitrary arrest, unlawful extradition, or political persecution, and its citizens have access to the British courts and are extended asylum in case of political persecution.
WHY ST. KITTS AND NEVIS PASSPORT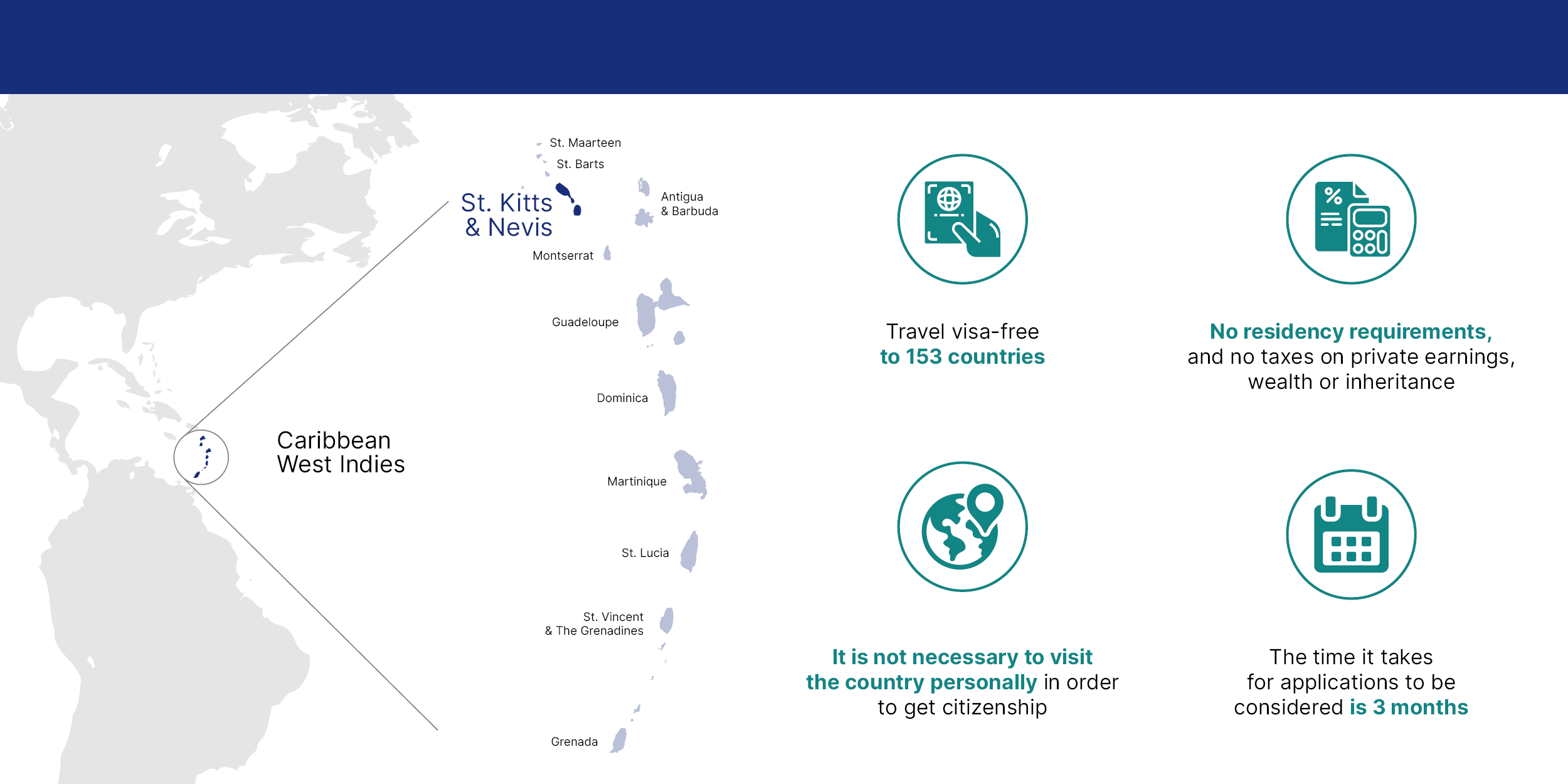 The St. Kitts and Nevis Citizenship Program is the oldest and most reputable citizenship by investment program in the world. Since its inception in 1984, the program has been attracting people from around the world to invest in the country's economy in exchange for an irrevocable passport and citizenship.
It is ranked as the top Caribbean program and the St Kitts and Nevis passport has more travel options than any other Caribbean passport. The program operates on the following constitutional, legislative, and regulatory foundations:
Citizenship of Saint Christopher and Nevis is governed by Chapter VIII (Sections 90-95) of the Constitution of Saint Christopher and Nevis.

In 1984, pursuant to Section 92 (1) (h) of the Constitution, Parliament prescribed those other persons who would be entitled, upon making application, to be registered as citizens. Accordingly, Section 3 (5) of the Saint Christopher and Nevis Citizenship Act, 1984 (No. 1 of 1984) makes the following provisions: "Subject to subsections (8) and (9) of this section, a person is entitled, upon making application under this subsection to the Minister in the prescribed manner and upon payment of any fee that may be prescribed, to be registered as a citizen of St. Christopher and Nevis without any rights of voting."

For more information visit our country focus page on St Kitts and Nevis
VISA REQUIREMENTS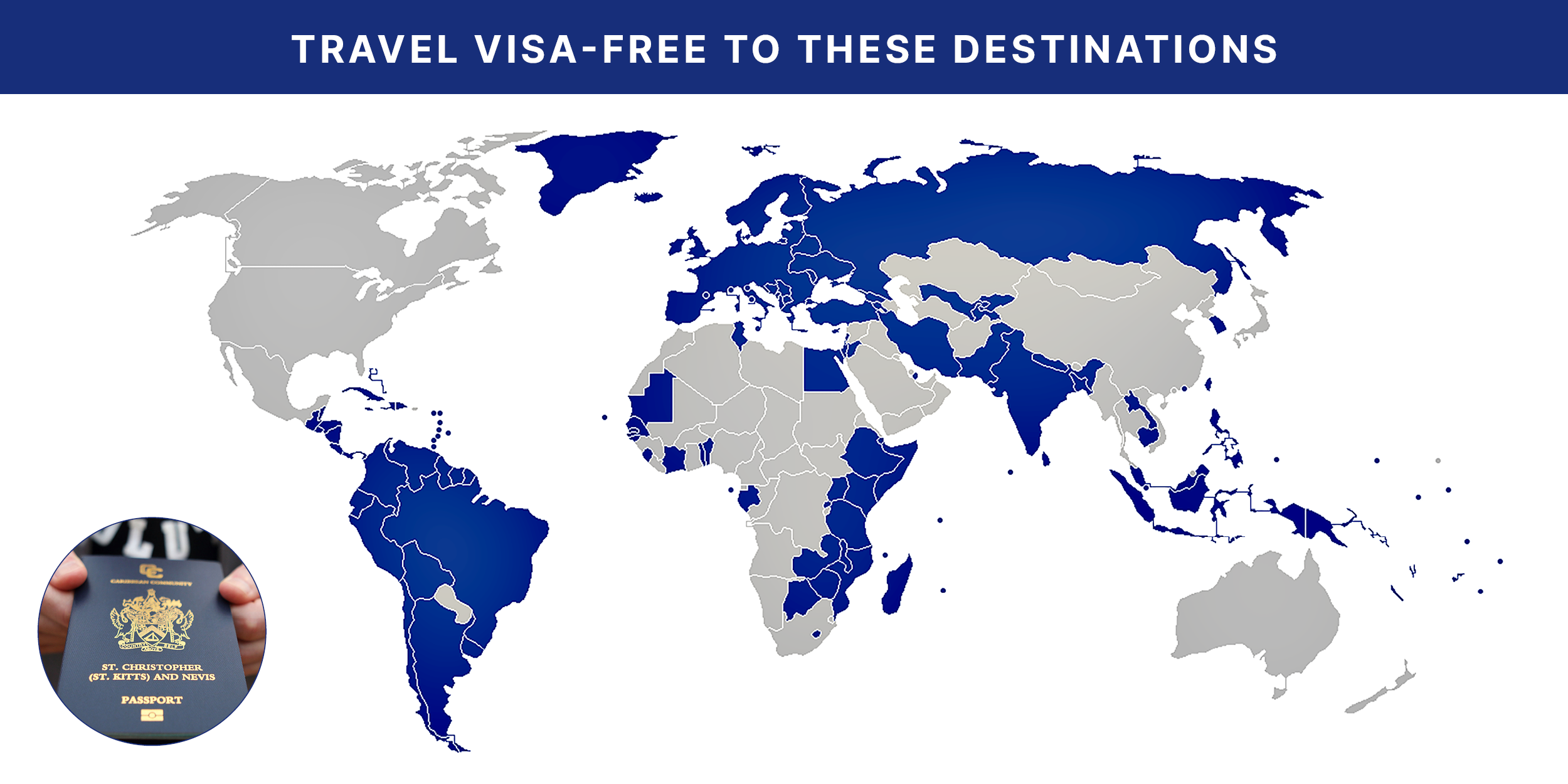 As of January 1, 2017, St. Kitts and Nevis citizens had visa-free or visa on arrival access to 136 countries and territories, ranking the Saint Kitts and Nevis passport 30th in terms of travel freedom (tied with Antigua and Barbuda passports). Notably, Europe (EU), Hong Kong, Singapore, and Russia are visa-free.
St. Kitts and Nevis has the oldest and most prestigious Caribbean passport program in the world today.
FAST TRACK APPLICATION
Whereas most Caribbean jurisdictions can take from 6 to 9 months, the St. Kitts has introduced a fast track guarantee (for extra payment, of course) within 2-3 months.
The Accelerated Application Process (AAP) approved by the Government of St. Kitts and Nevis in October 2016 allows applications with the Citizenship by Investment Program to be accelerated to a 60-day processing period.
Interested persons applying utilizing the AAP will still be required to meet all mandatory criteria and submit the necessary supporting documents to apply for citizenship by investment.
Applications will be given an accelerated treatment from the Citizenship by Investment Unit, Due Diligence Providers, and the St. Kitts and Nevis Passport Office. As a bonus, this process also includes the application and processing of the St. Christopher (St. Kitts) and Nevis passport.
Applying using the AAP can see an application completed within 60 days with some applications completed in as early as 45 days.
AAP Process Fees (inclusive of Due Diligence Fees)
· Main applicant: USD 25,000.00
· Dependent above 16 years: USD 20,000.00
In addition to the USD 25,000.00 and USD 20,000.00 AAP processing fees, an extra fee of USD 500.00 per person will be applicable for the processing of the St. Kitts and Nevis passport for any dependents under the age of 16.
St. Kitts and Nevis allows citizenship to be acquired within a period of 30 days under the fast track program.
RESIDENCY AND TAX RESIDENCY
The Citizenship by Investment Unit (CIU) is adding value to the range of programs on offer by making available a Residency Program to people wanting to live and work in St Kitts and Nevis. The CEO, Les Khan, made the announcement at the Global Mobility & Tax Strategies Conference in Singapore on June 30, where he was invited as a guest speaker.
During the conference, Mr. Khan met with lawyers and wealth managers representing clients throughout the Asia Pacific region. Their interests were in residency and citizenship programs as a means of tax and wealth planning. He was able to showcase the immigration and investment options in St. Kitts and Nevis and to convey that St. Kitts and Nevis citizenship program is now the strongest in the Caribbean.
On making the announcement, Mr. Khan noted that:
"St. Kitts and Nevis was in a unique position to offer a residency program without having to change any tax laws."
He noted that this would be the only legitimate program where individuals would be required to spend a certain amount of time on the island. He also advised that this program was in response to a demand from economic citizens and other individuals wanting to be registered as residents of the Federation.
Prime Minister, the Honorable Timothy Harris, commented:
"With the St. Kitts and Nevis program now globally recognized for its integrity and Platinum standard, it made sense that the natural next step would be to offer a residency program that would meet a specific customer need. It will also stimulate tourism, as well as offer our developers another avenue for marketing their projects. It's a virtuous circle of mutual benefit."
He continued:
"The program will still maintain its now high standards of due diligence and it is intended to offer our economic citizens the ability to obtain a residency card as long as they are willing to spend a period of time on the island. In addition, individuals not wanting citizenship at this time, can apply for residency status and in the future convert to citizenship should they wish to do so."
Mr. Khan also stated that there was an overall welcoming of this option from the agents he spoke to in China as well as others in Eastern Europe. The history of political stability and continued economic growth makes St. Kitts and Nevis the immigration option of choice to the very high net worth individual.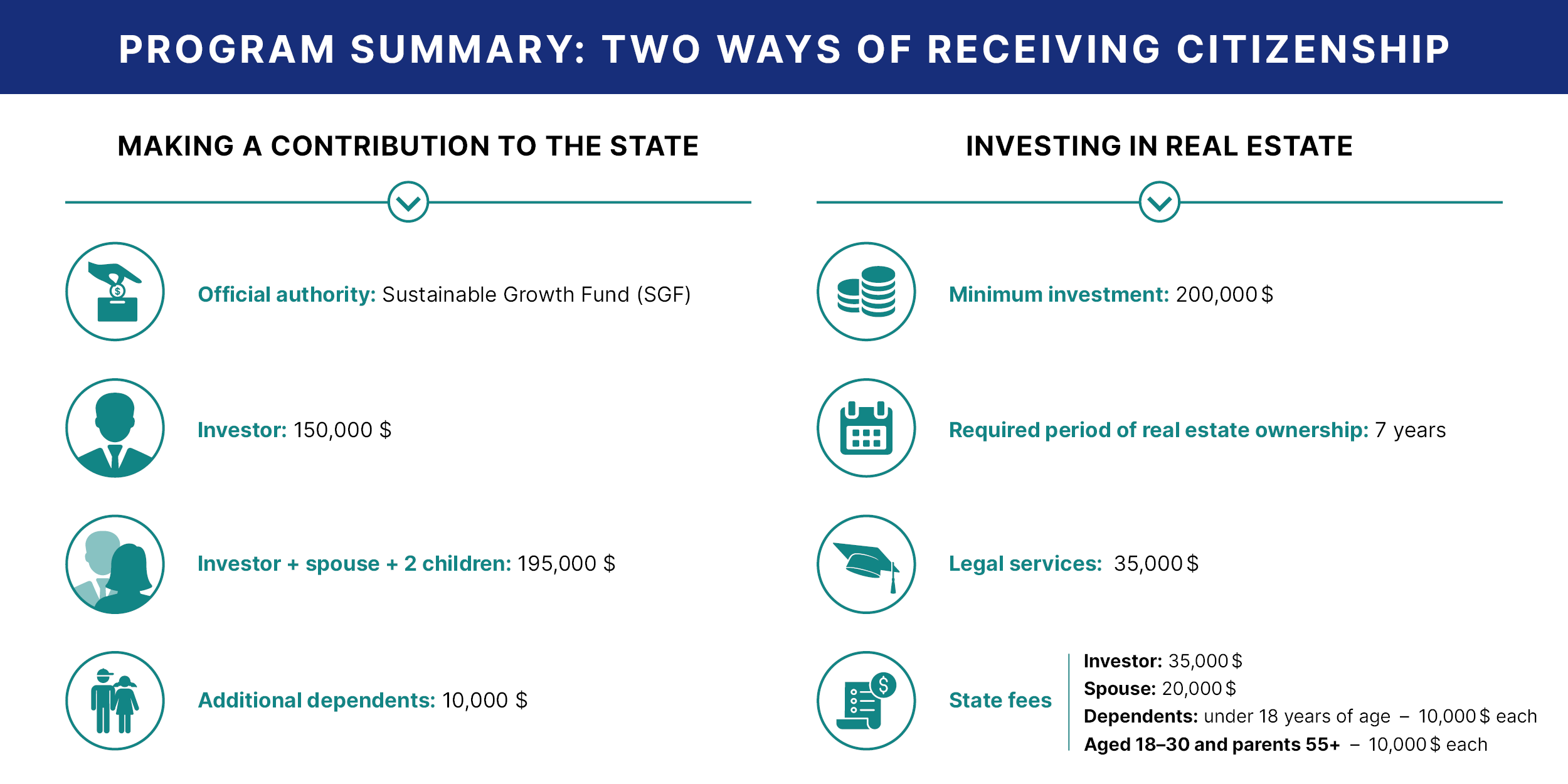 SUSTAINABLE GROWTH FUND
Applicants may qualify for citizenship through a contribution to the Sustainable Growth Fund (SGF).
· Single applicant: a non-refundable contribution of USD 150,000 is required.
· Main applicant with up to three dependents (for example, a spouse and two children): a non-refundable contribution of USD 195,000 is required.
· Additional dependents, regardless of age: USD 10,000.

Upon submission of an application, non-refundable due diligence and processing fees must be also paid. These fees amount to USD 7,500 for the main applicant, and USD 4,000 for each dependent of the main applicant who is older than 16.
REAL ESTATE INVESTMENT
Applicants may qualify for citizenship through an investment in a pre-approved real estate project, which may include hotel shares, villas, and condominium units. The minimum real estate investment required by law is USD 200,000 (resalable after 7 years) or USD 400,000 (resalable after 5 years) for each main applicant.
Upon submission of an application, non-refundable due diligence and processing fees must also be paid. These fees amount to USD 7,500 for the main applicant, and USD 4,000 for each dependent of the main applicant who is older than 16.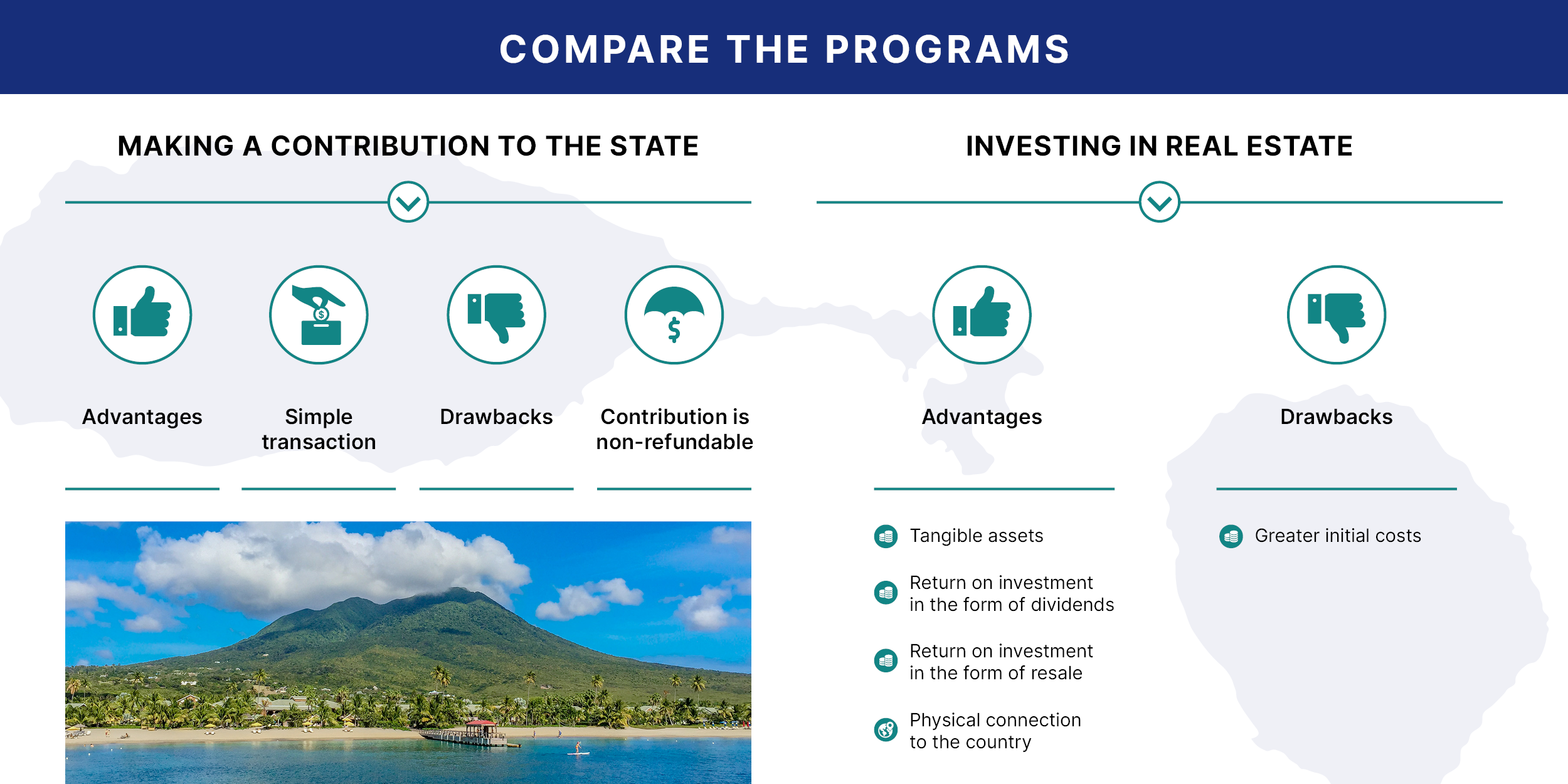 ABOUT US
Our parent company was established in the Caribbean in 1994 and has grown into one of the leading providers of citizenship by investment. It was the first authorized agent to be established in St Kitts and Nevis, which makes us the ideal guide towards getting your citizenship.
Our experts have wide experience in Saint Kitts´s program and other programs as well, and also corporate and family office services worldwide, having offices all around the world including Latin America, Europe, the Middle East and Asia.
Our goal is to provide a plan which will help our clients to create the safe haven they are looking for, in order to protect themselves and their families in times of distress and uncertainty.
Asset protection and tax optimization are important goals to keep in mind during troubled times, but the most valuable asset a person can have is freedom. Freedom of speech, freedom to travel, freedom to live in safe surroundings. Our parent company works together with Mundo with this philosophy in mind, and this is the basis of our citizenship practice.
Our experts have wide experience in the citizenship and residency fields, and this is why we can help achieve your financial and personal goals.
Contact us for a consultation right now.