Vanuatu passport - an Escape from Coronavirus and the World´s Troubles
5/19/2020 8:00:00 AM
Admin System
Mundo is often asked to identify the perfect plan B passport. Now, with the latest coronavirus scare and the global financial meltdown, Vanuatu, while it's still available, scores a perfect ten out of ten on our list.
Vanuatu is not only extremely competitive on price and outbids almost all other CBI programs, but it also has very private banking (for citizens), no tax exchange (for citizens), no extradition (for citizens), and zero tax on worldwide and local income (for citizens).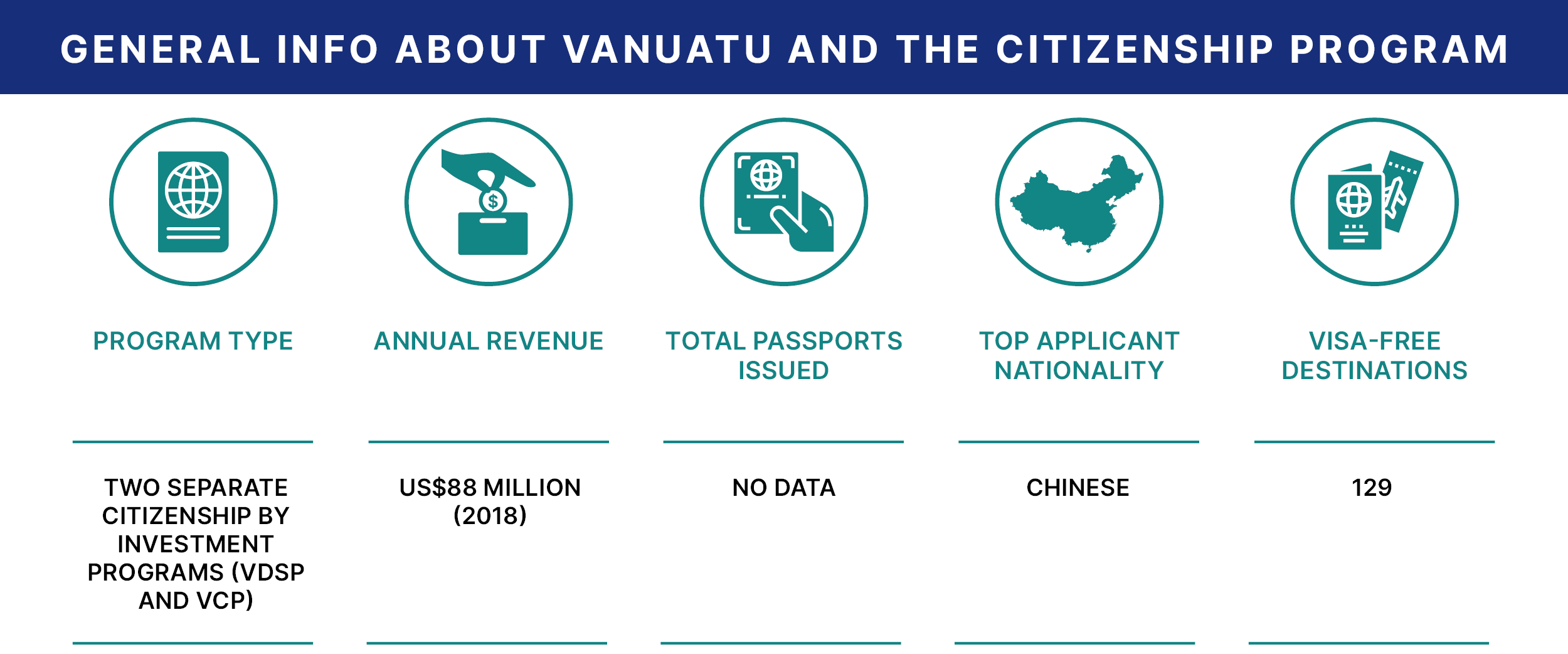 Apart from the above, it has no real government control or surveillance (no government really), no armed police force (actually not much of a police force at all), excellent banking, accounting, financial, and wealth management services, and it's considered to be the 4th happiest place on earth.
There are over 30 islands with some of the best beaches, diving, and fishing in the world, as well as access to clean water, organic food, and good value real estate.
Most importantly, there are no cases of coronavirus and no government-imposed lockdowns or restrictions, and no limitations on your freedom.
The acquisition of a second citizenship could save your life in times of political unrest, civil war, or similar situations. In this increasingly dangerous world, acquiring a second citizenship is a wise and future-proofing decision. Not without reason, thousands of international business people, wealthy individuals, and families buy an alternative, second citizenship every year. This second citizenship is regarded as additional life insurance or as a protective shield for the spouse and the children.
In addition, a second citizenship can also serve to lower your taxes and protect your assets. It allows for better protection of assets, greater financial privacy, higher returns, greater personal and financial security, and deferred taxes on pensions and life insurance. For example, opening a foreign bank account with a second nationality is much easier. Such an offshore bank account would allow you to buy securities and funds in financial markets around the world.
Ten reasons why it's the best program available today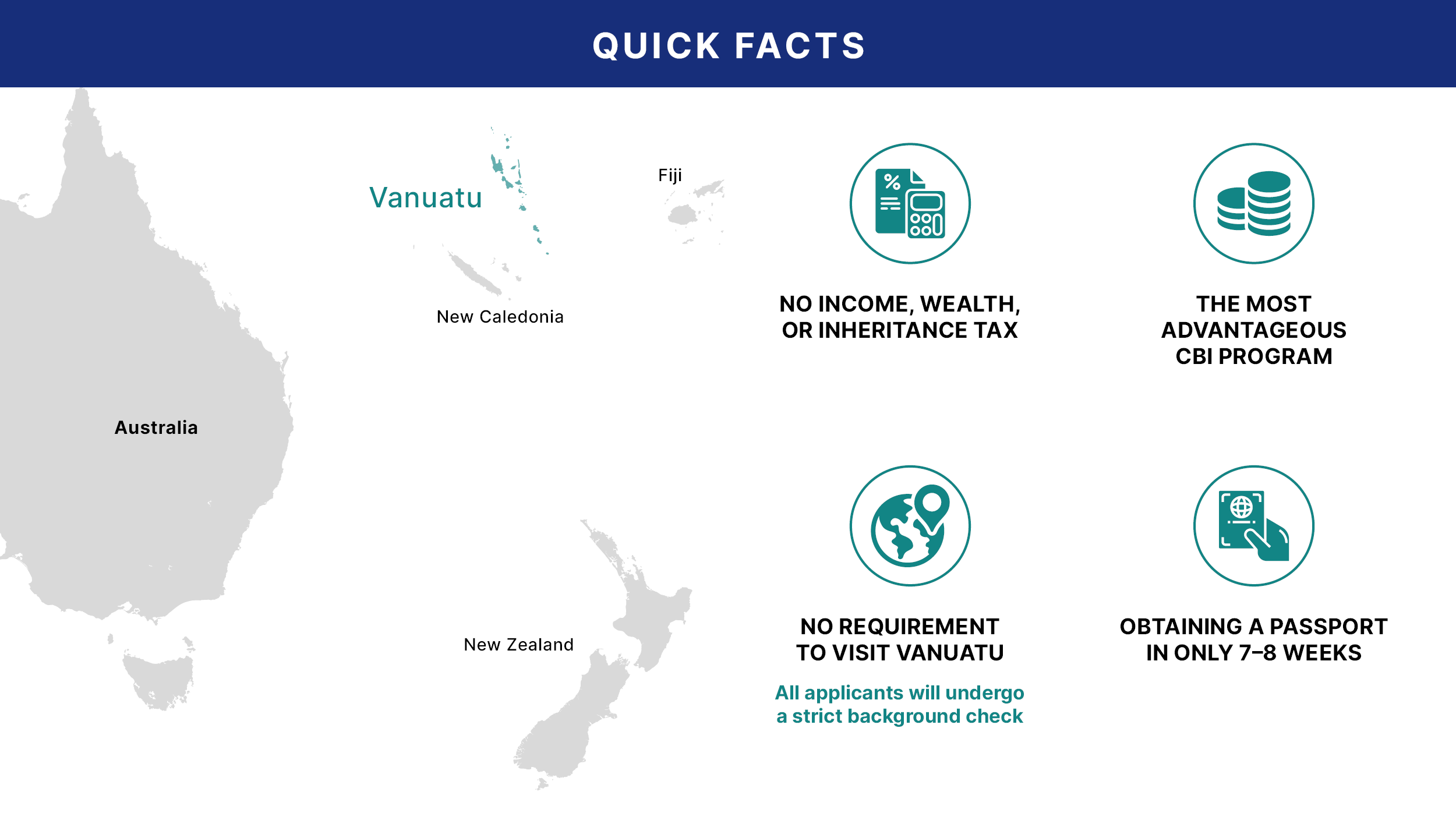 Vanuatu is the only country to streamline its approval process in such a way that you don't risk or tie up funds at the approval stage. For an all-inclusive fee of USD 10,000 (this covers all family members, legal work, government fees, etc.), you will obtain a clearance from the government, which acts as an approval. After this, you pay the remaining amount and there is almost zero chance of rejection as you have been pre-approved. No other program offers this, making Vanuatu the fastest and indeed reliable program in terms of acceptance rates, available today.

The Republic of Vanuatu imposes no income, wealth, or inheritance taxes, and guarantees banking and commercial privacy in a well-developed banking sector. Vanuatu is the Bahamas of the Pacific, but it does not have tax exchange treaties in place with most countries. Vanuatu also now has tax residency (see below under taxes).

The Vanuatu passport grants visa-free or visa on arrival access to 124 countries and territories. Granted visa-free entry to 26 Schengen Area countries as well as UK, Russia, Hong Kong, Singapore, and many more.

Vanuatu Citizenship is for a lifetime and the main investor's dependent family (as spouse and children) can be included too.

Parents of the applicant can be included as dependants.

Vanuatu citizenship can be obtained from a minimum investment of USD 150,000 for a single applicant.

The program application time can be as little as two months and, by law, even one month, which makes it the fastest program available today.

Source of funds documentation allows bitcoin as a source of funds (though not payments in bitcoin). Also, the source of funds requirements and wealth requirements are some of the less difficult of all programs.

Vanuatu allows citizens to invest, live, and open bank accounts structures in the country as citizens, including acquiring tax residency.

The country does not recognize the extradition of its citizens and has no current treaties concerning this with any other country.

There's no residency requirement.

Low cost of living.

Officially, it's the 4th "happiest place in the world."

It is the only Citizenship by Investment (CBI) program of its kind in the Asia Pacific Hemisphere.

International off-shore finance center since 1972.

Simple company and bank account formation procedures.

Stable, peaceful country – does not even have Regular Armed Forces.

An English/French speaking British Commonwealth Member Country.

Simple and fast application process – as little as 30 days.

A stunning tropical island nation – both for tourism and living.

Low-cost real estate – from prime beachfront to whole islands for sale.
The program - legal foundation
The Vanuatu Development Support Program (VDSP) was created for the purpose of raising funds to support infrastructure and promoting the economic development of the country. The DSP was enacted by the Vanuatu Government under the Citizenship Act (cap 112) with the powers conferred on the Prime Minister by Section 20 of the Citizenship Act (112) Order No. 215 of 2016.

On August 24, 2017, the Prime Minister of Vanuatu, in the official Gazette, published that he replaced the DSP. From this time, Honorary Citizenship will be offered. Our program expert is our parent company, a firm that has been established in 1994 in Nevis, and specializes in the Vanuatu DSP as they have their own office in the Vanuatu Capital Estate, since the beginning of the DSP.
In January 2017, the Republic of Vanuatu launched its Development Support Program for USD 150,000, including government and due diligence fees. The citizenship acquired under the DSP program is fully recognized by the Government of Vanuatu and the nationality is regarded as Ni-Vanuatu. Those applying for and receiving Vanuatu Citizenship under the DSP have the full right to reside in Vanuatu at all times and the passport is renewable upon expiry. Honorary Citizenship is hereditary.
The DSP program was designed to help indigenous (Ni-Vanuatu) obtain access to much-needed aid, including education and medical assistance. The program grants citizenship by donation to all applicants from the majority of countries with only a few restricted countries such as Iraq, Iran, and Syria (but even these countries can get citizenship if they prove they were residing overseas for a certain period).
General Requirements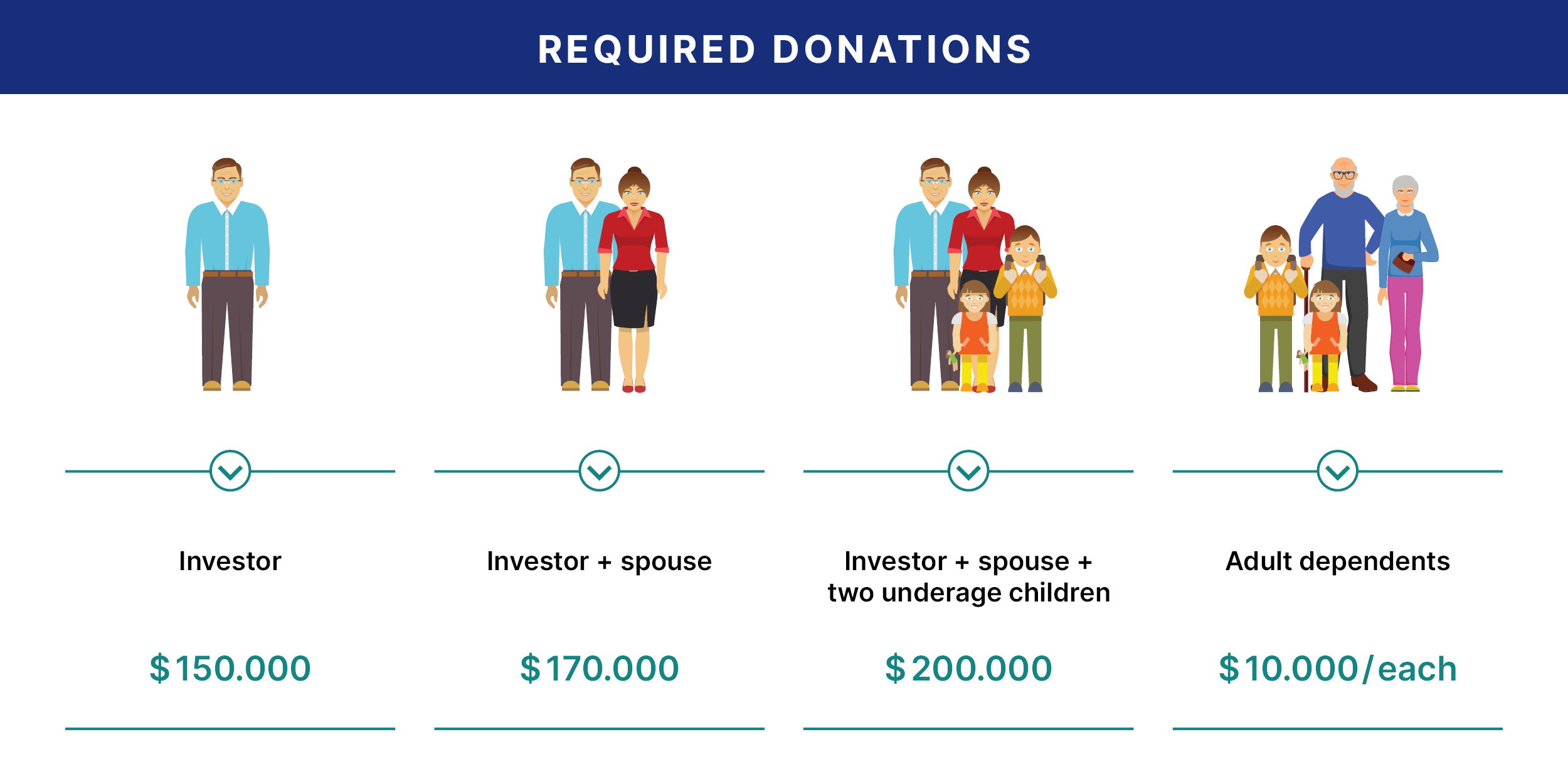 Applicants must be over the age of 18 and under 65 when submitting their applications.

Applicants should preferably have no less than USD 500,000 of net personal assets when submitting their application, of which at least USD 250,000 in banking assets. There is some flexibility on this.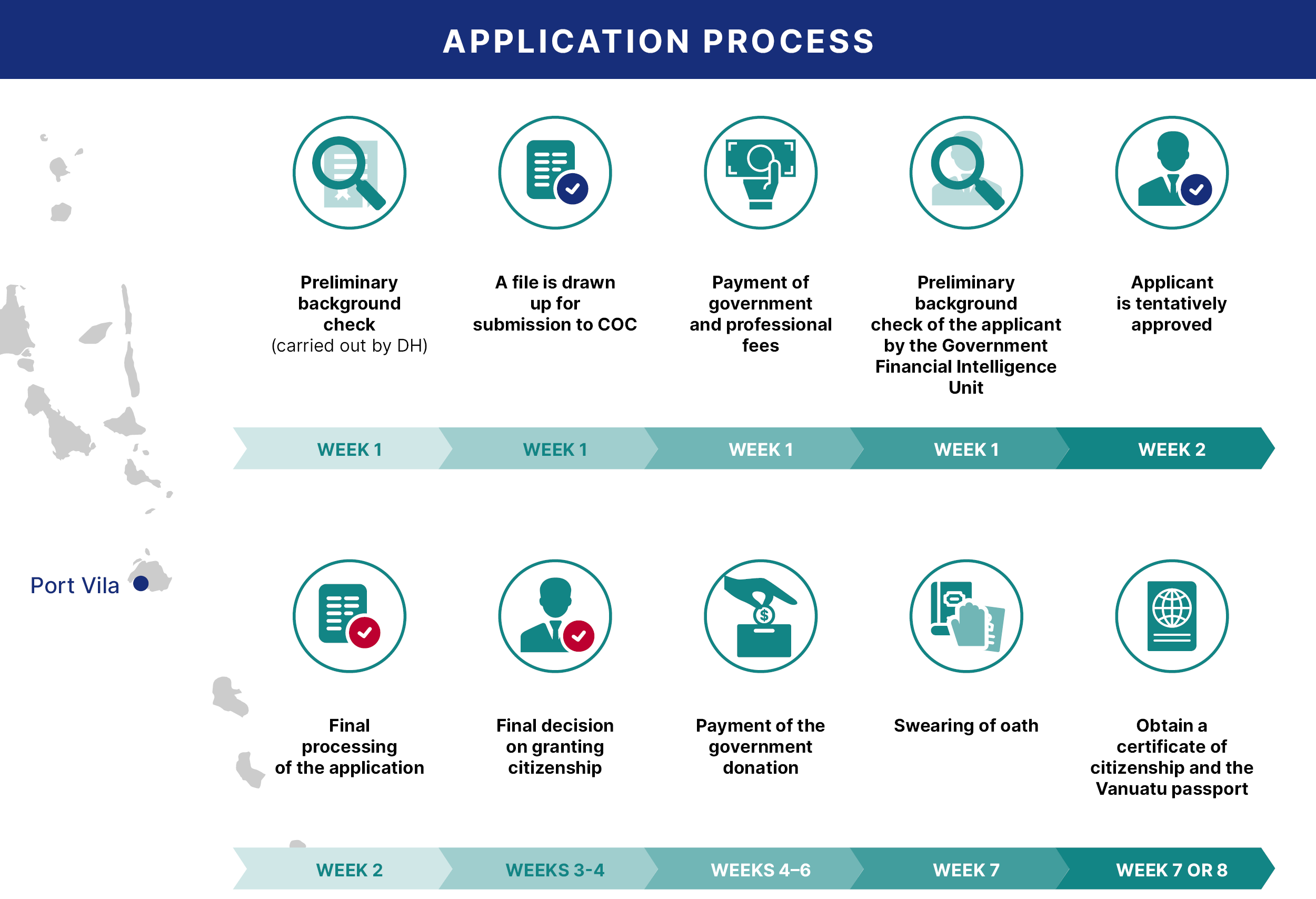 Important notes:
- The Citizenship Committee meets twice a month to consider applications.
- The Committee makes its decision on granting Citizenship based on the following:
The result of clearance (due diligence) conducted by the Financial Intelligence Unit (FIU).

The complete and satisfactory submission of the Stage Two documentation.

The clearance of Stage Two funds through the National Bank of Vanuatu (NBV), and evidence of deposition into the Government account.
-If all three aspects of the submission to the Citizenship Committee are satisfactorily completed, there is rarely any impediment to Citizenship being granted.
-It is essential that the processing agent is deeply familiar with the submission requirements so as to provide the right advice regarding documentation.
-This will minimize delays in processing, which can otherwise be significant.
-The requirement to transfer significant sums of money to a Vanuatu-based Master Agent means that a highly reputable intermediary sub-agent should be engaged, with unambiguous accountability for the security of the funds remitted.

Click here for consultation with an expert.
One of the problems faced by many passport holders and citizens of Vanuatu was establishing tax residency since Vanuatu did not recognize personal income tax of any kind and, therefore, did not levy a tax on local income or worldwide income. Simply speaking, they did not have and still don't have any tax department to collect taxes and no tax police. Consequently, it follows that there was no opportunity or need to file tax returns and indeed no personal Tax Identification Numbers.

As part of the newly implemented Vanuatu Tax Administration Act (TAA 37), a system for issuance of Personal and Corporate "Tax Identification Numbers" (TIN) has been introduced by the Vanuatu Customs and Inland Revenue Department.
As anyone who has opened or operated a bank account in a Common Reporting Standard (CRS) signatory jurisdiction will be aware, the provision of a TIN is mandatory in facilitating the automatic exchange of information required under the CRS system.
Vanuatu, itself a CRS signatory member, has struggled in the past to fully meet its obligations due to the absence of a TIN system. This has also created some obstacles for individuals with Vanuatu Citizenship seeking to open bank accounts around the world where, often (in fact, almost invariably), the provision of a TIN is stated as mandatory.
For Vanuatu citizens under the Vanuatu Development Support Program (VDSP) and Vanuatu Contribution Program (VCP), the introduction of a TIN is the most obviously relevant – and beneficial – of the new provisions.
However, the Act itself is a little over one hundred pages long, spanning many facets of tax administration in Vanuatu. For those VDSP and VCP citizens engaged in business activities in Vanuatu, it would merit further study to understand any changes and reinforcements, and the impact these might have (TAA37 download here).
Importantly, no material changes to existing tax rates or fees are gazetted under the Act, and –for now, at least– Vanuatu remains a largely tax-free environment.
Click here to consult with our expert now.
Do you have a question?
Frequently asked questions - An interview with Mundo expert
Q. Alex, we understand you are Wealth's manager of the passport division and in charge of the Vanuatu Citizenship team. Tell us a little bit more about yourself.

A. I was previously the manager for one of the top law firms in Panama dealing with international structuring. Then, I joined the firm in their Panama head office 3 years ago and have been heading the Vanuatu team. I deal with all CBI, including Montenegro, Cyprus, the Caribbean, and Vanuatu.
Q. What can you tell us about the company?
A. The company specializes in CBI programs and we have our head office in Panama with our own law firm there, plus licenses for all the Caribbean passport programs (St. Kitts, Grenada, Antigua, Dominica, St. Lucia). We also have an office in St. Kitts and Nevis with the oldest licensed trust company established in 1994, so we not only do passports but also a whole series of support services including trusts, wealth planning and management, corporate and banking, and tax residency.
Q. Alex, how can a second passport help in the coronavirus situation or a financial meltdown?
A. Well, a coronavirus is only one of a chain of things that can restrict travel and freedom of movement in today's times. Many of our clients, especially Venezuelan families, have trouble getting visas, opening bank accounts, and doing things ordinary people take for granted simply because of their passport. With coronavirus, we are going to see massive challenges to our freedoms, and a second passport will help.
Q. How does Vanuatu compare to other countries' CBI?
A. Well, I can say the process of the Vanuatu passport is a very fair one. We know exactly what they require, we collect the documents and submit them to the authorities, and get clearance so we can guarantee our clients that they will be approved within one month and get their passport within 3 months top. With other programs, especially some of the Caribbean ones, I have sometimes had waits of over six months without response and have had rejections without explanation or right of appeal.
Q. Have you ever been rejected in Vanuatu?
A. I can say that, since we have our own office there and we know the process, we have never had a single rejection. I think this reflects not only our own quality control but also the fact that Vanuatu, despite its size, has a very fair and transparent process.
Q. How is Vanuatu processing applications in light of the coronavirus?
A. They have issued a direction that allows them to do the interview for citizenship by Skype, which is very innovative and solves the current situation. What I like about Vanuatu is how flexible open and responsive they are. They care about clients and want to make the process as smooth as possible.