Cyprus: One of the World´s Best Second Passports and Citizenships
5/18/2020 8:00:00 AM
Admin System
In Mundo, we are frequently asked about the world´s best second passport. Many countries offer these programs for high-net-worth individuals willing to invest significant amounts in their economies.

There are plenty of options depending on your interests, but one of the best overall is the Cypriot passport.
Until not so long ago, these programs were limited to a handful of Pacific and Caribbean islands.
However, Cyprus established a residency and citizenship by investment program that has received plenty of demand from investors, businesspeople, and high-profile individuals around the world.
Why has the program been so successful? The reason is quite simple: Cyprus is a member of the European Union. The Cypriot passport is one of the world´s top passports as it allows you to travel, live, and invest across the EU with total freedom. Even better: it allows you to travel entirely visa-free to 173 countries and territories.
*The passport program has been suspended. Mundo will keep you updated on this topic.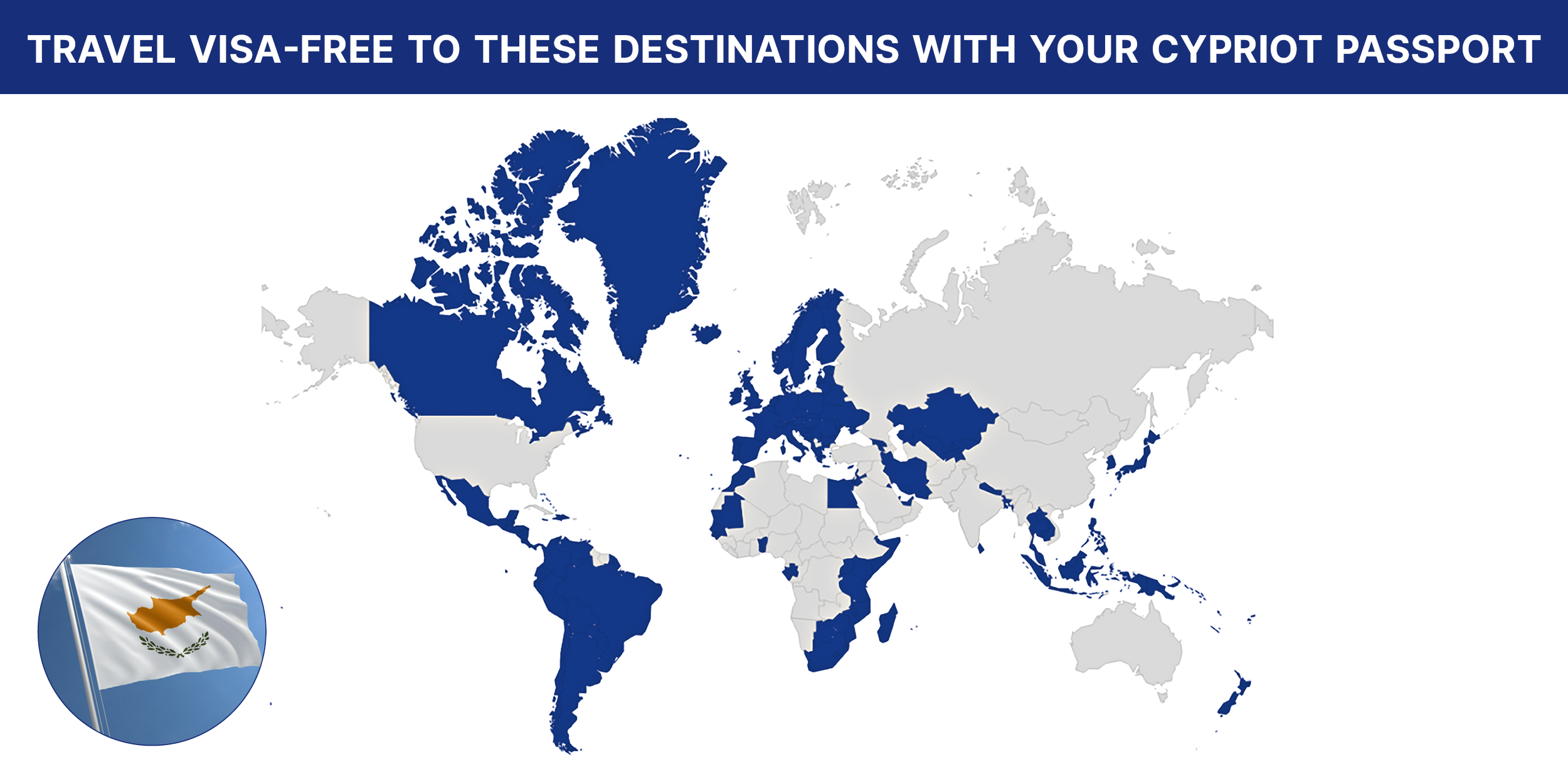 And, overall, Cyprus is a beautiful island with 340 days of sunshine during the year, an incredible culture, and fantastic life quality.

The Cypriot passport gives you full access to the Schengen space, most non-EU European states, including the UK, the Nordic states, Switzerland, all Latin America, Canada, Japan, South Korea, New Zealand, Indonesia, Singapore, and more. Moreover, Cyprus is currently negotiating a potential visa waiver with the US.
But before getting into details, let's talk a bit about history.
Cyprus went through an awful economic crisis in 2013. The Cypriot banks owed more than the country's GDP, and the European troika gave the island a bailout to save its economy.
That led the country to adopt pro-business policies and to seek fresh investment. The country had citizenship by investment program since 2007, but the required investment was around €25m. After the crisis, in 2013, the program was amended, easing the process for high-net-worth individuals, reducing the necessary investment to €2m or €5m depending on the circumstances.
However, the program took its present form in 2016, which lead to a substantial increase in the number of applicants. The last reformed eased the process and reduced the total investment to €2m or €2.5m, depending on the case.
Now, we want to talk to you about why the Cypriot passport is one of the best overall choices out there for high net worth individuals.
Advantages of Cyprus citizenship by investment and residence by investment






1.EU Passport in a growing economy:
Even as the necessary investment is higher than most other programs, it has two distinct advantages: it's an EU passport and Cyprus has a thriving economy. That means that your investment is not burned money, but can bring significant economic benefits. The country has terrific alternative investment fund options, a thriving shipping business, and an ever-growing real estate and tourism market.
2.A gate for EU investment:
Americans can travel to the EU without a visa; however, they need visas for investing and opening businesses across the Union. Having a Cypriot passport avoids this bothersome process, which can be lengthy and costly in many countries.
3.Quick and easy process:
The processes don't have many requirements and are quick: if you apply for residency, you'll receive an answer in 2 to 3 months, and if you apply for nationality, you'll receive a response in around 9-12 months. Also, you can include your spouse, dependent children up to 28 years old, and parents.
4.Not many questions and not many requisites:
You're not required to live in Cyprus before or after the citizenship/residency approval; there are minimum wealth disclosure requirements, as they are checked by the banks and not the authorities, and there are no medical testing or language requirements.
5.Wonderful relocation place:
Even as applying for the citizenship program doesn't require you to live in Cyprus, and the residency program only requires you to travel to the country once every two years, the country also has plenty of other lifestyle benefits. It's an excellent destination for business, living, or tourism. 70 % of the population speaks English, half of the population has tertiary qualifications, and it's a lovely country with some of the best beaches you'll ever see, and a 10,000-year-old culture.
Even if the island is somewhat small, you won't get bored. It has an extraordinary nightlife, a ton of sports and outdoor attractions, archeological locations from its antique Greek past, and more. Even as the country has sold itself as a year-long touristic destination, it isn't full of tourists everywhere.
6.Top-notch life quality and lifestyle:
When compared to the services and easy life Cyprus offers, its cost of living is among the lowest in the EU. All that led Cyprus to be designated the 5th best relocation destination in the world by a Knight Frank report. That's why Cyprus has the second largest percentage of resident foreigners in the EU, with almost 20 %.
7.Tax residency benefits:
Even as the citizenship and residency programs don't immediately grant you tax residency, you can set it by spending as little as 60 days in Cyprus, under certain circumstances. Setting your tax residency in Cyprus has terrific benefits, especially when considering the tax burden of most European countries. Non-dom individuals receive a 50 % tax exemption for their first five years and an exemption of the Defense Tax. You can check all the benefits in our Cyprus Country Focus
No matter how you see it, it's a wonderful destination for foreigners in general.
Residency options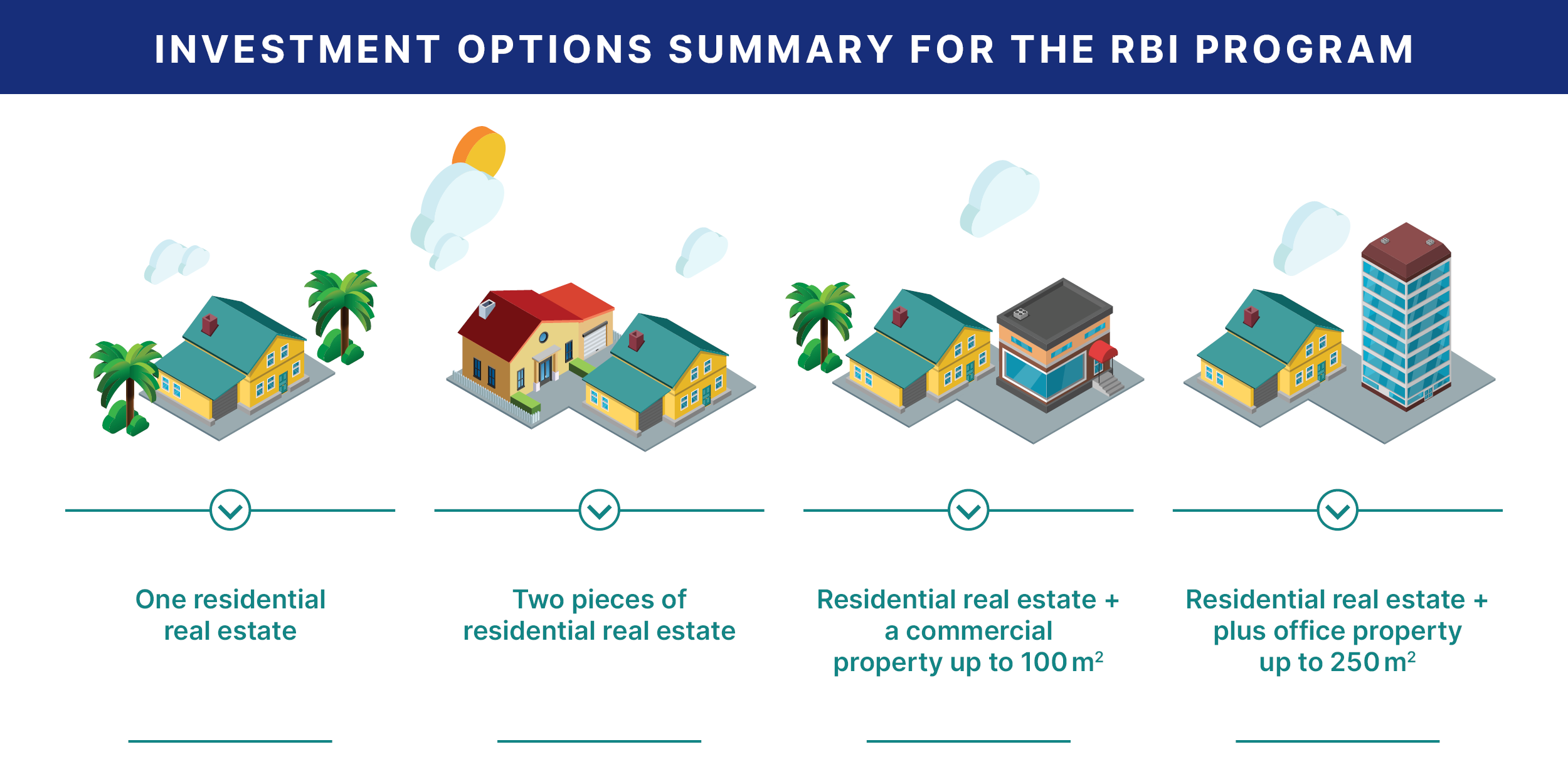 After seeing all the fantastic benefits, the program can bring, you may ask yourself what you need to do in order to apply. Let's talk about the residence program.

The minimum investment for the residency program is a €300k real estate investment, of which €200k must be paid before applying. The real estate property must be a first-time sale residential property.
The purchase scheme can be made in four different forms: One residential real estate, two pieces of residential real estate, residential real estate + a commercial property up to 100 m2, residential real estate +
office property up to 250 m2. Please see the graphic below.
Regarding your investment, you must consider the following:
The value of the properties must be of at least €300k

The acquired properties can be located in different parts of Cyprus.
Likewise, the applicant must maintain a five-year fixed deposit in a national bank of at least €30k from external sources and must prove he has a secured annual overseas income of €30k, plus €5k per dependent child and €8k per dependent adult.
This scheme can lead you to a permanent residency in as little as two months.
You must consider that under this scheme, you cannot work on the island, but you can own a company in Cyprus. To keep the residency, you must travel to the country every two years.
The following documents are to be submitted in the application (but are not necessarily limited to):
Title deeds for the purchased property
Proof of payment of €200k (at least)
Proof that you have the minimum annual income required
Proof provided by a Cypriot bank saying that you deposited the minimum fixed amount
Criminal record certificate released in your last country of residence
A personal statement confirming you won't work as an employee in Cyprus
Thus, the application has three main steps: choose the right investment option that best suits your needs, gather the documents, and then submit your application.

Our experts at Discus Holdings always follow the real estate market. That means they will provide you with an investment portfolio that suits your needs. They conduct independent evaluations on the approved real estate projects so you can make a secure investment.
The Discus Holdings legal team will help you to prepare all the documents you need for your application (the ones we mentioned above) and fill all the official forms. This is the most crucial step because the applicant's file is the key element to obtain a positive response. Our experts will revise the file to guarantee its quality and that it is complete
After the client's file has been submitted, our Discus Holdings team will follow the process with the Cypriot authorities as they conduct the due diligence examining the file and its content. Of the total €300k investment, at least €200k must be paid upfront, which means they cannot be refunded if the response is negative. However, the client can sign an agreement where he can condition the acquisition on the positive response of his application. When the client receives a positive response, he will receive a permanent resident's card and must pay the remaining €100k.
Hence, to sum up:
Residency
Minimuminvestment

€300k + VAT real estate investment (€200k paid prior the application).

Requirements

Five-year foreign-sourced €30k deposit

Yearly foreign income of at least €30k (+5k per dependent child and €8k per dependent adult)

Clean criminal record

No frozen assets within the EU

Time

2-3 months

Notes

You must visit the country at least every two years

You can't work in the country, but you can own a company

Beneficiaries

Main applicant

Spouse and underage children

Children between 18 and 25 years old if they are 1) Not married, 2) Financially dependent on the applicant, 3) Full-time students.

Financially dependent parents of the applicant and/or his spouse
Now, the jewel of the crown:
The citizenship program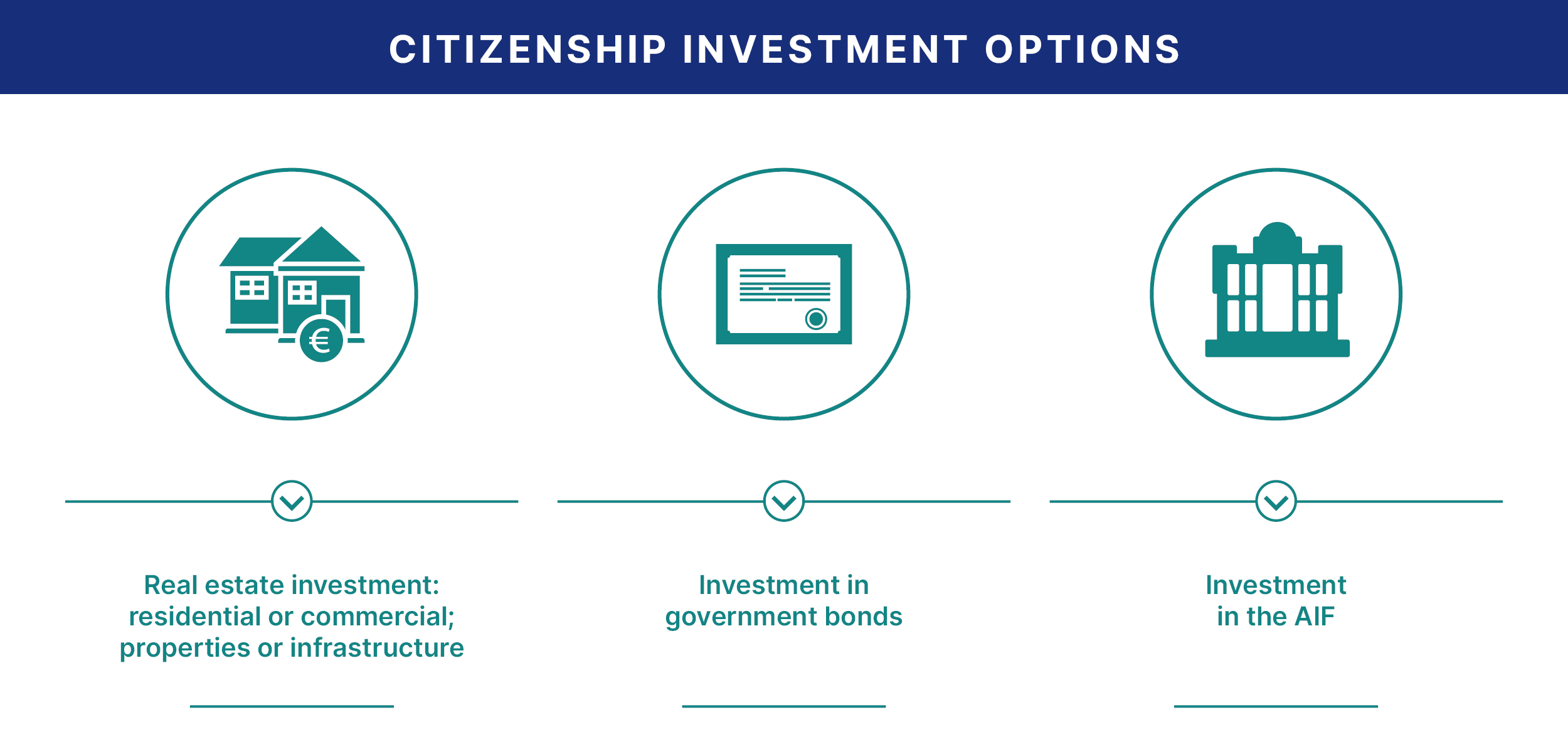 To qualify, the main applicant must be at least 18 years old and have a clean criminal record. He or she can add his or her spouse, minor children, adult children between 18 and 28 years old if they are full-time students and financially dependent. Parents can also be added after the citizenship has been granted to the investor if they acquire a €500k residential property. They can collectively acquire a residence with the main applicant if it surpasses €1m value. The expected response time is around 9 to 12 months.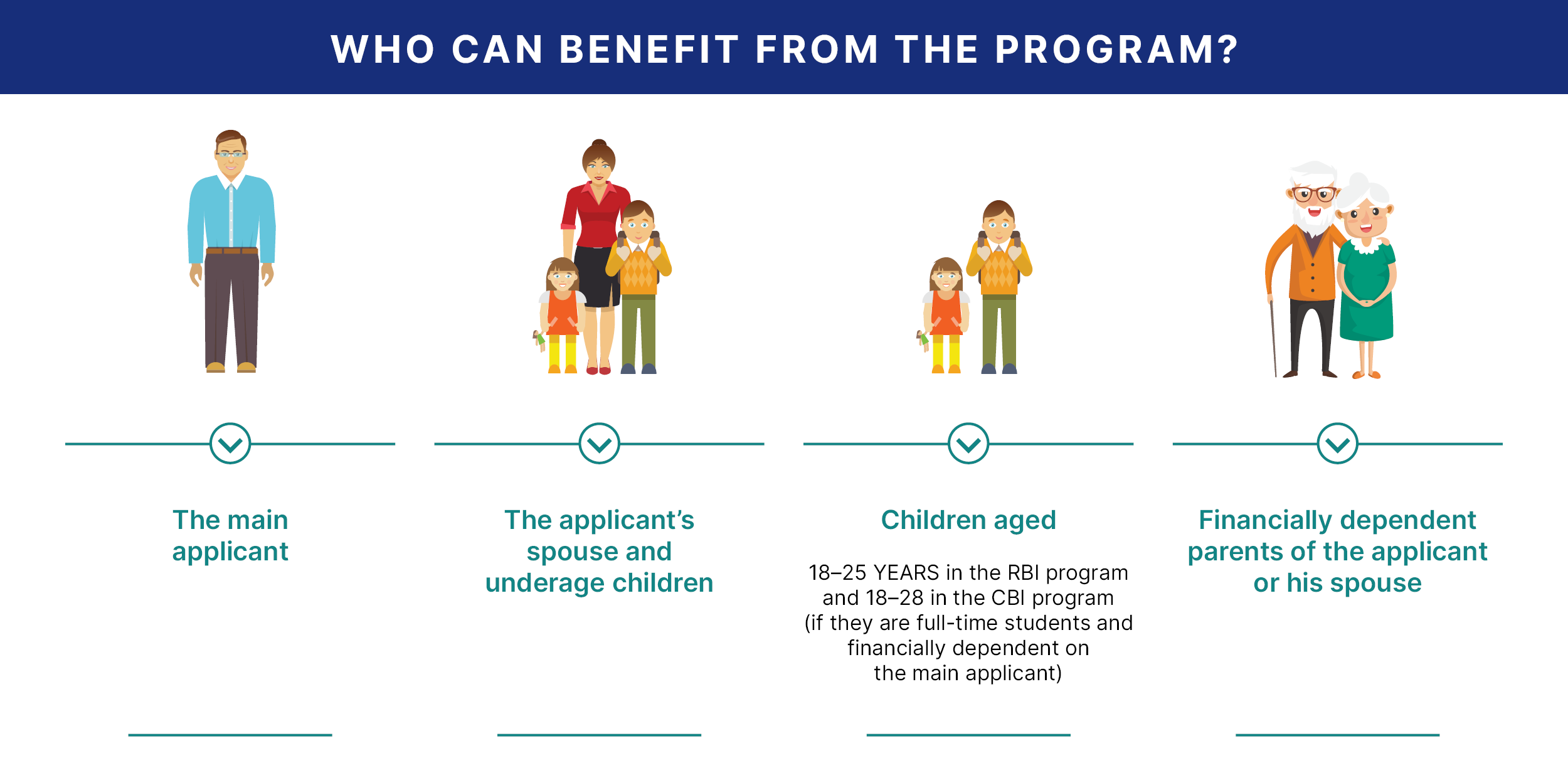 The investments required to apply for citizenship are divided into two general investment options: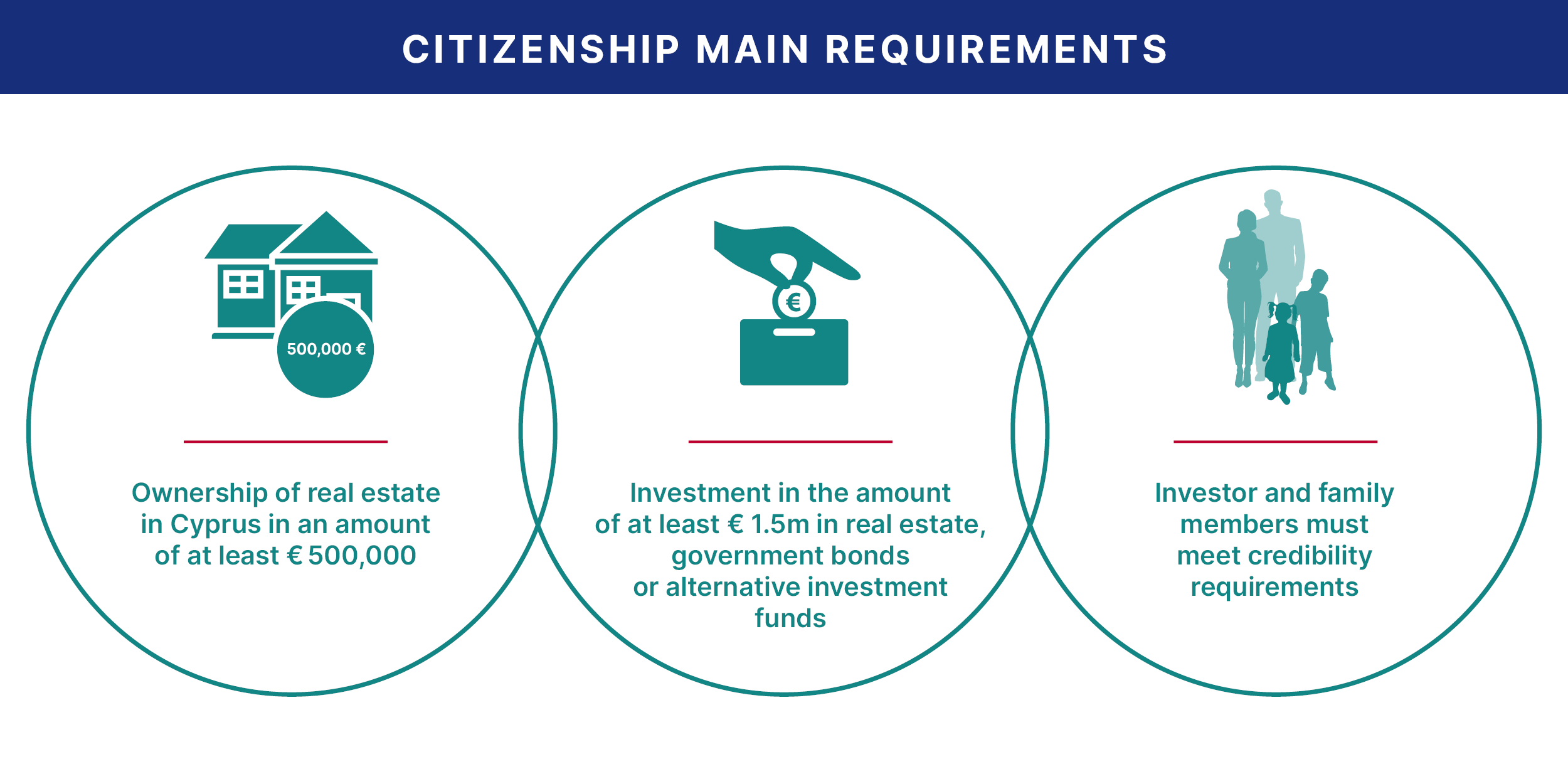 ● Residential real estate investment: A €2m residential real estate investment, of which at least €500k must be for a permanent personal. The rest of the investment must be in residential real estate and kept for at least five years.
● Other investments: This option demands a minimum investment of €2.5m, of which €500k must be in a personal residence. The rest of the investment can be made through a mix of real estate, shipping, AIFs, government bonds, and company investment.
It is vital to note that, no matter which option the applicant selects, he must also make a non-refundable, €150k contribution to the Cyprus government. The investment term is five years, meaning all the investments can be sold after this period, excepting the residential real estate. At all times, you must hold a €500k residential real estate as your primary address, but you can rent it out.
The following documents are to be submitted with the application (but are not necessarily limited to):
● Proof of clean criminal record
● Schengen Visa (if applicable)
● Due diligence report conducted by a subscription database such as WorldCheck
● Marriage and birth certificates (if applicable)
● Sale contract, title deeds, proof of payment, of the personal residence. If any other real estate projects are acquired as investments, the following documents must also be included:
- Evaluation certificate
- Town-planning permit
- Declaration by the mortgage lender (if applicable)
- Project completion certificate
● If company investments are conducted, the following must be included:
- Certificate of registration of the company
- Shareholders certificate
- Audited accounts of the company
● If AIFs investments are conducted, the following must be included:
- Titles of the financial assets
- Copy of the wire transfer in the name of the company
- Investment plan
- CySec confirmation
● Copy of the wire transfer of the contribution to the Research and Innovation Foundation (€75k) and to the Cyprus Land Development Corporation (€75k).
● Copy of the residency permit
The process: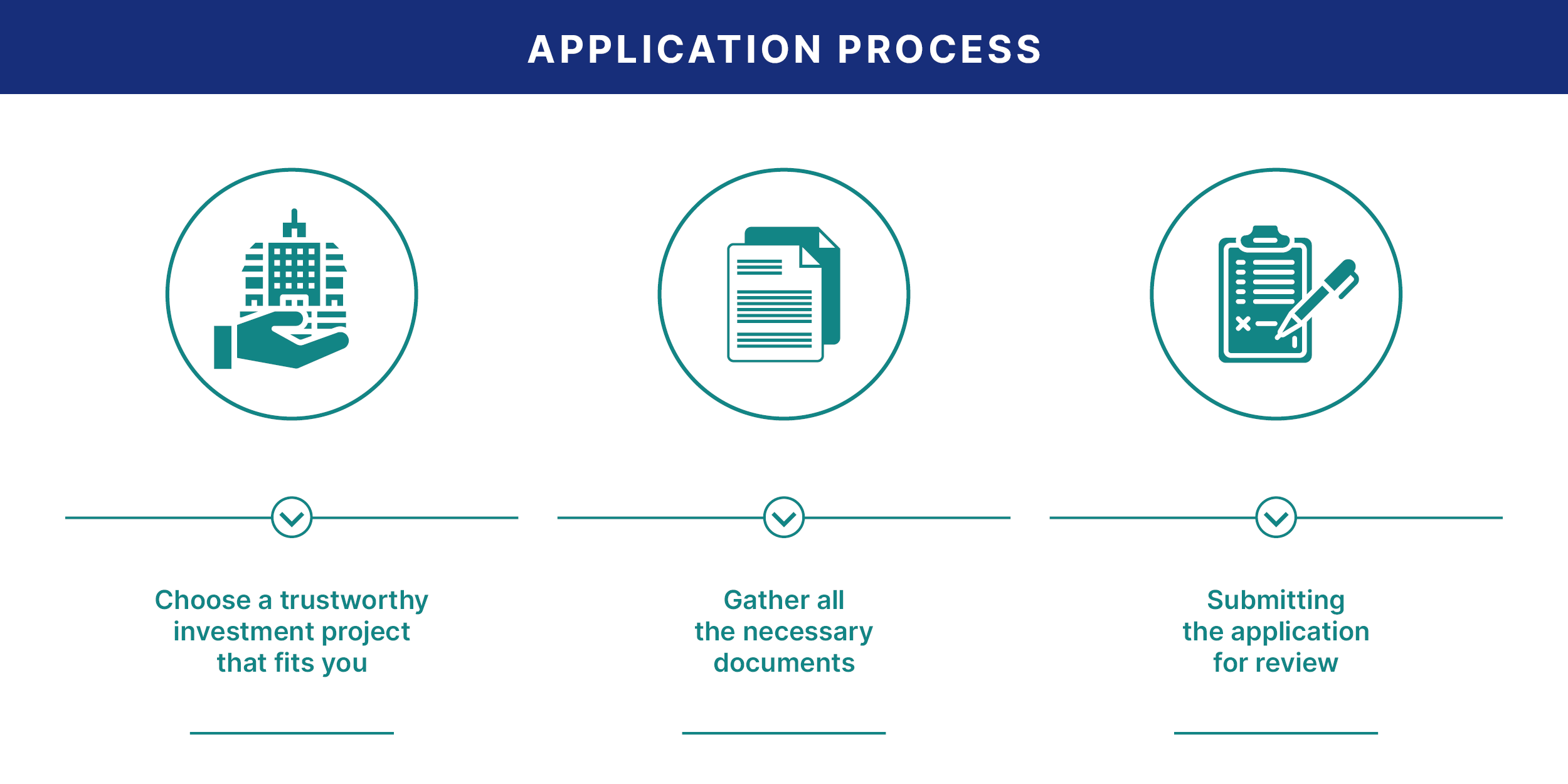 1. Choose you investment

In order to apply, firstly you have to get in touch with Mundo Offshore's experts in the Cyprus program. Discus Holdings experts are up to date with the real estate market and they can help you choose the best real estate option for you. They can offer you a trustworthy investment portfolio.
2. Gather the documents
Next, our legal team of Discus Holdings will help you gather all the required documents and fill the application forms. This is the most significant step because the reviewing of your file has the most significant impact on the result.
3. Submit the application
After the client's file has been submitted to the Cypriot authorities, our experts will follow the process. Applicants must travel to Cyprus to visit the court and sign the application for the Cypriot citizenship and visit immigration for fingerprinting to apply for residency, as you must hold a residency permit for at least six months before the approval of the citizenship.
Authorities will review the file, verify all their contents, and decide over your application. At this point, you must make the €150k contribution to the Cypriot government, which is non-refundable. That means that if you're rejected or don't continue with your application, you won´t be able to get a refund. The investments and property acquisitions must also be made. However, you can sign an agreement where you can condition the acquisition on the positive response of your citizenship application.
Receive your citizenship certificate and passport
The client will get a certificate of naturalization, with which the applicant and his family can obtain a Cypriot passport and ID. The total process takes between 9 to 12 months. Applicants can travel to Cyprus to receive the documents, but may also visit a Cypriot embassy to receive the correspondent ID and passport.
Now, to sum up:
Citizenship
Minimuminvestment

€2m+VAT residential real estate investment or €500k+VAT personal residence investment + €2m+VAT in other investments (AIFs, shipping, etc.)

Requirements

€150k contribution to the government

Clean criminal record

No frozen assets within the EU

Schengen Visa

Time

9-12 months

Notes

Dependent parents must also purchase a residence of at least €500k

Beneficiaries

Main applicant

Spouse and underage children

Children from 18 to 28 years old if they are 1) Not married, 2) Financially dependent, 3) Full-time students

Financially dependent parents of the applicant and/or his spouse

Fees

€5k application fee (per additional member)

€5k naturalization certificate (per member)

€2k naturalization duty (per member)

€1k passport issuance cost (per member older than 12)
Acquiring a second passport is an excellent opportunity for investors and acquiring one that gives you full access across the EU, incredible investment opportunities, and the possibility to optimize your taxes is even better. That's why in Mundo Offshore, we consider the Cypriot passport and residency program to be among the best passports in the world.

Want to know more about Mundo Offshore´s Cypriot citizenship and residence services? Subscribe to our newsletter to get in touch with our networks of experts and check our Cyprus Country Focus page.
You can also contact us and ask for a consultation right now.
About us
In Mundo, we want to help you protect your legacy, your investments, and your family. Since 1994 we've been helping high net worth individuals obtain second passports to protect their investments, their families, and do business with more freedom.
In these 25 years, we've built an unparalleled network of experts to provide first-level services with an unmatched degree of expertise for our clients. That's why we work with Discus Holdings, which is, by far, the best RBI and CBI services provider in Cyprus, with presence in dozens of countries.
Our friends at Discus Holdings have more than 25 years of experience in second passports and residencies. This excellent team offers complete transparency, meaning you won't have to face unpleasant surprises like hidden fees that you didn't expect. For Mundo and for all our experts, trust is the most important thing and is the basement on which we build every relationship.
Our experts will also offer support during the process and after the residency or citizenship has been approved. Discus Holdings and Mundo Offshore also provide valuable tax and financial advice so that the applicant can take care of his business and assets during the process of acquiring citizenship.

Want to know more? You can check our Country Focus.
FAQ – INTERVIEW WITH LASZLO KISS, DISCUS HOLDINGS' MANAGING DIRECTOR
Why is Cyprus attracting so many international investors and high net worth individuals to apply for residency or citizenship on the island?

Cyprus offers many advantages, such as warm climate, convenient geographical position, well-educated workforce, highly advantageous tax system and residency/citizenship via investment programs.
What are the main characteristics and differences between both programs?
The residency program provides a permanent in around 3 months: Cyprus will be joining the Schengen zone soon, and after that residents will be able to visit the 26 Schengen countries without a visa. The citizenship is different, as applicants will become full citizens of the European Union with all rights.
Our clients are genuinely interested in the citizenship program. What benefits does it have for them?
The right of free movement, freedom to work and study, and security within the social and legal system of the EU, visa-free travel to 174 jurisdictions.
Which passport is best? Why choose Cyprus instead of Malta, or the Caribbean islands?
The Caribbean jurisdictions offer only a 90-day visa free travel (in any given 180 days) to the Schengen zone while Cyprus citizens enjoy the full rights of an EU citizen. The biggest component of the Malta citizenship is the donation part, which starts at €650,000. People who believe in properties usually do not like donation-based programs so they happily choose Cyprus instead of Malta.
Now, let's get into details. First, the residency program. How does it work? Which are the eligibility criteria for participating? Which are the requirements for family and dependents to be added to the application?
Granting the residency permit is based on the purchase of a property with a minimum value of €300,000+VAT. It has to be a newly built real estate and must be kept throughout the whole residency period. Any under-18 child or dependent over-18 child can be included and parents of the main applicant can ask for a family reunification.
And about the citizenship program: How long does it take the process to acquire a Cyprus passport? Do I need to live in Cyprus during the process of obtaining citizenship? How long is the process? Which are the requirements? Does it allow the dependents to be involved?
What do I need to know to apply?
The usual processing time is 6-9 months and there is no need to live in Cyprus during that period. Dependent parents can be included in the application with an additional investment in residential property.
What are the investment options for both the residency and citizenship programs?
The most commonly used way to get either residency or citizenship program is an investment of residential property - €300,000 for residency and €2m for citizenship.
What are the investment options for the CBI program?
Clients can choose between the following options:
● Residential property investment of €2m
● Residential property investment of €500,000 + €2m investment into Cyprus companies employing 5 people
● Residential property investment of €500,000 + €2m investment into Cyprus alternative investment funds
● Residential property investment of €500,000 + €2m investment combination of the company or alternative fund investment.
How much does the CBI total process take from lodging to completion?

Citizenship is usually granted in 8-9 months.
Is there an appeal process if you are rejected? Do you have the possibility of a total or partial refund?
Yes, there is an appeal process but has not been tried extensively… We advise our client to insist on an option on his purchase agreement to give back the property if the citizenship application is refused.
What is the payment process? At what stage does the applicant pay professional and government fees? When does he have to pay the government contributions and make the investment?
The professional fees are usually paid in advance, and the citizenship application must be accompanied by payment confirmations of the property investment and donation.
If a client chooses real estate, what are the options? What should he consider when picking a property?
As always clients should be careful to compare the sale price to the value of the property being offered. As we are not property developers, we always give impartial advice to our clients about the viability of the property project, expected value of the property or any aspects of the investment.
What about clients that elect the other path for the CBI? They can make AIF, or company investment. Are there any restrictions on what investment vehicles can they use, or they can pick whatever AIF, shipping or company investment they want?
They investment should be mainly related to Cyprus, so it is not possible just to incorporate a Cyprus company and use it for non-Cyprus related business activities or investments.
Must the main applicant disclose his source of funds?
No full disclosure of personal wealth is needed at this moment.
Could you explain in more detail what is the due diligence required regarding funds disclosure? What documents do applicants need to submit?
Clients must prove the amount for the property investment and the donation arrived to Cyprus, and also that they have been paid the investment and donation through the Cyprus banking system.
What advantages does applying for Cypriot residency or citizenship have over similar programs?
Cyprus is currently the fastest solution to gain full EU citizenship.
What about holding family offices in Cyprus? Is a citizenship a useful way for families to base their businesses in Cyprus?
Due to the good business infrastructure, to English being spoken by nearly everyone, excellent weather and most importantly by the very advantageous personal and corporate income tax rates Cyprus is one of the best places to do business in Europe.
How may a citizenship help you with banking and wealth management in Cyprus? Can Discus Holdings help clients in getting in touch with such services?
We can definitely help our clients to integrate their ideas into business in Cyprus. The banks are all operating under strict KYC rules, so the clients must satisfy those rules based on international standards.
What services Discus Holdings provide for interested investors? What differentiates it from other service providers?
Discus provides full professional residency and citizenship services for its international clients. The quality and expertise of our services is based on our experience of 28 years in international wealth structuring.
Does Discus Holdings help their clients in choosing these investments? How?
For choosing the property we can directly work with us, while the provision of specific investment advice is a licensable activity in the EU, so for specific financial investments we are working for licensed investment and tax advisors.
Please, tell us about your Cyprus team. What has been your success rate in applications for the CBI and RBI programs?
We have been operating in Cyprus through our own office since 2006 and have a 100% success rate for citizenship applications. I think it is due to the fact that our Due diligence checks are very robust and strict. We simply want to avoid controversial or bad clients…
One last message for Mundo's network of investors…
Everyone needs a Plan B…
Contact us now and ask for a consultation on the world´s best passports available for investors.