The New Casco Viejo in Panama
6/4/2020 8:00:00 AM
Admin System
On this occasion, we want to present an opportunity that is especially interesting for Panamanians and for expats living in Panama. This is the hottest investment opportunity in Latin America as it is a whole new city close to the Tocumen International Airport. It is a neighborhood perfectly planned according to the famous world heritage place called Casco Antiguo. There is nothing like this in Latin America to this date and it will define international living for decades.

The investment is open to family offices, developers, funds that wish to invest in perfectly planned projects including schools, malls and associated sectors, and also an industrial park during the third stage of the project.
Under the investment section, Mundo Offshore features some of the hottest more interesting projects in Latin America and the world. We can offer such projects thanks to the wide network of experts and friends that we have created throughout the years.
Panama is a unique place in the world where you can just relax at the Balboa yacht club while watching the ships going through the Panama Canal and under the bridge of the Americas. All of this among a unique setting crowned by the city´s sensual skyline, with skyscrapers reaching high into the sky.
It is a place where you will find the most amazing people and the dearest friends, where you can enjoy the colorful parades during national holidays and basically make your financial dreams come true.
Today, Mundo presents a unique project that we especially love, and that will be remarkably interesting both for Panamanians and expats living in Panama City.
How would you feel if you could have a place in Panama where you can get out and go anywhere you want without even taking the car? Where you can go for groceries, shopping, jogging, tuition, without having to stand in an ever-ending traffic jam or having to walk through the uneven sidewalks of Panama City?
How would you feel if you lived in a place with many big parks, stores, facilities, schools, a river, and all within a walking range? All of this still in one of the most vibrant capitals of the world?
We present to you the new and improved version of Casco Antiguo.
Town planning and the perfect investment opportunity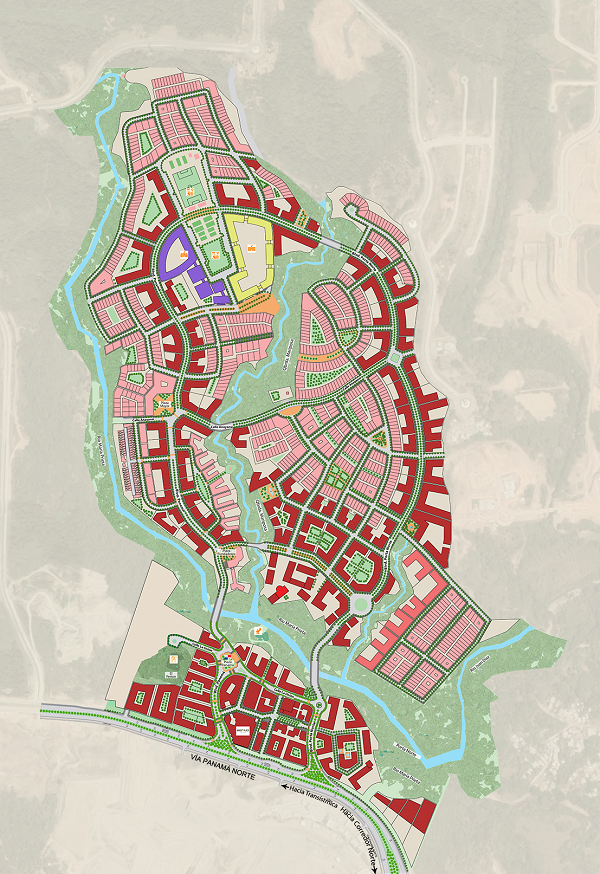 Before the 1920s all cities were built thinking about people. Before the first cars were invented and became affordable, people used to simply walk to most places. If people wanted to go to the store, the theatre or the university, they usually walked there. For this reason, most cities were built exclusively for pedestrians, considering their needs and comfort.
After the 1920s, however, the car became more popular and also more affordable, and the whole town planning tendency changed towards building cities exclusively for car transit.
With the development and implementation of automobiles in society, people started to live in the city´s suburbs while they worked in the center. With this tendency, the suburban parts of cities started to considerably develop.
Panama, in particular, is a city that was almost entirely built after the '20s, after the car boom hit the industries and changed the history of town planning.
Have you ever tried to take a walk in Panama City but couldn't because the sidewalk was used as a parking lot for cars? Did you ever have to rush while crossing a big avenue and risk your life because there is no crosswalk or traffic light for pedestrians?
If the answers to these questions are yes, then you have a fairly good idea of what I´m talking about.
One of the few places in Panama where this is an exception and where people are able to freely and comfortably walk is Casco Antiguo. Casco Antiguo is one of Panama´s most beautiful areas, with charming and colorful colonial architecture. This is a neighborhood that was built before 1920 when the town planning tendencies were not yet focused on cars.
It is not surprising that Casco Antiguo is one of the most cultural places in Panama City. Having even blocks, thanks to which it is easier to get to different places, and having a nice colonial style, Casco Antiguo is a place where culture was able to thrive. Here you will find many cafes and restaurants, pubs and places where you can enjoy live music like jazz, Latin and classical.
The disadvantages of modern cities
In a city like Panama, where it is almost impossible for people to have a decent walk, or to even walk to the supermarket without having to climb over the parked-on-the-sidewalk cars, the quality of life becomes poorer by the day.
Spending most of the day in their cars, people exercise less which results in health issues. The hours spent stuck in traffic are time that you could be spending with your children or studying for a major or simply reading a book.
This is especially difficult for grandparents, who usually, stop driving at a certain age and find their freedom of movement severely compromised in a city like Panama, having to depend on their children or grandchildren for simple things like going for groceries, to the theatre or to a restaurant.
A new and improved Casco Antiguo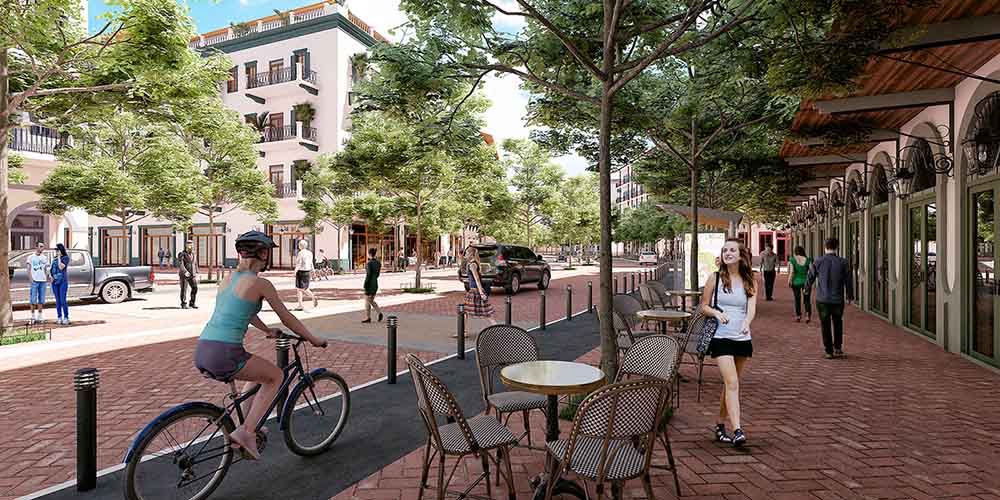 Mundo´s experts came up with the beautiful idea of building a new Casco Antiguo. This is going to be a unique neighborhood in the style of the 1920s, where everything is and will be thought exclusively for the comfort of pedestrians.
Forget about sitting in your car for hours of traffic jams and welcome a land where people will be able to take walks, and children will be able to play on the streets with their grandparents.
Say hello to a happier and healthier way of life!
We offer a master-planned community of 262 hectares, inspired in beautiful colonial cities like Cartagena de Indias, Sevilla and Casco Antiguo in Panama. This community will have houses, low buildings, malls, restaurants, squares, parks, schools, a sports club, health centers and more.
It will be quite easy for the residents of this community to get around as it will have wide sidewalks, bikeways and a trolley.
Under the new town building concept, this neighborhood will be built for the pedestrians´ comfort, in the northern part of Panama City–Panamá Norte– which is a constantly developing area.
Let´s talk about numbers
Ø 12 schools nearby - 5km
Ø 1km from Corredor Norte
Ø 5km from the metro station
Ø 12km from the airport
Ø 7km from Santa María
Ø 12km from the city center
Improved lifestyle
In this new neighborhood, you will travel back in time and enjoy the beauties of the colonial era, when life was simpler and quieter, when people used to walk freely, rode the trolley and simply enjoyed each other´s company in parks and squares.
Places and facilities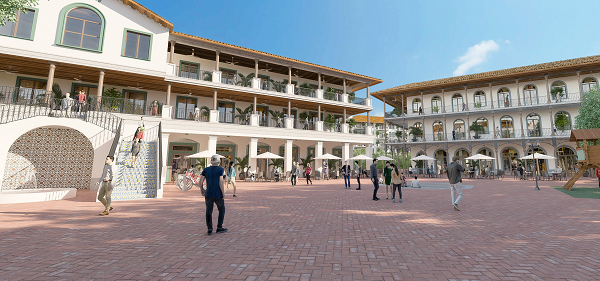 Plaza Panama Will be the first square of the neighborhood. It will have leafy trees so you can walk under the shade on a summer day and a playground for the little ones.
The sidewalks will be wide for the pedestrians´ comfort and the balconies will be continued so that people can walk safe from the rain when there´s bad weather.
The second square will be called Plaza Fundadores and will have a direct connection to commercial facilities like shops, cafes, restaurants and stores. This is the ideal place where you can enjoy a meal with the family, go shopping or a cold Balboa with a friend.
If you love nature, this project will surprise you because it includes a river with big parks where you can enjoy a microclimate, all within a walking distance from your home!
Advantages
Ø Modern infrastructure supported by an innovative concept
Ø Designed by an international prestigious firm
Ø Sports and tuition facilities (schools and sports club)
Ø Easy mobility for pedestrians (wide sidewalks, trolley, bikeways)
Ø Spaces and infrastructure to cater for elders, disabled and children
Ø 12 km from Panama City´s center
Ø The 8th line of the Panama metro will be built nearby
Ø Sense of community
Ø Close contact with nature and a healthy lifestyle
o Direct and convenient access through Panama's Via Norte
o A mix of residential and commercial land use compared to other projects
o High impact in the country and region creating jobs and economic dynamism
Ø Promoted by a prestigious developer
All these characteristics are the perfect conditions for culture to thrive, and we expect to host music festivals and other events of interest for the community.
We have land lots for sale for different developers, but all the construction must follow a strict urbanization code, and every project will be run by the Committee, thus guaranteeing the construction of the perfect neighborhood for people to enjoy.
Every project will be built under the same standards that consider the pedestrians the most important factor when it comes to town planning.

Project Description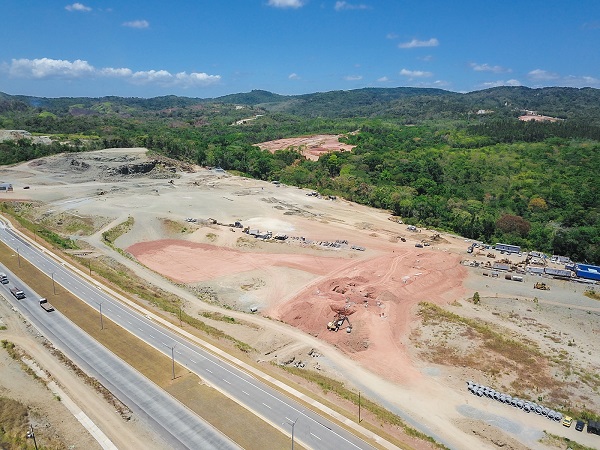 Entire Property
• 262 hectares (includes sellable + common areas)
Phase 1-8
• 101 hectares of sellable area
• $347 average price/m2
• ~$350 million in sales
Phase 9
• 80 hectares of sellable area
• $110 average price/m2
• ~$88 million in sales

Why invest in Panama?
Strong economy:
Panama has a strong economy based on the US dollar. The country´s GDP has grown in the last decade from a 7% to a 10%, being the fastest developing economy in Latin America. Panama´s official currency is the US dollar which is commonly used in everyday life. Thanks to this, Panama doesn´t present currency fluctuation issues or hyperinflation like other countries of the region.
Panama is the 23rd fastest growing economy in the world and the GDP per capita has expanded five-fold from 1990 to 2018, thus becoming the most dynamic economy of Latin America continuously for the last three decades. It has surpassed all the former Latin American powers like Argentina, Mexico and Uruguay.
One of the main contributors to the GDP is the tourism industry, which is one of the most important economic sectors of Panama. The government usually gives great incentives for this sector.
Also, Panama is home to the Panama Canal, one of the major engineering works in history. 14,000 vessels pass through the Panama Canal each year, making it a very important spot for maritime transit and commerce. Thanks to the Canal, Panama receives high revenues and offers major employment opportunities.
Many important infrastructure projects are proof of the country´s economic expansion: ~$900M Tocumen Airport expansion, $166M new cruise terminal investment and the $120M investment to transform Panama Bay's Bella Vista beach into a go-to hot spot

Business friendly environment:
Panama is one of the most important business centers not only of the region, but also of the world. Not many places on the planet offer this amount of benefits. Panama has tax incentives including 17 no-double-taxation treaties and a territorial tax system. If your residency is properly established in Panama, then your worldwide income will be taxed at a 0% rate.
Panama presents great business opportunities like IBC registration and special freezone regimes. By registering your company in a freezone you can have access to many benefits from tax exemptions on some products, import and export advantages and others. Thanks to its territorial tax system, Panama is the ideal place where to register your headquarters in order to operate with foreign branches.

Confidentiality:
The banking sector is very secure and developed and offers high levels of confidentiality. The country has signed up to the CRS regime but, if you properly structure your tax residency in Panama, and your income source is outside the country, then you have nothing to worry about as the CRS only reports to the tax residency country.
Moreover, the Panamanian government does not interfere with the Panamanian bank accounts nor asks for the disclosure of information, assuming there are no serious crimes or accusations involved.

Flexible residency programs:
Panama is famous for its wide menu of residency programs. It has many residency opportunities that involve little paperwork. While acquiring residency in other countries can take years and an endless number of documents and requirements, in Panama you can get a residency in only a few months, under certain conditions. There are different residency programs from which you can benefit. We recommend visiting our country page on Panama or ask for a direct consultation with one of our experts through our contact forms.

Excellent life quality
Panama offers a high life quality for locals and expats. The welcoming locals will always make you feel at home, and you can enjoy great surfing in the Pacific, quiet and pristine Caribbean waters and mountain hiking, only within a few hours ridding your car.
The country´s capital is very similar to Miami in look and feel but at a much lower cost. It is a very cosmopolitan and vibrant city, with great nightlife, great shopping and entertainment options and exquisite international and local cuisine.
Panama´s strengths:
• Panama is one of the countries receiving the most FDI in Central America.
• Panama has a simple investment process and an attractive tax structure, enabling a robust investing sector
• Panama ranks 79th out of 190 economies in the World Bank's Doing Business rankings (2019)
• Strong political and economic stability and privileged diplomatic relations with the United States
• Controlled level of inflation of ~2% and a stable currency (parity with the USD)
• A regional hub of international trade including free zones, tax incentives and modern infrastructure with the Panama Canal.
Panama´s great connections:
• The Tocumen International Airport has become an important connection center for the Americas connecting North and South America, the The Caribbean and Europe. It has more than 20 operating airlines.
• The airport connects passengers and cargo to more than 34 countries and 84 destinations all around the world.
• In 2017 approximately 15.6 million passengers used Tocumen International Airport for international connections
• Maritime transport has been the most dynamic activity with more than 13,000 vessels passing through the Panama Canal in 2017
• Toll revenues increased a 17.6% more in 2017 compared to the previous year
• The new cruise terminal at Panama City's Amador Causeway represents a $166 M investment, and it is expected to boost Panama's maritime business even further.


Executive summary
The team is looking for a strategic partner to participate in their unique and innovative real estate development here described, alongside a first-class development team with renowned industry experience. The partners are looking to allocate up to 7.5% of the total project equity.


Activity
• A 262 ha (647 acres) real estate development in Panama City's northern sector
• Sale of land parcels to developers, commercial centers and institutions
• Mixed-use


Location
• Panama City, northern sector of the city.


Concept
• New Urbanism: the project will be a walkable community in a flourishing natural context, designed for pedestrians, allowing convenience and comfort to meet their basic needs and ensure a high life quality level.


Objective
• Search for a strategic partner to acquire shareholder participation


Participation
• Up to 15% participation in the project, equal to up to 7.5% participation in the investment ownership vehicle.


Expected Return
• ~18% IRR
Country overview
Total Population: 4.1M
Labor Force: 46%
GDP Growth: 5.3%
International tourist arrivals (end of 2017) 2.11 M
Unemployment rate: 6.1%
GDP centered in highly developed services sector: 75%
Banking and Financial Institutions: more than 80
Inflows from Foreign Direct Investment: 5.5bn
International tourist arrivals (end of 2017): 2.1M
GDP accounted to Canal & essential to global trade: 10%
Investment in Tocumen Airport expansion to handle demand efficiently: +800M
International tourism inbound receipts: $4.15 bn
Contribution to GDP from tourism sector: 11.6%
Boost in cargo tonnage during the first year of canal expansion: 22%
Increase in ship arrival from 2016-2017: 14%
Metric tons of load moved by National Port System (2017): 86.9 M
Largest trade zone in the world: 2nd after Hong Kong
Of total employment held by tourism-related positions: 12%
Business model
• The main objective is the sale of land parcels to commercial centers, institutions, and developers
• We handle the development of all common areas and offer developers the opportunity to purchase land plots and parcels, including the following attributes:
Ø Parks, rivers & plazas
Ø Walkable urbanism
Ø Flat Land
Ø Architecture guidelines
Ø Horizontal property
Ø Sanitary Conduit
Ø Pluvial Conduit
Ø Electric & Com. Conduit
Ø Drinking Water Conduit
About the developer
Mundo offshore works with the best and most prestigious developers in Panama and in the world.
Our primary focus is to develop authentic communities focused on pedestrians under the principles of new urbanism. This concept was brought to Panama from the United States in the 80s by our developers, and it was considered a revolutionary project in those times.
Mundo offshore´s partners have participated in the development of some of the most exclusive and active zones in Panama City.
For this reason, you can rest assured knowing that your investment lies in the hand of the best professionals in the area.
We highly recommend investing in Panama and especially in this unique project which offers great returns, being a new neighborhood in the heart of Panama.

If you want to invest in the new Casco Viejo in Panama City, please contact us and ask for a consultation.