The true story behind Vanuatu's Citizenship program could fill a book, our Mundo expert and writer was actually there when it happened but briefly. A very interesting mathematical genius, Stefan Mandel, was famous for wicking out a way to win the Lotto 22 times by cracking the Lotto probabilities sequences and forming a syndicate to basically bet on every possibility. He did this by meeting with one of Einstein's former assistants and using the Faber Nachi Code to basically crack The Lotto in Australia and America.
In fact, Australian government actually passed a subsequent special law forbidding him to do this and tried to throw him out of the country by illegally attacking him through the securities commission. But that is another story.
Stefan came to Vanuatu with his wife and started to help the Vanuatuan people with health, agricultural and other projects and noticed that there was something quite unique in Vanuatu that was lost in most other places: freedom. Stefan fell in love with Vanuatu for the same reasons that Mundo has and worked closely with Vanuatu's people and chiefs.
His wife tirelessly worked to help in the medical and educational spheres by establishing one of the most productive charities that helped hundreds of people access medicine and education.
Having noticed the colonial mentality of many governments, notably Australia and their attempts to enslave the people with aid money so that their independence could be further eroded, Stefan came up with a brilliant idea to create Vanuatu's own Citizenship program.
Stefan showed the government how, by creating their very own program they could basically become financially independent with less than a decade and then be able to afford their own educational, health care and other funding. To do this he had to change the constitution to allow dual citizenship. Stefan then did the impossible. He travelled to over 30 of Vanuatu's populated islands and met with the chiefs and their people and actually got them to enact a referendum to change the Constitution.

Thanks to Mr. Mandel´s efforts, Vanuatu created the CIIP which was later replaced by the DSP.

The DSP program allows indigenous Vanuatuan's to partner with international firms in order to provide immediate citizenship to applicants. Apart from providing direct benefits to the people of Vanuatu in terms of education, health and development the program has the following advantages to the applicant.
Ø Due to the free-visa EU entry, the program can be matched with a low-cost residency in Europe. This offers the best of both worlds in a low-cost passport with zero tax and practically European residency. There are very few providers offering such a package. Click Here to ask for a consultation
Ø The passport allows visa-free travel to over 130 countries plus Visa Free to EU ,England China and Russia, with e-visa to Australia.
Ø The Vanuatu DSP or Citizenship by investment is proud to be the fastest of all existing programs. It has a guaranteed turnaround of two months from the date of filing the forms and generally processing within one month.
Ø Vanuatu has very few tax treaties or information exchange agreements, it is politically neutral and outside the interest or control of Europe or the United States. The only Big Brother attempting to control Vanuatu is Australia, and even that is on a very minimal basis. In that regard Vanuatu is independent.
Ø Vanuatu has great banking opportunities and confidentiality for Citizens. Opening a bank account for a citizen is very quick and easy and, like we said before, there is no tax.
Ø Vanuatu has relatively few restricted countries and is tolerant and open to all societies. Its processing staff are highly professional so due diligence is carried out quickly and efficiently as opposed to some CBI countries which can take up to a year.
Ø A second passport is usually valid for four to five years, but the Vanuatu passport is valid for ten years, after which it can be renewed.
Ø Vanuatu allows dual citizenship, this means that you won´t be obliged to renounce your current citizenship.
Ø Vanuatu is the perfect destination for investors and businesspeople because it has zero personal and corporate taxes. Vanuatu's passport is a valuable long-term investment because, if properly arranged, you can be legally free of tax and avoid problems like tax erosion. Protect your assets and and the generations to come!
Ø The information of the applicants is completely confidential, and it´s not mandatory to be present in order to obtain citizenship.
Ø Vanuatu's citizenship process is very transparent, everything is properly laid down in the regulations.
Ø The citizenship you get is for life and it´s hereditary. Since you can apply with your family, you and your dependents will get citizenship for life. The passport expires in 10 years after which it can be renewed, exactly like natural citizens.
Quick programme facts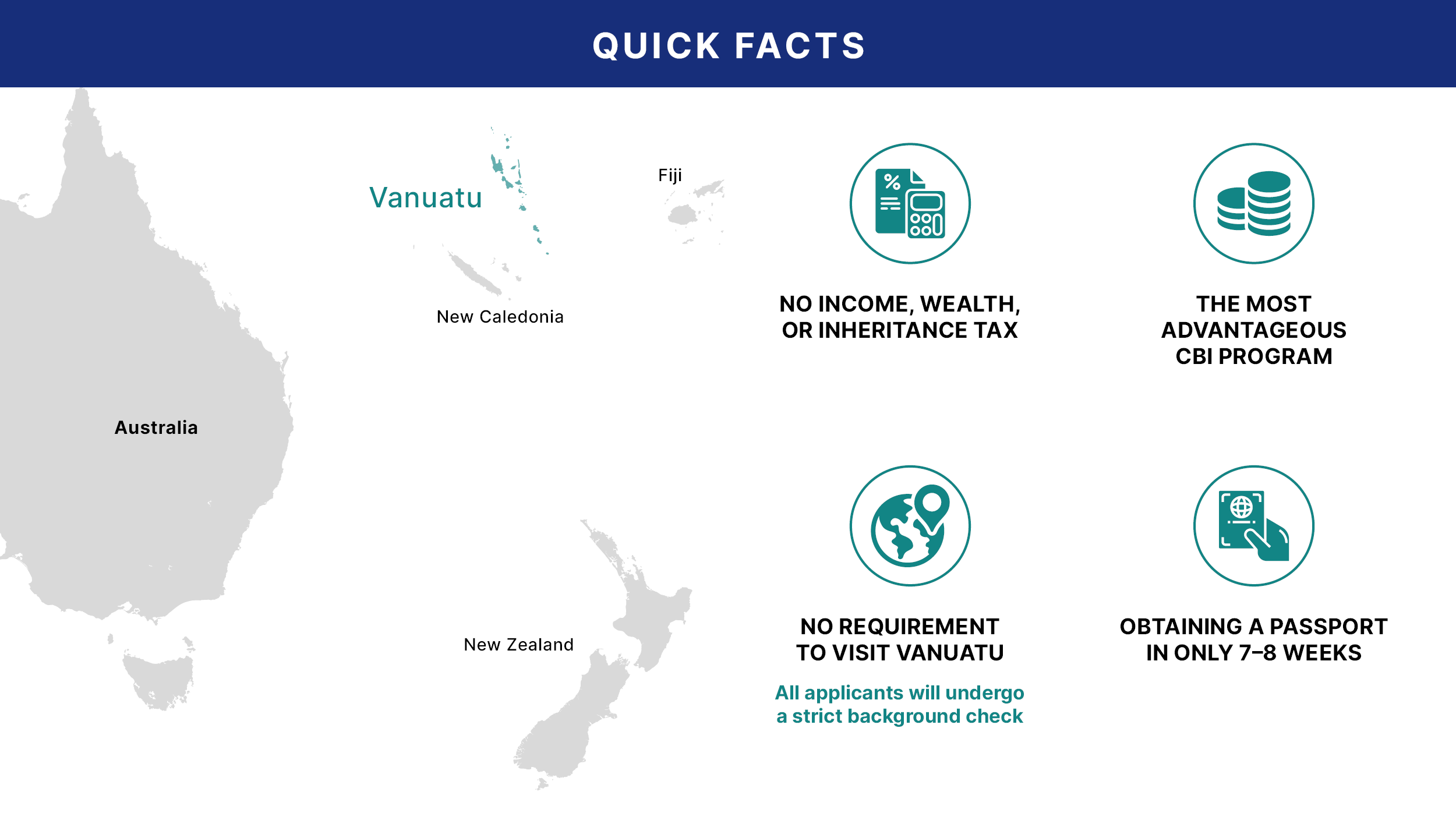 The Programme - Legal Foundation
The Vanuatu Development Support Program (VDSP) was created for the purpose of raising funds to support infrastructure and promoting the economic development of the country. The DSP was enacted by the Vanuatu Government under the Citizenship Act (cap 112) with the powers conferred on the Prime Minister by Section 20 of the Citizenship Act (112) Order No. 215 of 2016.
On August 24, 2017, the Prime Minister of Vanuatu, in the official Gazette, published that he replaced the DSP. From this time, Honorary Citizenship will be offered. Our program experts are NTL Wealth, who have been established since 1994 in Nevis and are specialist in the Vanuatu DSP as they have their own office in the Vanuatu Capital Estate, since the beginning of the DSP.
In January 2017, the Republic of Vanuatu launched its Development Support Program for USD 150,000, including government and due diligence fees. The citizenship acquired under the DSP program is fully recognized by the Government of Vanuatu and the nationality is regarded as Ni-Vanuatu. Those applying for and receiving Vanuatu Citizenship under the DSP have the full right to reside in Vanuatu at all times and the passport is renewable upon expiry. Honorary Citizenship is hereditary.
The DSP program was designed to help indigenous (Ni-Vanuatu) obtain access to much-needed aid, including education and medical assistance. It was created after the Cyclon Pam in 2015, to ease the effects that this natural disaster had in the country´s economy and to attract foreign investment. The program grants citizenship by donation to all applicants form the majority of countries with only a few restricted countries such as Iraq, Iran, and Syria (but even these countries can get citizenship if they prove they were residing overseas for a certain period).
The DSP has been and continues to be a success, gaining popularity worldwide. The Citizenship Commission informed that in 2019 alone the DSP raised more than Vt12 billion. In recognition of this achievement, designated agency contracts have now been extended by a further eight (8) years.
Requirements
Ø Applicants must be over the age of 18 and under 65 when submitting their application.
Ø Applicants should preferably have no less than USD 500,000 of net personal assets when submitting their application, of which at least USD 250,000 in banking assets. There is some flexibility on this.
List of documents required
Stage one – Due Diligence:
Ø Completed, signed Stage One Application form (for main applicant, spouse, children, parents).
Ø Existing passport color scan (certified copy) – for main applicant, spouse, children, parents.
Ø Photo ID card color scan (certified copy), front and back, photocopied on one page (as available for main applicant, spouse, children, parents).
Ø CV – for both Principal and Spouse Applicants.
Ø Police Clearance Report from the jurisdiction in which he/she has resided during the last 12 months and (if different) the jurisdiction of his/her principal nationality (for main applicant and dependents aged 12, if available, and older).
Ø Due Diligence Fee.

Important notes:
Ø The Citizenship Committee meets twice a month to consider applications.
Ø The Committee makes its decision on granting Citizenship based on the following:
ü The result of clearance (due diligence) conducted by the Financial Intelligence Unit (FIU).
ü The complete and satisfactory submission of the Stage Two documentation.
ü The clearance of Stage Two funds through the National Bank of Vanuatu (NBV), and evidence of deposition into the Government account.
Ø If all three aspects of the submission to the Citizenship Committee are satisfactorily completed, there is rarely any impediment to Citizenship being granted.
Ø It is essential that the processing agent is deeply familiar with the submission requirements so as to provide the right advice regarding documentation. This will minimize delays in processing, which can otherwise be significant.
Ø The requirement to transfer significant sums of money to a Vanuatu-based Master Agent means that a highly reputable intermediary sub-agent should be engaged, with unambiguous accountability for the security of the funds remitted.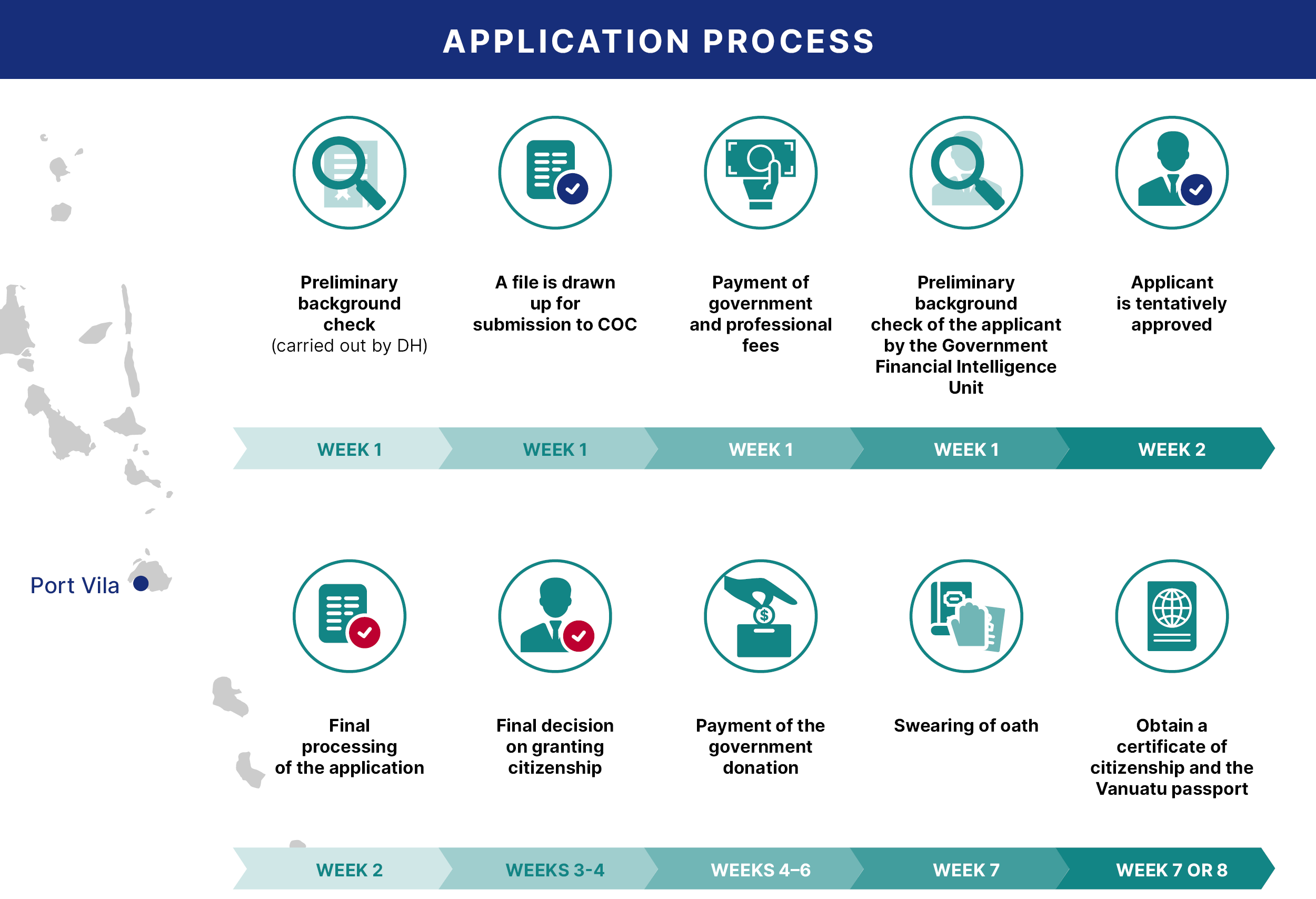 The fast track process
Vanuatu´s citizenship program is one of the fastest out there. Our expert, Alex Alvarez (see interview), has told us that it takes his applicants usually three months to achieve citizenship, that is, of course, after submitting all the documents and due diligence requirements.
But if you want a citizenship really fast then Vanuatu is definitely the right choice for you! Vanuatu has launched a fast track program which allows you to obtain citizenship in only 1 month. This means that, if you don´t like long legal processes but you still want to benefit from a second passport from Vanuatu, then this is a great opportunity.
Many of our clients are very busy businesspeople who are constantly traveling to conferences and meetings. In general, these applicants are vey busy and like to sort things out as quickly and straight-forwardly as possible, for his reason they prefer the fast track. If you are interested in the fast track, please contact us through one of our forms and leave us your message.
Once the citizenship is granted, you and your family members will have to attend a ceremony where you take an oath to respect and love your new nation. This can be done in Vanuatu or in one of Vanuatu´s consulates around the world.
If you wish to go to Vanuatu to take the oath and make it a family trip, then you will probably have the time of your life. If, on the contrary, you´d rather not get distracted from your businesses, there are other choices. We can arrange a citizenship ceremony in the nearest consulate to your country of residency.
Moreover, we can also send a consul wherever in the world you find yourself in. That is correct. If the mountain won´t come to Muhammad…then we take the mountain to you!
That is right. A visit of the consul to your home country can be organized, so you can attend the ceremony and at the same time not get too far away from the business and daily responsibilities.
Moreover, considering the new events and the pandemic that has affected almost the entire world, Vanuatu has recently allowed the oath to be made via online meeting.
Vanuatu´s citizenship options
The Citizenship Act [CAP 112] provides for three programs by which Vanuatu citizenship by investment may be obtained. They are:
a. Capital Investment Immigration Program [CIIP];
b. Vanuatu Contribution Program [VCP]; and;
c. Development Support Program [DSP]
Vanuatu has government has also implemented exclusive contracts with Hong Kong based companies. In this regard, the CIIP and VCP target mainly the Chinese market, while the DSP has a global outreach.
​
Probity Checks
Due to the increasing pressure from international organizations, the Vanuatu Financial Intelligence Unit (FIU) has increased its probity checks on applicants by engaging a third-party service provider. This additional check means an increase in the FIU Fees from USD 2,000.00 to USD 5,000.00 per case. For 90% of the cases, the turnaround time will still be 48 hours while the remaining 10% of the cases, a bit longer.
Cost and Fees
The minimum selling prices are set by regulations [Citizenship (Development Support Program) Order 33 of 2019].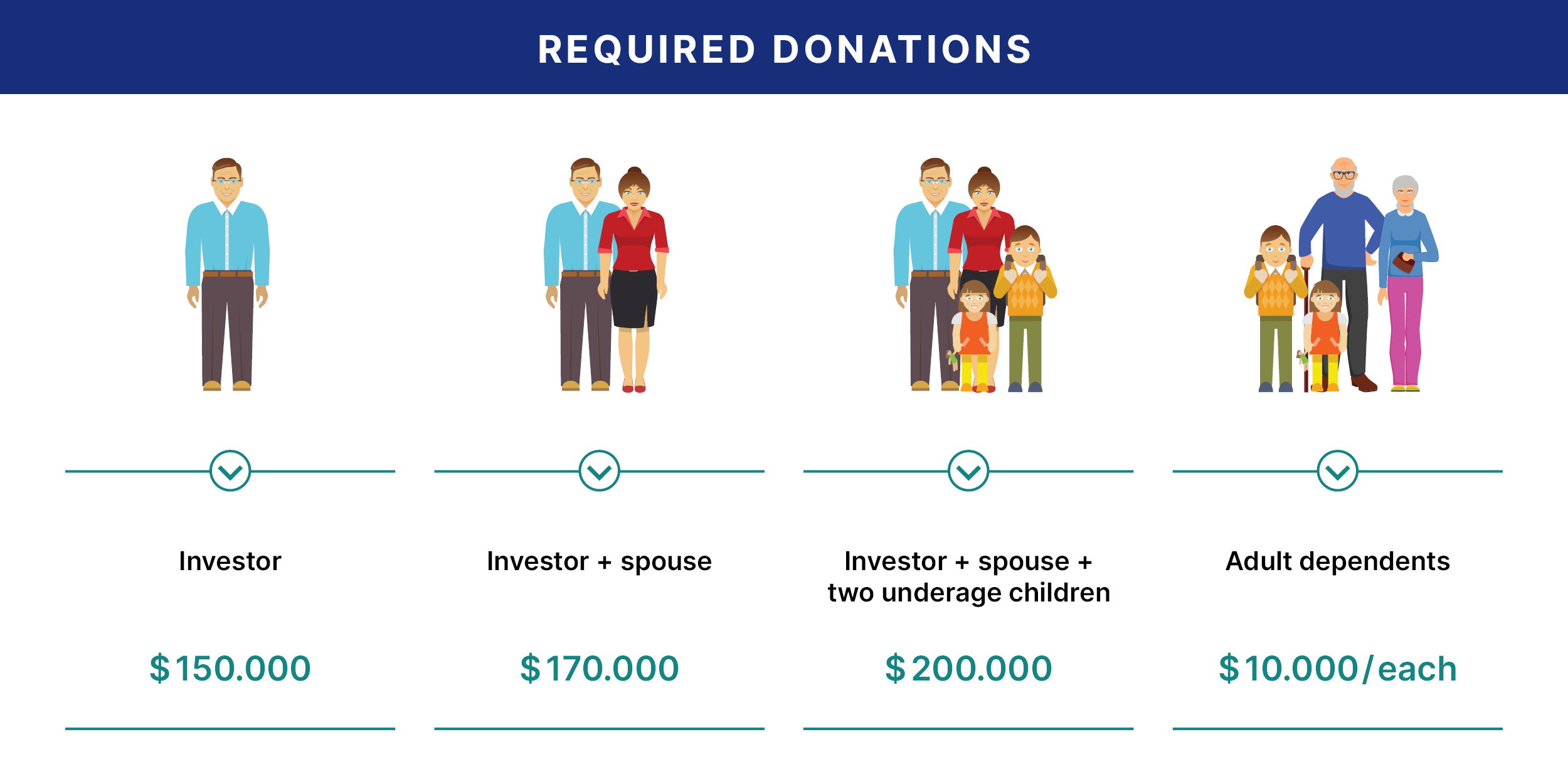 All designated agents are required to comply with this threshold and not permitted to sell below the regulated prices
​Turnaround time of applications: Up to 90 days (3 months).
​
Issue of Vanuatu Passport
Upon receipt of full payment, the Citizenship Commission will issue the Citizenship Certificate and instruct the Passport office to issue a Vanuatu passport to the successful applicant.
Refunds
Once the applicant passes the FIU probity checks, it is unlikely for the Citizenship to reject an application. However, if for any reason an application is rejected, the 25% payment of fees at application stage is forfeited.