Invest in Grenada: Discover the Advantages of the Citizenship by Investment Program
7/18/2023 8:00:00 AM
Admin System
Grenada's Citizenship by Investment program is a golden gateway for global investors, offering dual citizenship along with a host of financial and lifestyle advantages. Embark on a journey with Mundo Expert to the heart of the Caribbean, where the island nation of Grenada, often known as the 'Spice Isle', holds more than just scenic allure. Beyond its stunning beaches, lush greenery, and captivating cultural heritage, lies a golden opportunity waiting to be discovered - the Grenada Citizenship by Investment (CBI) program.

Popularly known as the "island of spices" for its high production of nutmeg, cinnamon and other spices, Grenada offers its visitors some of the most beautiful beaches in the Caribbean. The sublime scene of the Grenadian Caribbean is just one of the reasons to visit the three beautiful main islands that make up the country. Diving, sailing, excellent restaurants, fabulous beaches, and a calendar of unforgettable festivities have made Granada a preferred destination for investors.

Unleashing the Power of Dual Citizenship with Grenada
Grenada has created a mark on the global stage with its lucrative CBI program. Established under the Grenada Citizenship by Investment Act of 2013, the initiative welcomes international investors to consider the island as a second home. Unique to Grenada, the program acknowledges dual citizenship, allowing investors to retain their original citizenship while reaping the benefits of a Grenada passport.
Grenada's CBI program is renowned for its swift processing time, usually completed within 2-3 months. Furthermore, there is no obligation to reside or visit Grenada during the application process, ensuring seamless accessibility for international applicants.
An enticing aspect of the Grenadian program is its all-embracing approach towards family. It includes dependent children under 30, dependent parents, in-laws, dependent grandparents, and unmarried siblings without dependent children. An investment in Grenada's CBI program is essentially a long-term investment in your family's prosperity and security.

The Many Privileges of the Grenadian Passport
When you secure Grenada citizenship program, a plethora of benefits await. A Grenada second passport grants visa-free travel to over 140 countries, opening doors to a wealth of personal and commercial prospects across the globe. A Grenada second passport serves as a ticket to global mobility, offering visa-free or visa-on-arrival access to numerous countries including key business and tourist destinations.
Financially, Grenada's CBI program has a significant edge as it offers tax exemptions on worldwide income, attracting high net-worth individuals from all corners of the globe.
As a cherry on top, Grenada is home to St. George's University, one of the top-ranking institutions in the Caribbean. Impressively, children of Grenada CBI program participants can access scholarships of up to 90%.
Thanks to a treaty between Grenada and the U.S., a unique advantage of Grenada's CBI program is the access to the U.S. E-2 Visa Program. This visa enables Grenadian citizens to live, work, and study in the U.S. for five years, which can be extended upon expiry. With its speedy processing time, inclusive family benefits, and potential access to the U.S. E-2 Visa, the Grenada Citizenship by Investment program stands out among its international counterparts.

Grenada National Resort Project: A Monumental Investment Opportunity and Catalyst for Citizenship
Delve into the unparalleled opportunity presented by the Grenada National Resort Project, a colossal foreign investment venture in the Caribbean island nation. With a staggering investment of 2.4 billion USD, this project represents the largest of its kind in Grenada. Notably, the project organizers have paid 35 million USD to the Grenadian government for land acquisition, alongside an additional 25 million USD dedicated to the construction of a golf course.
The impressive financial commitment to this project underscores its national importance and the confidence placed in it by both foreign investors and the Grenadian government. The Grenada National Resort Project stands as a proud testament to the strength of Grenada's economy and its appeal to foreign investors. This unique project is backed, approved, and heavily supported by the Grenadian government as part of the country's Citizenship by Investment (CBI) initiative, further enhancing its significance. It is no surprise that this monumental project has been aptly named the "Grenada National Resort Project."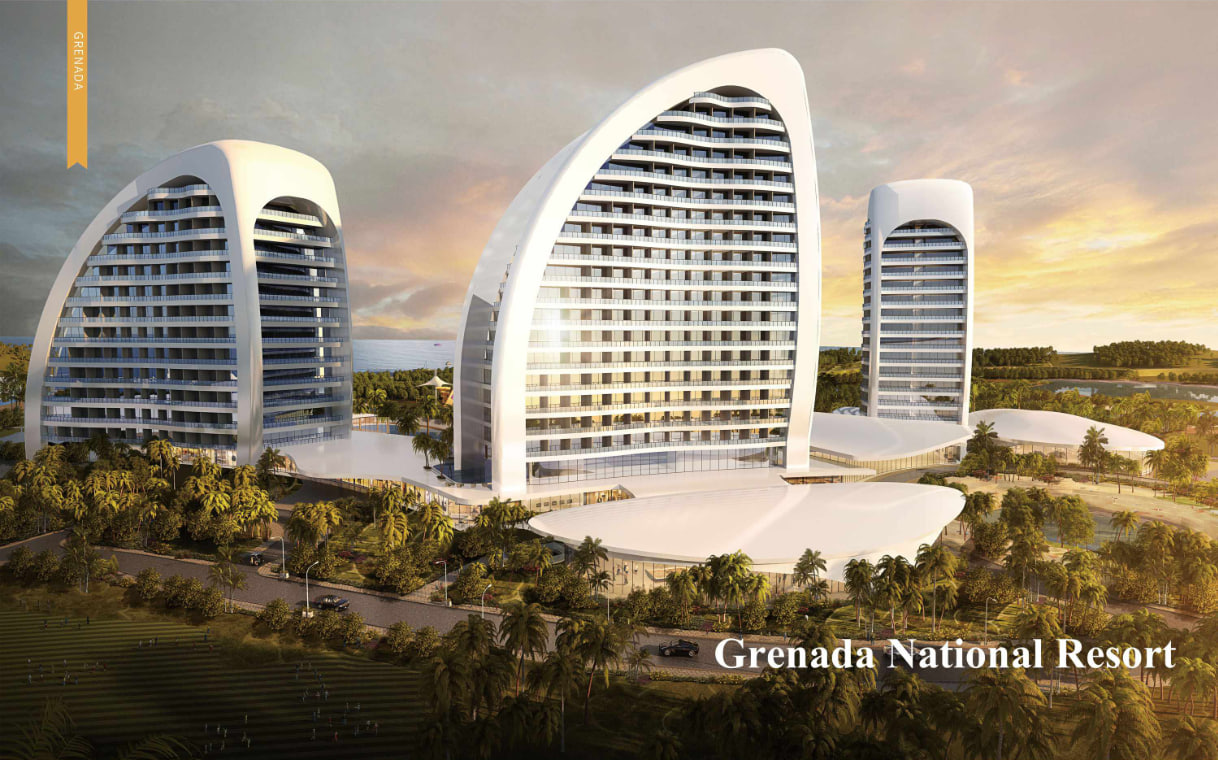 Investors interested in participating in this project can choose from three distinct business models:
1. Share Pledge Option: This model requires a total investment of 298,000 USD for four family members. After investment approval, if a client chooses to pledge their share, they will receive a return of 82,000 USD within five working days.
2. Share Resale Option: Under this model, the total investment required is 301,109 USD for four family members. Investors can resell their shares after a five-year period, offering a potential for substantial returns.
3. Grenada Passport + USA E-2 Visa Option: This comprehensive package requires a total investment of 500,000 USD. It offers the advantage of securing both Grenadian citizenship, through the CBI program, and the USA E-2 Visa, providing opportunities for global mobility and financial growth.
In conclusion, the Grenada National Resort Project provides a unique and lucrative avenue for investors seeking to expand their global footprint while contributing to a monumental development project in the vibrant country of Grenada.
Invest in the Grenada National Resort Project


Uncovering Your Perfect Match: Is Grenada's CBI Program Right for You?
Abstract: If you're a discerning investor, a global entrepreneur aiming to scale new heights, or a family envisioning a future painted with prosperous opportunities, the Grenada Citizenship by Investment (CBI) program could be your ideal match. Crafted with a keen understanding of high net-worth individuals' unique needs, the program offers an enticing tax regime exempting worldwide income. Entrepreneurs can explore the thriving U.S. market through the E-2 treaty.
Families can take advantage of the inclusive nature of Grenada's CBI program and capitalize on the renowned educational opportunities at St. George's University. For those with a penchant for travel, the Grenadian passport serves as a key to over 140 countries. Additionally, its efficient processing time and no mandatory visit or residency requirement cater to those who prioritize convenience and time. To sum it up, the Grenada CBI program is the compass directing you towards a sea of unparalleled possibilities.

Why Partner with Mundo Expert?
As a globally recognized leader in the industry, we have honed our skills and expertise to ensure that we offer the very best to our clients. At Mundo Expert, we understand that every client is unique, which is why we have a dedicated team of seasoned professionals specializing in legal, tax, and immigration issues. These experts bring their vast experience and knowledge in Panamanian corporate and investment law, as well as tax residency matters, to offer our clients a suite of comprehensive services. We provide tailored solutions designed to perfectly match the specific needs and objectives of our clients.
Whether you're an individual seeking a second passport for more travel freedom, a business person looking to optimize your tax strategy, or a high net-worth investor looking for new growth opportunities, Mundo Expert is the reliable partner you need. Our mission is to guide you through the complexities of the citizenship by investment landscape, ensuring a seamless, efficient, and successful journey. With Mundo Expert, you're not just acquiring a service; you're gaining a long-term partner dedicated to your global success.
Embrace the Future with Grenada and Mundo Expert
Investing in Grenada's CBI program is more than an investment in a second passport; it's an investment in a future teeming with endless possibilities and opportunities. With Mundo Expert by your side, explore these potential advantages as we guide you through every step of your journey towards Grenada citizenship program. Are you ready to elevate your global stature? Reach out to Mundo Expert today and let's embark on this transformative journey together.

Get Your Grenada Passport Today