From 2006 until 2016, real estate in Panama City was appreciating in value at a rate of around 10% a year. This rate was not even affected by the global financial crisis. The investment came from all over the world but especially from Latin American buyers, who saw Panama City as a Miami in Latin America, with safety, good schooling and a great lifestyle, but at the fraction of the price.
The combination of the Panama papers and a government lead by President Varela, who tried to actively stop many investment projects started by Martinelli, essentially dampened foreign investment into the real estate sector and the sales in this area decreased.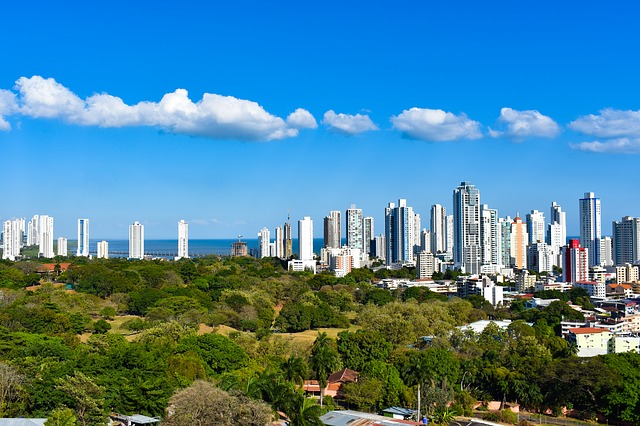 Varella had a personal feud with Martinelli and used or abused his power to try and shut down Martinelli-related business projects. This personal feud and Varela´s inability as a politician scared off foreign investors to the point where real estate investments in some cases fell below the actual construction cost. The slowdown which has occurred from around 2017 to mid-2019 has meant that many top properties in Panama are now being offered at close to construction prices.
As Warren Buffet famously said: be greedy when others are frightened and be frightened when others are greedy. We consider this to be a very good maxim for real estate investment. Those who followed this advice during the United States property crises of 2008, have seen returns on their investments of many hundred percentage points.
The Panamanian Real estate market promises a double-digit growth and more due to the fact that Panama is a fantastic city to live in and comparable in many ways to Miami but at a fraction of the cost. For example, high-level luxury real estate in Miami, which costs 1,000 000 minimum with architectural design, marble and waterfront, can be acquired in Panama City for less than half and sometimes a quarter of the price.
For investors with a holding strategy there are a number of interesting distressed assets by developers including very affordable high end commercial real estate. Land and properties in the free zones can also be acquired at rock bottom prices, a situation which is not expected to last long.
Investors in residential real estate at present can pay from 2,000-3,500 dollars per square meter for prime real estate including highly valued brands. Second hand older but still excellent apartments can be bought for as little as 1,500 per square meter. Rental yields range around 5-7 per cent for residential property with expected gains of around 8 per cent a year and higher for selected properties. Commercial properties can be bought at very low cost at present.
There are many possible options for investment. We can only deal with some of them.
Panama City: this is a vibrant growing city of 1.5 million people and most of the real estate growth and action is here as there is population pressure and predicted demand. Hot areas for investment include Casco Viejo (old city), Avenida Balboa, Panama Pacifico, and San Francisco areas. There are also nice housing developments in Balboa, Ancon, Diablo, around 15 minutes from the city center. There is an interesting large commercial and residential free zone in Panama Pacifico.

The islands around the Pearl Islands are amongst the most beautiful islands in Panama and only 2 hours by boat from Panama City. Some of these islands already have developments and represent very good buying.

The beach areas around Coronado and the Pacific, which are around a 2 hour-drive from Panama City, are oversupplied and unless bought at extremely cheap prices are not a recommended purchase at this stage. There are hundreds of miles of coastline in Panama to choose from.

Chiriqui is a province bordering with Costa Rica. Due to the intended railway which will link Panama with Chiriqui, this could be a fantastic purchase for retirement properties. This area has Panama's best farming and hill properties with permanent spring weather, and it´d only a few hours away from some of Panama´s most beautiful Caribbean beaches, including the famous Bocas del Toro.
For wise investors there are extremely interesting opportunities currently with developers giving deals with as low as ten per cent down for new builds. This means that, while the developer is building the property, you can actually resell and make significant profit with almost no money down.
Some developers also retain stock in buildings they have built and then resell the stock at very low process if they need cash and also arrange vendor finance on their deals. Having connections with the developers allows investors to obtain deals that are not available in the open market.
Contact us to find out about our real estate projects in Panama.

Mundo searches the world to simply find the best property developers in each country to partner with, so we can bring our clients and Family Offices financing opportunities and investments that you won't find anywhere else. We stake our reputation on it and this is why it has taken us over a year of really hard work to be given the privilege and the honor of representing Panama´s most famous and indeed most reputable property developer. Yes, Panamanians have known this for over thirty years and all the top Panamanian families buy from this developer.
In fact, we can tell you if you take our Property Tour, sponsored and developed by Bern, you will find out that they have property packages for our readers in almost every area from investment apartments, hotels, Family Office commercial, to beachfront apartments. Because Mundo is not a real estate agent but a portal and conference organizer, we can bring you simply the best deals directly from the developer. In fact, with our Bern Partnership we are bringing you deals better than you can even get directly from Bern themselves, and below we will tell you how.
But first, let´s examine five reasons why Bern is better than going to a real estate agent.
Indeed, Bern has given Mundo its most professional and indeed most beautiful representative, Liz Larroquette, as our expert in Panamanian real estate. Liz has kindly agreed to directly help all our readers with all their questions so you know you will be talking to the source. And believe us, Liz knows what she is talking about. She comes from Australia and has travelled the world before choosing Panama and Bern, and she deals with Bern´s Family Office and large investment clients. It´s a huge privilege for us to have her agree to talk to any of our clients on Mundo. Further, Liz has agreed to personally provide a Panama property tour to all our Mundo clients for the whole of this year FOR FREE. We can assure you she won´t do this for anyone else.
Contact us now for a consultation.

Reason 1: Quality guarantee
A developer is interested in maintaining their reputation and long-term relationship with you (our readers) so they will go the extra mile to make you happy. Because they care, you will have any issues solved quickly, whether it´s fixing some issues that may arise or even swapping your apartment for another one, Bern is willing to help. Under Panamanian Law a developer´s property is guaranteed for any structural issues for ten years. Bern not only honors that guarantee but goes the extra mile, so in Panama everyone knows that they won´t encounter any problems with Bern´s developments and, even on the rare occasions when problems arise, Bern´s Family stands behind its brand and solves them quickly. We can tell you hundreds of horror stories of people buying from other developers or second-hand real estate through agents, where their apartments simply fell apart after a certain time. This resulted in years in court and the developers ended up bankrupt or even disappeared. Bern is Panama´s oldest and most reputable developer and the Family stands behind the brand. This means peace of mind. Bern imports only the best quality materials which means its apartments still look like new even after 20 years. If you want proof come on a tour with Liz and she will show you new and old apartments built by Bern, so you can see the difference with other developers.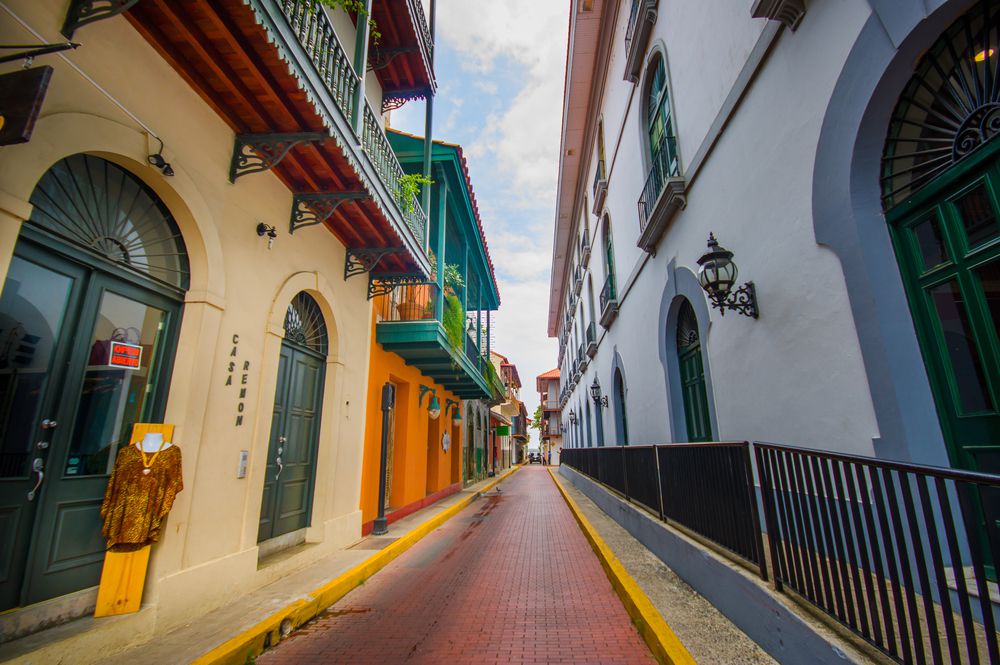 Reason 2: Finance
Most foreigners think that they need to have cash or a bank mortgage to buy an apartment. But with a prestigious cashed up developer like Bern, our Mundo readers have special access to financing deals unlike anywhere else. You can arrange vendor finance deals better than with a bank and the best part is that you know the property is good when the builder themselves are financing the deal. Indeed, Bern is offering Mundo Readers the best deals in Panama with a very small deposit and long-term financing options. With this option, you can actually build a property portfolio in Panama without using a bank. And for Family Offices that want to co-invest or buy bulk units we have absolutely amazing options. If you do your math, you will find that using rental income to cover the financing actually makes more sense than buying secondhand property. Liz herself has built her own property portfolio using her boss's financing option. She now invests a large part of her income in Bern properties and you can visit her own apartments.
Reason 3: Property management
If you are an absentee landlord, property management, especially in places like Panama, can be a nightmare. Small time operators have been known to steal your money, have big parties in your apartments or simply neglect your assets. Bern has a property management division that is offered as a no profit service for its owners. You can either engage Bern to manage your property or manage it yourself. As a special offer for Mundo readers, Liz´s team has agreed to look after your property and supervise its management for a very low fee.
Reason 4: Bargains
It is a little-known secret that most developers keep a certain part of their apartment stock for themselves as a rental pool and a cash reserve, this is approximately ten per cent of their buildings. When a developer builds a new building or development, they often sell some of that secondhand property for additional financial injection at bargain rates. The advantage of this is that developers have no emotional attachment to their stock, and you can often find much better cash bargains that you would through an ordinary real estate company or single owner with less hassle. As a special deal to our Mundo bargain hunters, Liz is happy to show you current bargains available through Bern or even twist the family´s arm to sell some of their stock to you.
Reason 5: Choice
Mundo´s goal is to save its readers the most valuable commodity on earth: time. If you make arrangements with real estate agents to see various properties of different owners, you can spend literally weeks arranging keys, ensuring that the tenant is absent, and then having the notoriously slow "mañana" Panamanian agents not turn up. Thus, you can spend several months looking for your apartment. However, Bern has, over the last 30 years, built apartment buildings, malls, shopping centers, hotels and commercial real estate in every part of the city. So, if you spend only one day with Liz and the Bern team looking at the entire portfolio, you will cover more real estate than you would in a month with a real estate agent. Moreover, everything will be prearranged to the highest international standard.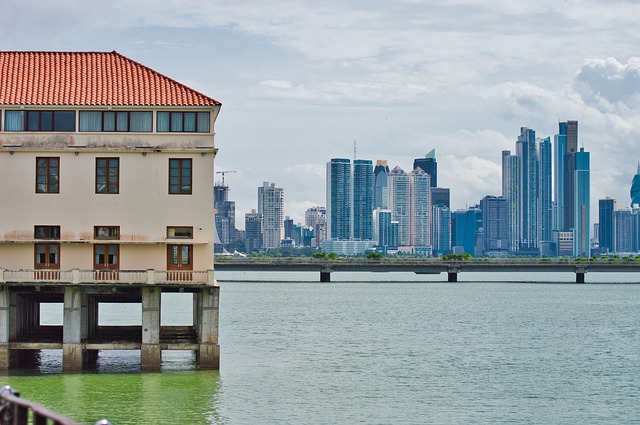 Why is this a good time to buy in Panama
The coronavirus economic impact is already severe in the United States, much of Latin America, Europe, South Africa and many parts of Africa and so we will see a large number of people looking to move their funds and immigrate to smaller and lower tax jurisdictions. The reason why Panama real estate will, in Mundo´s view, benefit from this cycle within the next 5-10 years is available in our special Panama Mundo report.
Contact us now for a consultation.

Mundo has asked Liz to go out of her way to offer a package deal to the first 30 Mundo Readers that do a contract with Bern until December 2020. This deal is only available until then and for the first 30 readers to sign with Bern through Mundo. Here it goes.
You will receive:
A full financing package on all the properties in the Bern Portfolio

at lower than bank rates (special terms for Family Offices that buy bulk).

Part of the package and at

no cost

will be a Foundation established by a Mundo expert to hold the property plus the entire legal advice to transfer the property.

A free 3-day stay at a Bern hotel and property of your choice.

A free property tour of all of Bern´s properties over 2 -3 days including VIP meeting at the airport, lunch and/or dinner with the Bern team and a concierge to organize your entire stay in Panama.

A reduced fee residency package through our Mundo expert team.



Contact us now for a consultation.


The best retirement living option in Panama for the baby Boomers
Generation Tower is Panama´s only unique retirement living development for the Baby Boomer Generation. The development combines ultra-high luxury living with state-of-the-art medical and social activities and support for the Baby Boomer generation. In a nutshell, the project is the only one of its kind in Panama City to offer:
Access to state-of-the-art US medical facilities in John Hopkins hospital downstairs from the apartment building plus free international medical and health insurance.

Baby Boomer financing.

Sports, Zumba, social activities, and restaurants in the complex located in Costa Del Este, one of the top international living destinations in Panama City.

ROI of 9% for investors.

Entry level investment for only 185,000 for an apartment and deals for investors who want to buy blocks of apartments.

Special deals for Family Offices who buy five properties or more.




The best apart hotel for the younger generation
For those that are young or simply love to party, Bern has created Panama´s first smart city Air B and B licensed apart hotel complex. Located in the hottest part of Panama´s banking and business district and in the center of Panama´s nightclub, shopping, and restaurant hub, Uptown will be a super tech complex with small 50-130 square meter apartments. The location is right beside Avenida Balboa which is Panama´s famous walking and seafront walkway (Cinta Costera) and a 30-minute walk to the Old City (Casco Viejo).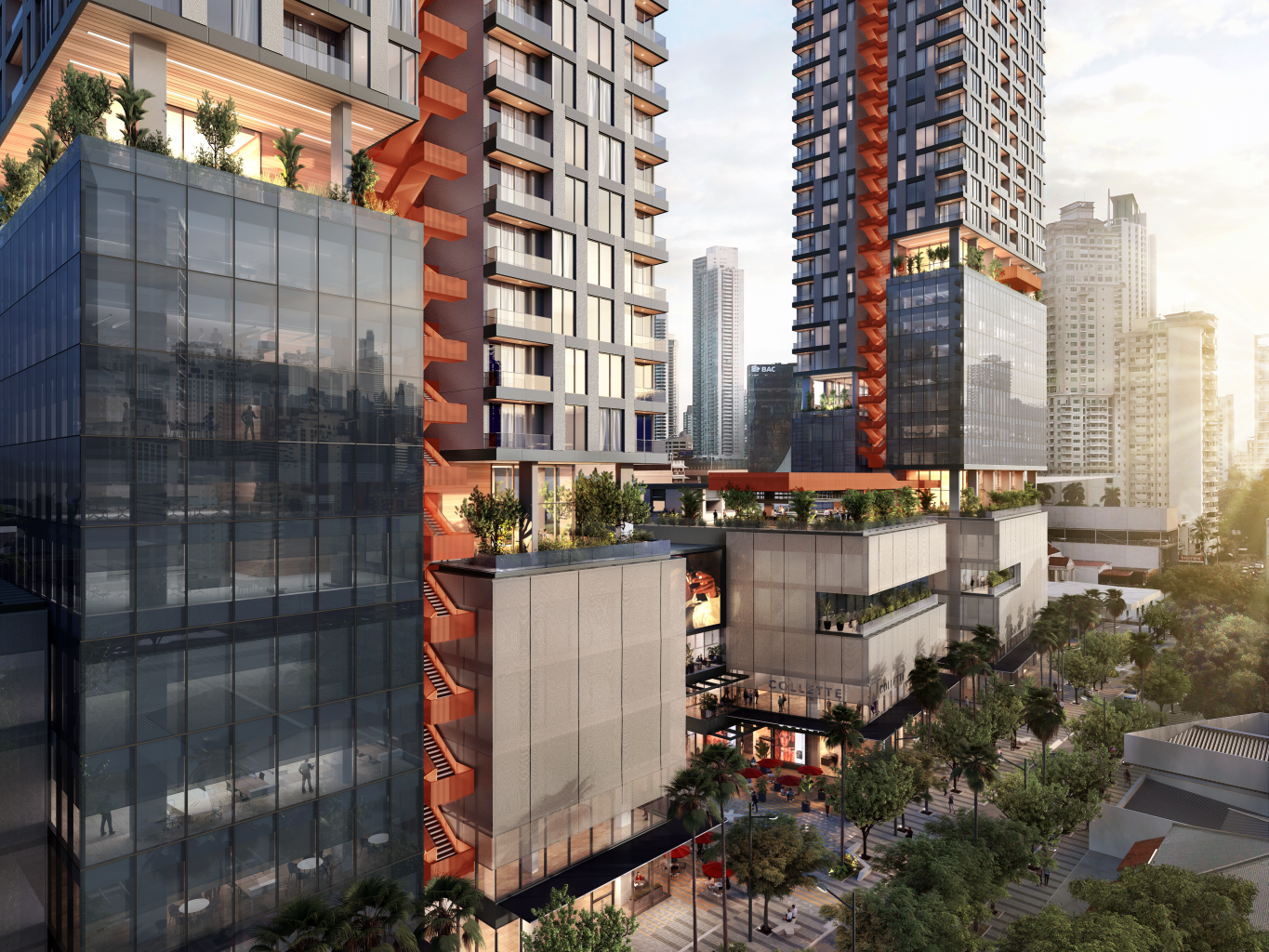 Investors will receive above market returns including the following:
Panama´s first Air B and B overnight rental license (rental by night is illegal in Panama and a building must have a license whose cost is over 1 million). This allows you to rent your apartment nightly if you wish.

Huge shopping and smart city complex below and beside all the nightlife.

Finance with ROI of over 8% plus option to have it managed by Bern or manage by yourself.

Special deals for Family Offices who buy in bulk.

Beachfront living
There are actually not many countries in the world where you can have high class, safe beach front living at low cost and with all the amenities. Panama Pacific Beaches are located about 1 hour away from Panama City and are the same quality and value as Gold Coast in Australia, except at prices that the Gold Coast had 20 years ago. On your doorstep you have surfing, fishing, kiting, and year-round warm tropical waters. However, the same apartment that would cost you over 1 million in Florida, Miami, or the Gold Coast would cost you under 180,000 in Panama.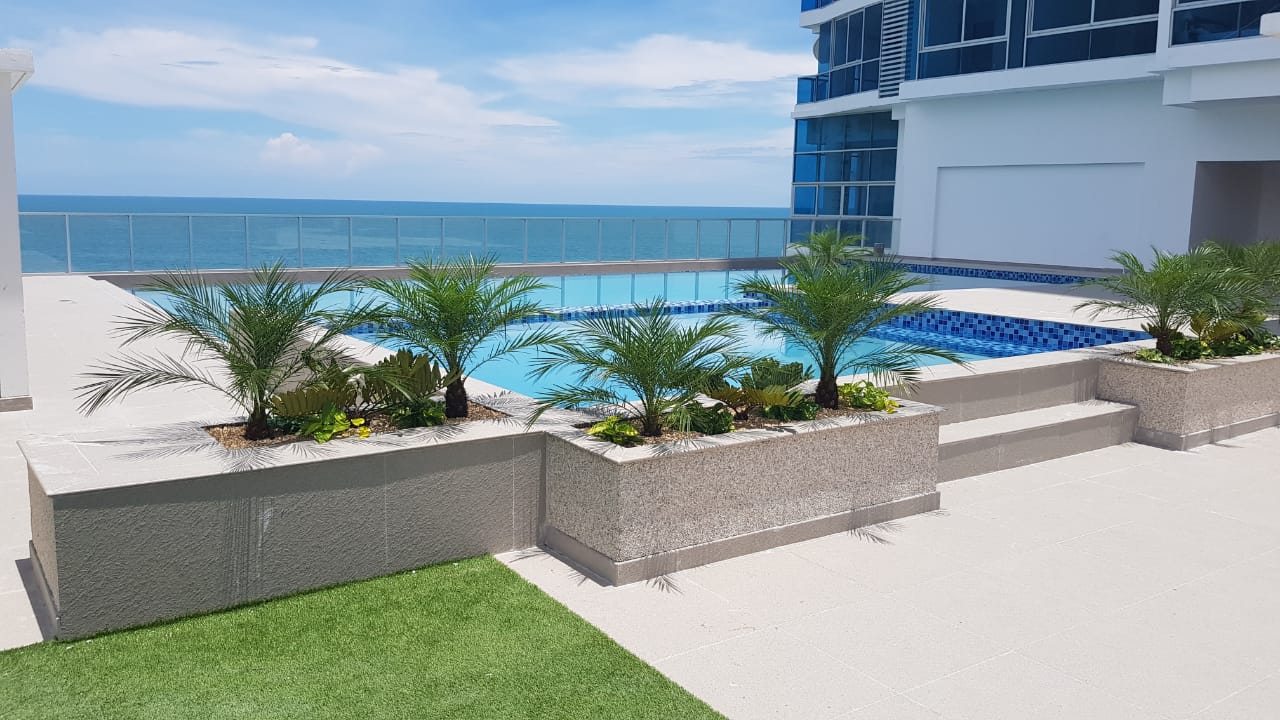 If you want to completely upscale your lifestyle and live on a beach without paying city prices, all of this being in fact only an hour from the city with access to supermarkets, schools, restaurants and amenities, then Gorgona Panama beaches with Bern is right for you. This development is already built and qualifies for the residency investment option. Further, Bern is offering this to our Readers with financing and special package price terms.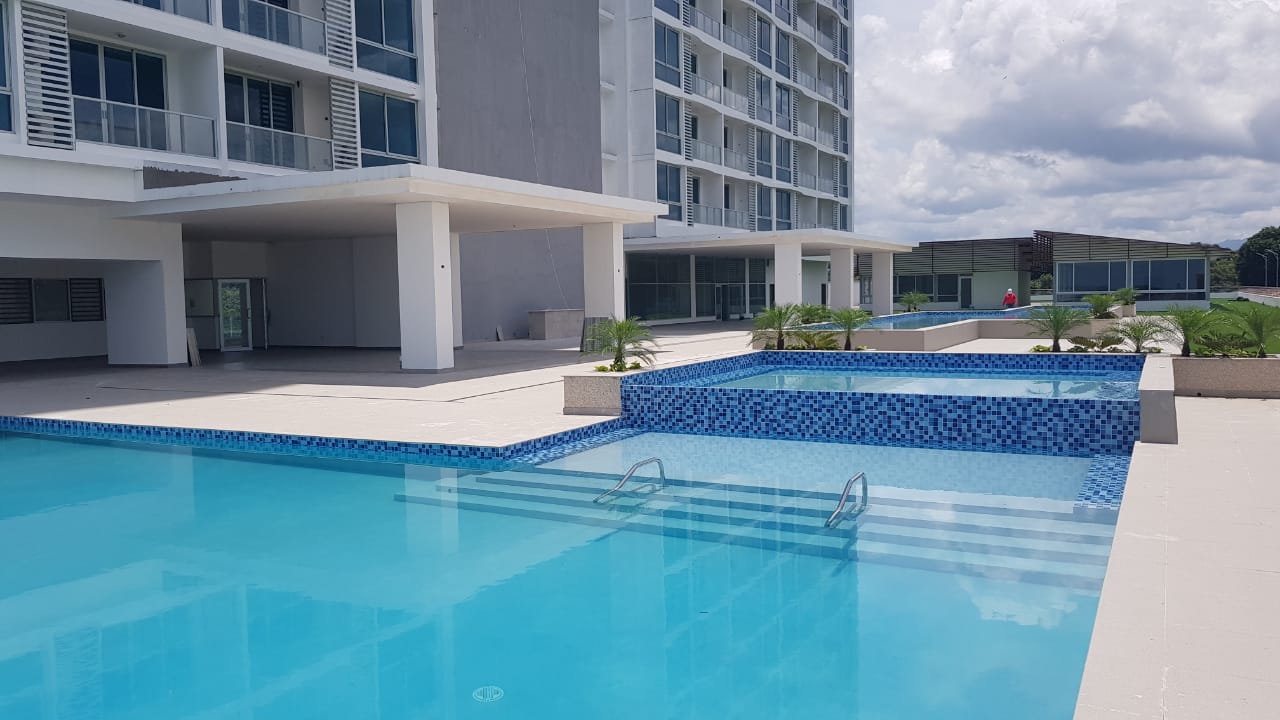 Gorgona is one of Panama´s favorite beach front destinations and families love to spend their holidays and weekends on the beach, it being the closest beach location to Panama City. The rental potential of Gorgona for tourists and expats allows a one to two day get away for those who want a rest from the city or simply a beach front holiday away from the Canadian cold.

Holding and owning real estate has created more family wealth than all other businesses combined. Panama offers unique Family Office investment opportunities including:
A. Already rented commercial premises with high rates of ROI in Panama City (Albrook).
Download brochure

B. Shopping centers and malls.
Download brochure

C. Hotels for sale and office buildings with high rates of return.
Download brochure

We are happy to organize investment and co investment opportunities for your Family Office in Panama with ROI exceeding 8% plus expected capital gains of over 30%.
If you want to take these amazing investment opportunities, this is the time to do so as we are offering special packages and promotions.
Contact us now and ask for a consultation.


Unique opportunity in Panama, luxury golf resort with ocean view
Today, Mundo is offering a unique investment opportunity to buy a land in one of Panama's most beautiful provinces, Chiriqui, which is located near the border with Costa Rica. On this land there is a plan to build a fantastic resort with a golf camp and a marina.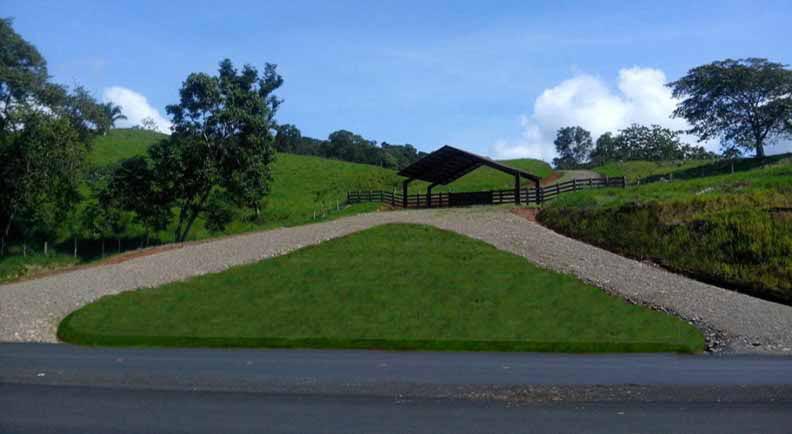 The land is located within a 50-minute drive from the David International Airport, from which you can find regular flights to Panama City along with international flights. From the David airport you will find connecting flights with many major destinations such as Canada, the USA or Europe, thanks to the national and solid Panamanian airline called Copa Airlines. The size of the land is 115 ha and it´s divided in two zones, both with easy access to the Pan-American highway. The North zone is 103 ha and South between the Pan-American and the Pacific is 12 ha.
Both lands are duly titled and registered in the Registro de la Propiedad of David, which is the province´s capital.
The investment
Mundo, along with its partners is offering a land that´s divided in two sectors: A marina with 12 ha and a Golf camp with 103 ha. Both areas belong to the master plan project. After purchasing this land, the investor can develop the project infrastructure and sell it in different lots. He will be able to sell the land before or after the buildings have been constructed.
The resort
The resort will be built with an exclusive design for the reduction of the environmental impact and recycling of waste, but most of the land will be left to be used as a major and exclusive golf camp and a display of botanical gardens of an exquisite beauty. The resort will be specially designed for the wellbeing of residents and visitors, with diverse sport facilities, a SPA, a yoga hill, thus promoting the development of physical and mental health. Health is such an important aspect of this project, that a hospital has been included. The resort will have a medical center where the best service will be provided. A high-quality medical attention will be offered here by some of the best doctors in the country.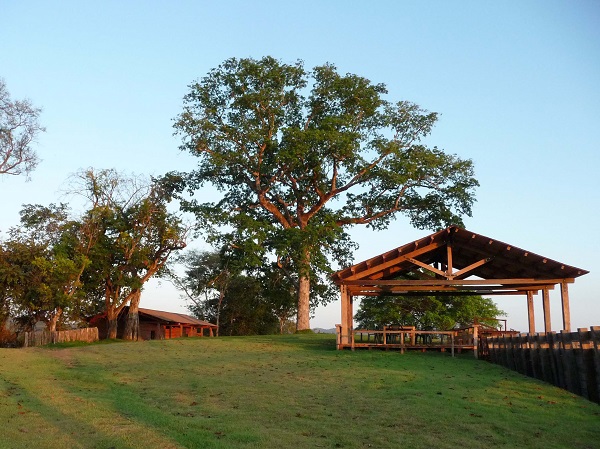 With the goal of improving and developing people's health, the entire residential design is focused on walking, biking and golf cart transportation. The car traffic will be reduced only to the necessary for an easy communication and transportation within the facilities. However, the priority here will be the wide spaces that will allow people to stroll freely, ride their bikes, jog, and exercise.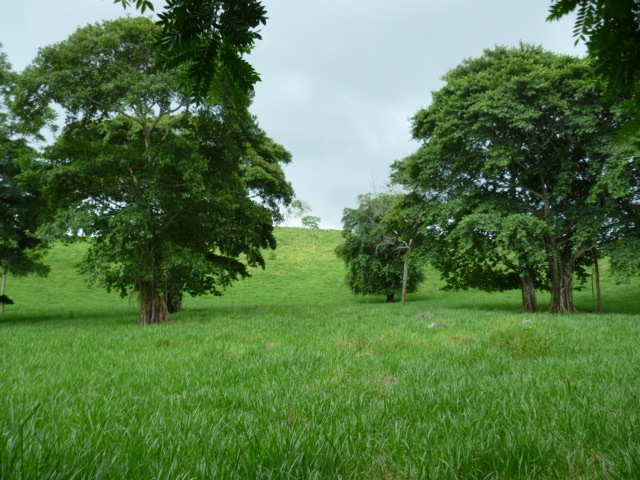 This resort will be a great place for retirees and oldsters as they will have the necessary facilities that will allow them a healthy lifestyle, close to nature, with spaces for walks and exercise and with a health center at their disposal. Thus, they can have access to great healthcare at a fraction of the price that they would pay in Europe or the US. Thanks to its location in one of the best and quieter zones of Panama, to its mild climate, to its infrastructure and to its medical center, this isolated resort will be a place that can keep you safe from possible future health crisis like the current coronavirus. Who wouldn't want to live here?
This project is great for families and people of all ages.
The facilities
The project includes excellent and various sport facilities and entertainment opportunities such as:
A unique 18 Hole Golf Course with amazing ocean view.

Horse riding at our Equestrian Center or Cross Country through the bordering mountain

Tennis and Gym at the Sanctuary Gym Center

Swim and relax at the Sanctuary Club House Pool or in one of the numerous pool areas

Bird watching at our Botanical Garden
Trekking

Kayaking, Rafting in the uphill river

Fishing at the world-renowned Hannibal Bank from the Yacht Club

Scuba diving
Surfing within a 5 min. drive in one of the Pacific beaches
Finally, the project will include a set of luxury condominiums with a preferential view to the ocean or the mountain. Designed around a large garden and with accessible pool areas, the condos will have modern facilities and apartments from 1 to 5 bedrooms. This peaceful and beautiful environment is the perfect opportunity for a nice life within a friendly community, reinforcing the connections between the residents.
Urban management approvals
P.O.T.(Territory Ordenation Project) approved

Master Plan (approved)

Environmental Impact Study

River concession for water supply

8 Waterholes fully legalized for water supply.
Land main attributes
Stunning ocean views

Direct access from the Pan-American highway

Crossed by the Salado river along 1 km

Access to the Pacific Ocean through the estuaries

Topography characterized by rolling hills
Las Lajas beach at just 15 min. drive

Great location

Frequent international and domestic flights from David
Contact us now and ask for a consultation.

Mundo´s experts came up with the beautiful idea of building a new Casco Antiguo. This is going to be a unique neighborhood in the style of the 1920s, where everything is and will be thought exclusively for the comfort of pedestrians.
Forget about sitting in your car for hours of traffic jams and welcome a land where people will be able to take walks, and children will be able to play on the streets with their grandparents.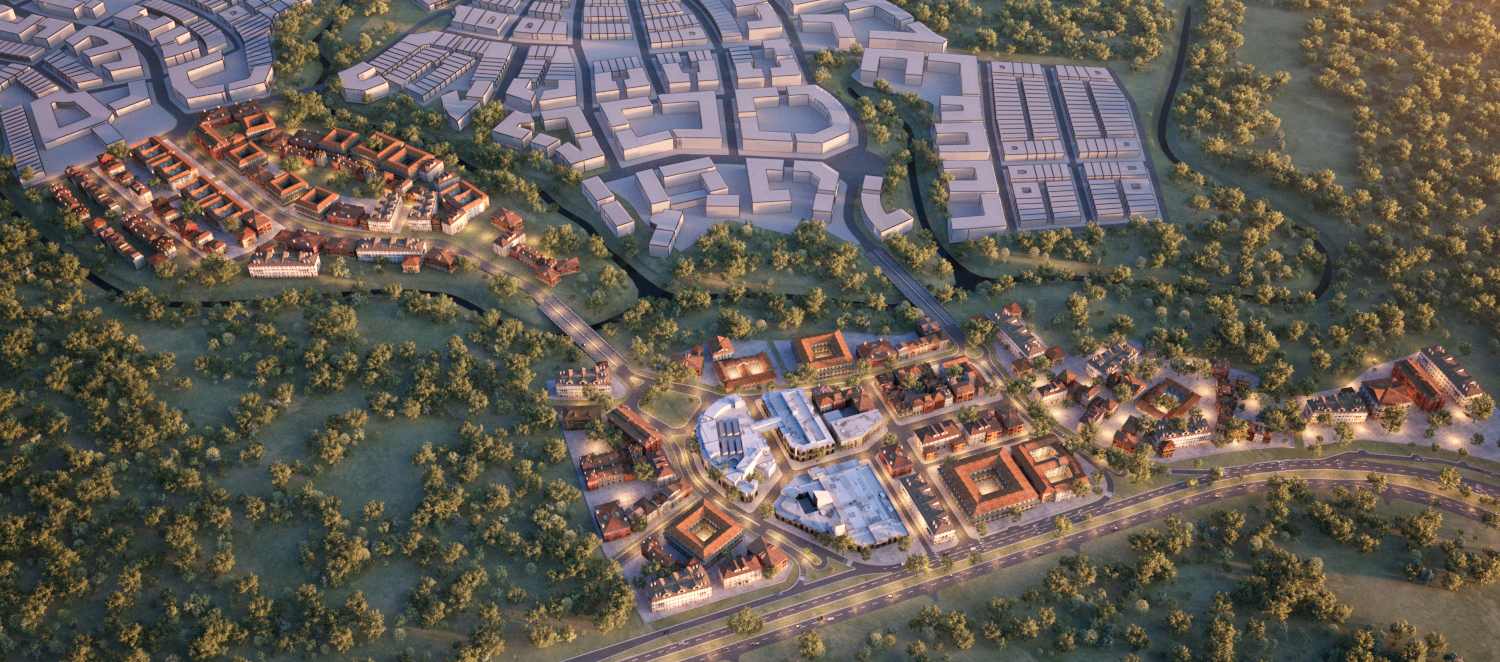 Say hello to a happier and healthier way of life! We offer a master-planned community of 262 hectares, inspired in beautiful colonial cities like Cartagena de Indias, Sevilla and Casco Antiguo in Panama. This community will have houses, low buildings, malls, restaurants, squares, parks, schools, a sports club, health centers and more. It will be quite easy for the residents of this community to get around as it will have wide sidewalks, bikeways and a trolley.
Under the new town building concept, this neighborhood will be built for the pedestrians´ comfort, in the northern part of Panama City–Panamá Norte– which is a constantly developing area.
Let´s talk about numbers
12 schools nearby - 5km
1km from Corredor Norte
5km from the metro station
12km from the airport
7km from Santa María
12km from the city center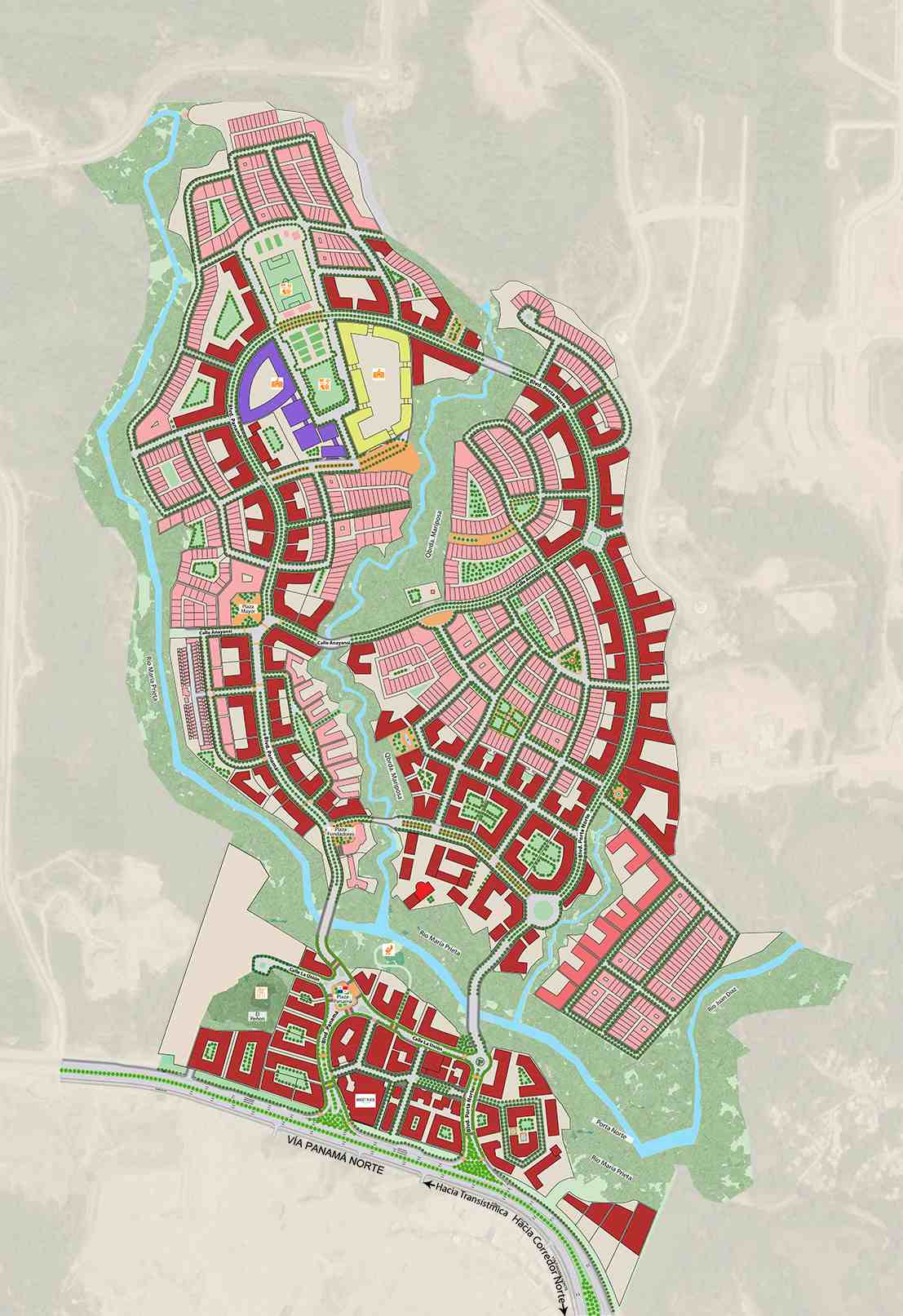 Improved lifestyle
In this new neighborhood you will travel back in time and enjoy the beauties of the colonial era, when life was simpler and quieter, when people used to walk freely, rode the trolley and simply enjoyed each other´s company in parks and squares.
Places and facilities
Plaza Panama Will be the first square of the neighborhood. It will have leafy trees so you can walk under the shade on a summer day and playground for the little ones.
The sidewalks will be wide for the pedestrians´ comfort and the balconies will be continued so that people can walk safe from the rain when there´s bad weather.
The second square will be called Plaza Fundadores and will have a direct connection to commercial facilities like shops, cafes, restaurants and stores. This is the ideal place where you can enjoy a meal with the family, go shopping or a cold Balboa with a friend.
If you love nature, this project will surprise you because it includes a river with big parks where you can enjoy a microclimate, all within a walking distance from you home!
Advantages
Modern infrastructure supported by an innovative concept
Designed by an international prestigious firm
Sports and tuition facilities (schools and sports club)
Easy mobility for pedestrians (wide sidewalks, trolley, bikeways)
Spaces and infrastructure to cater for elders, disabled and children
12 km from Panama City´s center
The 8th line of the Panama metro will be built nearby
Sense of community
Close contact with nature and healthy lifestyle
Direct and convenient access through Panama's Via Norte
A mix of residential and commercial land use compared to other projects
High impact in the country and region creating jobs and economic dynamism
Promoted by a prestigious developer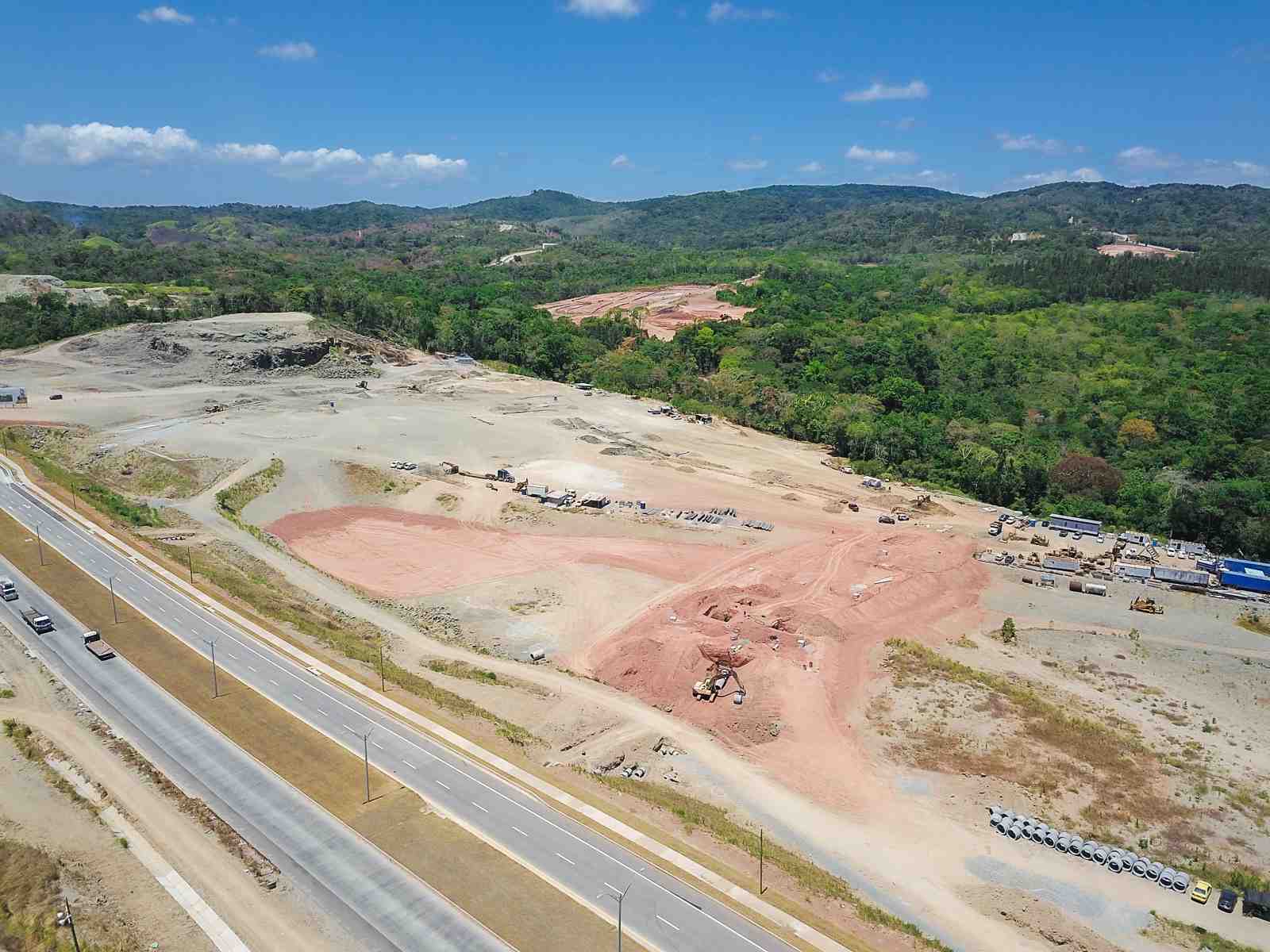 All these characteristics are the perfect conditions for culture to thrive, and we expect to host music festivals and other events of interest for the community.
We have land lots for sale for different developers, but all the construction must follow a strict urbanization code, and every project will be run by the Committee, thus guaranteeing the construction of the perfect neighborhood for people to enjoy.
Every project will be built under the same standards that consider the pedestrians the most important factor when it comes to town planification.
Project Description
Entire Property
262 hectares (includes sellable + common areas)
Phase 1-8
101 hectares of sellable area
$347 average price/m2
$350 million in sales
Phase 9
80 hectares of sellable area
$110 average price/m2
$88 million in sales
Property law in Panama
We do not only have great developers as partners, but also are very lucky to have partnered with some of the best lawyers in Panama for residency, financial licenses and also property law.
Buying a property or getting into a contract for buying a property through financing can be a complicated enterprise even in your own country where you were born and have lived for years. There are many legal aspects that need to be taken care of, including making sure that the property title is legit, that the property does not owe any taxes or that is not engaged in debts.
Mundo is formed by experts, writers and professionals who have travelled the world and lived in different countries, so we know that dealing with foreign legislation and requirements can be a headache. For international investors who choose to buy property in Panama, we present this section that was prepared with our partner lawyers and experts in Panama real estate property law.
Property title and registration
In Panama, a property title is registered as a deed in the Public registry of Panama.
The process usually begins when both parties have signed the sales contract and are ready to fulfill all terms and conditions. The buyer is obligated to pay for the property and the seller is in charge of putting the property in the buyers' name and paying all the correspondent taxes, utilities and such in order to duly register the property title. It is important to note that the buyer is supposed to pay for the notary services and revenue stamps, while all the expenses regarding the title process are shared between the buyer and seller. Being the seller's sole responsibility to cover the 2% of transfer tax and 3% of capital gain tax.
Acquiring property in Panama is very safe because the law protects the buyer and if there would be an issue between the seller and a third party, this needs to be resolved between the corresponding parties, not affecting the buyer´s title whatsoever.
Like with any investment in any jurisdiction, our experts recommend to have the usual precautions like conducting a previous investigation and verifying that the title that is registered in the Public Registry is in line with what the seller´s offering. For example, we recommend verifying if the name of the owner, the plot number, the area of registration and all the relevant property information matches what is stated in the Registry. It is also important to confirm that the property doesn´t have any pending liens.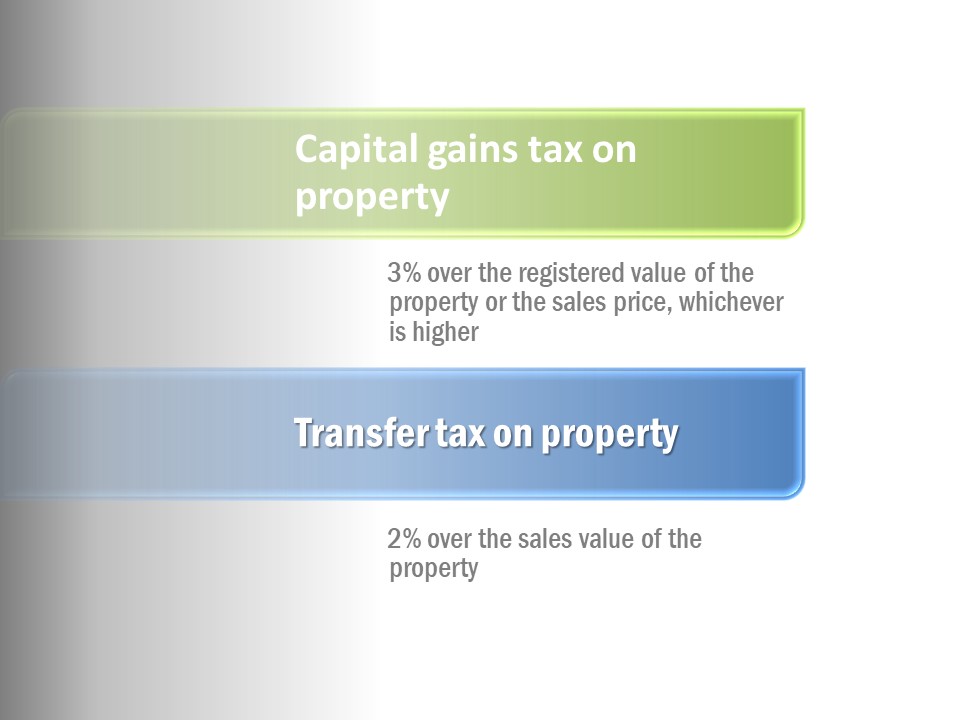 Property transaction procedure
Let us say we have an investor interested in a project that is yet to be built. Usually the process starts with the promise of sale (not a sales contract because that comes in the form of the deed when the project is ALREADY built and ready for delivery). In these cases, the terms usually estate that there's an annual payment of about 10% (depending on what the parties negotiate) for about 3 to 4 years depending on how long it takes for the project to be built. In the standard contracts, there is a clause that mentions the approximate time of construction of a project.
Once the project is ready to be delivered, the client is informed, and they have to pay the remaining balance. If the balance is to be paid via a promise of payment from a local bank (which means the client has signed a mortgage contract with said bank) the developer sends all the documents to the bank who will be the one in charge of formalizing the deed.
Vendor financing deals
We can identify two main ways to go about financing a property investment in Panama. Even though there are developers that offer "internal financing", this is not the right name for it. In Panama, the financial operations are regulated by the ministry of commerce and financial loans are only given by financing entities. However, since foreigners and investors needed to acquire a property without a mortgage, the market came up with a solution: internal "financing" programs.
These programs work - to put it simply - as a lease with the promise of buying the property. This is usually done under the terms of the developer for a period of 3 to 5 years and at an interest rate usually higher than the banks´. The good thing about this type of program is that the buyer can have access to the property (if ready for delivery) as soon as they signed the contract and will pay the lease fee monthly making payments towards the sale price every year, or many times a year depending on what's stipulated in the contract. It is always important to note that in this type of contracts, the monthly payment doesn't go towards the sales price (unless it is explicitly stipulated in the contract).
The other way to finance a real estate transaction involves a more traditional way, using a financing entity or a bank.
The local banking system in Panama is notoriously regulated when it comes to giving out loans.
For this reason, there are many ways to go about getting a mortgage as a foreigner. The main one is being able to guarantee the bank the repayment of the property whether it is by proving a local income source or by bringing substantial amount of money from abroad and depositing it in a local bank to guarantee the repayment of the property.
Once the client has complied with all the requirements from the bank and is pre-approved, they have to take into consideration the price per square meter since banks usually have a cap on the percentage of the price they are allowed to cover. Usually they will cover around 60% to 80% of the property price and the client must cover the remaining balance. These requirements will vary according to the bank in question.
Lawyers and escrow
The fees that a lawyer would normally charge usually depend on either the value of the property or the sales price, whichever is higher. It is customary to charge around 1% and 2%, and the fees do not include expenses.
Not so long ago, it was common practice for lawyers to offer escrow services to clients, however in 2017, Law 21 was created, which "establishes the rules for the regulation and supervision of trustees and the trust business" in Panama.
Meaning that any individual, whether it is a company, a real estate broker, or a lawyer that receives funds as part of an escrow service must have a trust license provided by the Superintendency of Banks of Panama.
There are companies in Panama that offer escrow services to hold funds or assets until the other parties fulfill certain duties and obligations. Once certain terms have been fulfilled, the escrow agent releases the funds, like in any regular escrow service.
Additionally, other options are available such as having the bank provide a guarantee letter for the seller which works providing both parties the reassurance that the money is in the bank´s custody and that the funds will be released by the bank to the seller once the terms and conditions of the sales contract have been fulfilled.
If you want to take the amazing opportunities that Panama offers in its real estate sector, we recommend you seek the advice of a good lawyer that will help you acquire your property in a safe way.
Please watch our interview on Panama real estate law with our expert lawyer.
Contact us now and ask for a consultation.